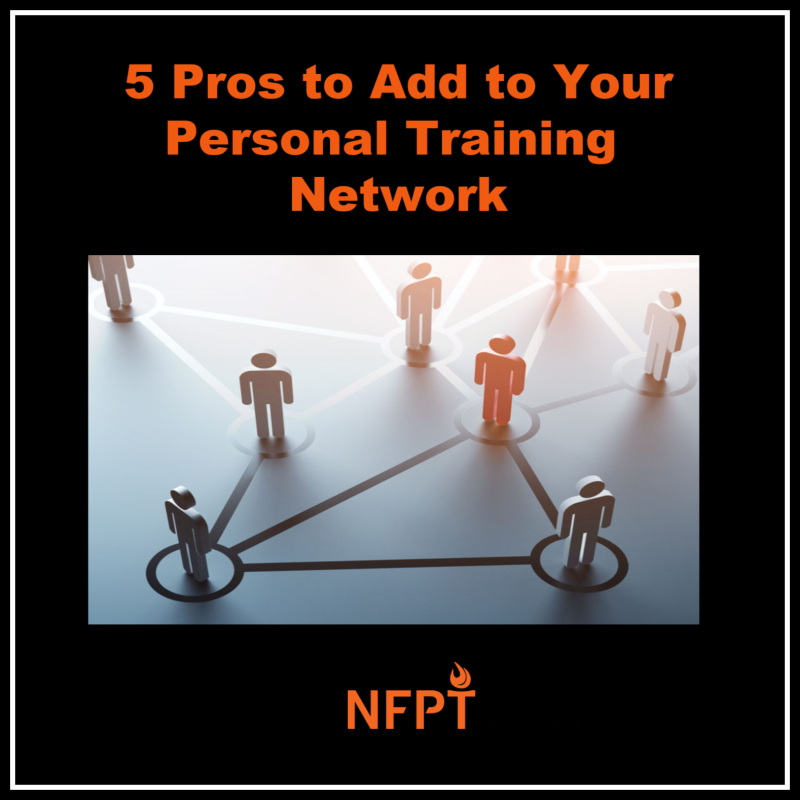 One of the most valuable components of a successful personal training business is the presence of a quality referral network. Personal trainers are experts in their field and possess a deep body of knowledge related to kinesiology, functional movement, exercise training and program design, exercise physiology, basic nutrition, and risk management. While fitness professionals are well-trained and educated, there are limits to their scope. Here are 5 must-have professionals to add to your professional referral network.
Massage/Corrective Therapist. Introducing new exercises and mechanical stress to clients results in muscle soreness and tightness. Soreness is a simple side effect of physical activity and exercise. In addition, the chronic presence of muscular pain is often attributed to trigger points, which can be released by skilled corrective therapists. Clients will often ask their personal trainers for a massage or myofascial release treatment. Unless you are a licensed massage therapist, this is outside your professional scope as a personal trainer. However, if you add two or three massage therapists to your network, you have a natural referral avenue for those clients seeking such services.
Mental Health Professional. As you work one-on-one with clients, you begin to develop rapport and a trusting relationship. It's not uncommon or unlikely for clients to begin to see you as a friend and confidant. It's acceptable and encouraged for you to listen empathetically to your clients' woes. Likewise, you should also celebrate their joy and accomplishments. Should you find yourself in a situation where a client might need professional counseling which you clearly cannot provide, seek out a licensed social worker or mental health counselor (or two) to network with and develop a referral base with them.
Physical Therapist. Injuries and overuse are two things clients are likely to experience at some point in their lives. Again, clients see you as a trusted professional (which is a good thing). As a result, it is a common occurrence for clients to ask you to diagnose a recent injury or ailment. While you might suspect a sprain or strain is the culprit, the best course of action to take is to refer clients to a physical therapist, athletic trainer, or Doctor of Chiropractic for proper treatment. Consider adding one or all of these professionals to your network.
Registered Dietitian. Nutrition is a topic all certified personal trainers can and should be talking about with their clients. Nutrition is key to long-term weight management and physical health. As a personal trainer, you are free to provide general nutritional guidance, host a grocery store tour, and provide educational and informational materials from quality sources. If a client is searching for medical nutrition therapy, nutritional counseling, or meal planning and dietary analysis, you will need a registered dietitian in your corner. Working closely with a qualified nutrition professional is that much more beneficial for your clients.
Health Coach. Personal trainers aren't commonly certified as behavior change specialists or experts. That said, it is becoming more mainstream for personal trainers to seek out behavior change and psychology continuing education opportunities to add an "edge" to their services. Health coaches take a three-pronged approach to working with clients: increasing physical activity, developing sound nutritional and balanced lifestyle practices (think stress management), and changing behavior. A health coach bridges the gap between current lifestyle practices that are detracting from a person's overall health and wellness goals and those lifestyle changes that will enhance that person's quality of life and longevity. A personal trainer can work closely with a certified health coach to maximize their clients' potential in achieving the health goals they desire.
Having a professional network is key to not only business success but your clients' individual success as well. Just as you take the time to invest in your clients as people, devote time to cultivating a referral network that will ultimately elevate your services. As an added bonus, developing relationships with other professionals strengthens connections you have within the community and allows you to support others in their business ventures. Trust in the power of symbiotic relationships.