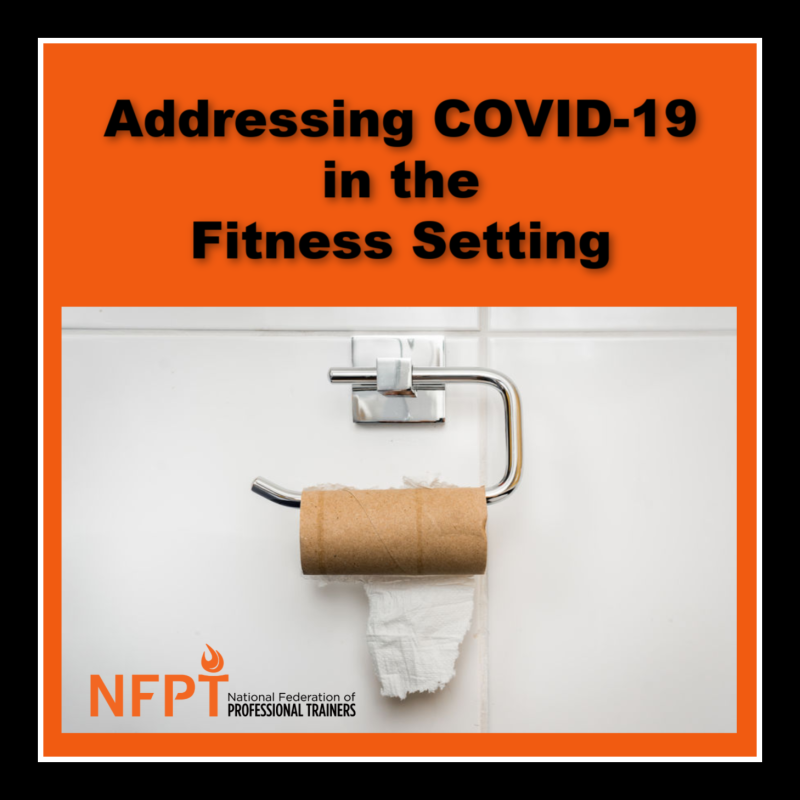 Whether COVID-19 has directly impacted your community through confirmed cases or not, the preparation and anticipation of its spread seem to be permeating the scene everywhere.
Truth be told, my initial reaction was lackadaisical at best and poking fun at the situation at worst. Don't get me wrong, I wouldn't wish this illness on anyone…But the over-preparation that is widespread that seems to not be aligned with protecting oneself from the virus (such as the buying up of toilet paper!) is too easy a target.
But it's time to get serious. We are fit pro's and given the level of escalation of the situation, I thought it's time to adjust my reaction to what's going on. At the time this article was written, the COVID-19 spread has been labeled a pandemic by the World Health Organization (WHO). A pandemic is a disease that's prevalent over a whole country or the world. In some areas, a State of Emergency has been declared and there are requirements put forth by the government that need to be followed. Some areas have put forth guidelines for cancellation of events and large group gatherings. I don't think I need to say how important it is to follow these.
Regardless of if this has happened in your community or not, let's start with how we can educate and communicate to our clients about it:
1) COVID-19 comes from the coronavirus family, which includes the common cold and appears to originally be an animal coronavirus. But on December 31, 2019, a human case was reported to the WHO Country Office in Wuhan, China. Since then, it has been spreading via human-to-human transmission and the outbreak was declared a Public Health Emergency of International Concern on January 30, 2020 by the WHO.
2) Reports state that the virus is not transmitted through sweat and there's a lower risk of picking up coronavirus at a gym or health club than at a church service, according to David Thomas, MD, MPH, professor of medicine and director of the Division of Infectious Diseases at Johns Hopkins University School of Medicine.
3) It has been determined that the virus has an incubation period and some people may be symptomatic right away with fever and dry cough while others may not be symptomatic during this time. It can be transmitted human-to-human from an infected individual coughing or sneezing and thereby spreading viral droplets to an uninfected individual.
It can also be transmitted when an infected individual coughs or sneezes and the viral droplets land on surfaces that others frequently touch such as door handles and tabletops. The viral droplets get picked up by human touch and then can be transmitted to the uninfected person when he/she touches the mouth, nose, and/or other areas of the body where the viral droplets can reach the respiratory system. If you have a reason to believe that you have been infected, it is advised to seek proper medical attention.
4) At the time this article was written, most of the fatalities from the illness have been in those who are above the age of 70 and/or immune-compromised. While there is currently no vaccine or evidence-based treatment, many of our clients are active and maintain an overall healthy lifestyle, including regular physical activity. Realistically, this does not guarantee against contracting the illness, yet it may be helpful along with having a strong immune system in order to defend the human body once exposed.
As fit pro's, we can remind our clients that despite its worldwide spread, there are preventive measures everyone can take from this virus that are recommended by the CDC (and let's be honest, most of these we should be practicing no matter what):
1) Wash hands frequently, thoroughly, and often. Use either soap and water for 20 seconds or with a 70% alcohol-based rub in order to kill any viruses on your hands. Do not rely on hand dryers alone to effectively kill the COVID-19 virus.
2) Maintain social distance, keeping a distance of at least 3 feet between you and apparently healthy individuals and staying 6 feet away if a person is coughing or sneezing.
3) Limit contact. Avoid close contact with people who are sick.
4) Avoid touching your face, nose, mouth, or eyes, especially with unwashed hands. This is because viruses on human hands that have touched a surface can enter the body through the eyes, nose or mouth.
5) Stay home if you or a loved one is sick with respiratory symptoms such as fever, cough, and/or runny nose.
6) Seek medical advice if you have a high fever, dry cough, and/or difficulty breathing or if your conditions worsen. If you have health insurance, find out if virtual doctor's visits are an option before leaving your home for medical care.
6) Cough into an elbow or a tissue and dispose of tissues immediately or as soon as possible into a covered bin. Follow by washing hands with warm, soapy water and disinfecting the surface the tissue was left on.
7) Wash clothing into which you cough. It is unknown how long the virus can live on hard and soft surfaces. According to the WHO, coronaviruses may survive on surfaces for a few hours or up to several days, but will be killed in the wash.
Then move to what we can do to keep our facilities as safe as possible given the circumstances. Most of these are common sense and are hopefully practices that are already going on at our facilities. But this is a great time to revisit them. Here they are:
1) Let sick staff and/or members know how important it is to stay home until they are well. Making announcements and using posters about staying home when sick can be useful.
2) Have meetings or instruct staff and members to wash and clean their hands frequently. Provide hand sanitizer with a minimum of 60% alcohol at the entrance and throughout the facility.
3) Notify staff and members on the hygienic use and proper disposal of tissues.
4) Provide tissues for staff and clients along with no-touch disposal receptacles that are easily visible and accessible.
5) Place disposable disinfectant cleaning wipes near all commonly used surfaces and include instructions to wipe down surfaces before and after use with a disinfectant (at least 70% alcohol. Wiping surfaces clean can reduce germs, but only disinfectant that is at least 70% alcohol kills germs.
6) If your facility offers towel service, use hot water to wash them. Disinfect hampers and laundry bags or use disposable laundry bags. Use gloves to handle dirty linen and dispose of the gloves immediately after use. Use proper handwashing techniques afterward. Encourage clients to keep used towels with them until finished, preventing spread of germs by leaving them lying around on equipment and surfaces. If they are left, disinfect the equipment and surfaces.
7) Use fitness gloves to handle weight training and other equipment. Wash gloves upon returning home and before reusing them for the next workout or training session.
8) Stay away from hands-on contact with clients. Instead, use verbal cueing techniques.
9) Avoid shaking hands and wave or come up with another effective greeting that does not involve direct physical skin-to-skin contact.
10) Conduct regular and routine cleaning of touched surfaces such as handrails, light switches, handles, drinking fountains, toilets, faucets, sinks, showers, lockers, benches, doorknobs, fitness equipment, tables, computers, mouse, keyboards, television, remote controls, etc.
11) Continually communicate and inform clients of the hygiene measures that the facility is taking and the standards it keeps. Use a team approach and encourage them to maintain the same standards.
12) Offer virtual training options. This can be an opportunity to promote existing virtual or distance-based options and to create new ones.
Finally, in a grounded, professional way, while minding our scope of practice, let's talk about how to positively influence and address potential panic and reactions:
1) Do what you can to prepare while not overdoing the preparation! This is easier said than done. Guidelines and recommendations say to be ready with a minimum of 14 days' worth of food and water. It's your discretion as to how much food and supplies that amounts to, based on your (and your family's needs). Some have chosen to stock up for as much as 30 days. The key word here is discretion.
2) Limit exposure to news. While it is important to stay abreast on the current knowledge, goings-on, and local and global impacts, research shows staying 'plugged in' 24/7 to a crisis can induce a crisis-like, panicked, and alarmed state. If you have a staff or team, it may be prudent to switch off reading (and scrolling) about the situation, watching news, and/or discussing it. Then, they can communicate to the rest of the team in meetings about it. This way, all can stay informed. Alternatively, you can set a timer or calendar reminder to 'plug in' every X amount of hours, managing the time you spend on it.
***It is important to find balance between 'unplugging' and 'staying current.' As days progress, more and more data is being collected on the virus. Researchers are seeking treatment options, and the CDC and the WHO are posting regular updates. Stay connected to their most recent guidelines and local news on when it is appropriate to close and cancel large group events and gatherings at your facilities. It is important to stay in compliance with the recommendations Several references are listed in this blog to help you do this.***
3) Reach out and connect to friends and loved ones via video chats, texting, phone calls, and e-mails. Strengthening healthy connections can be helpful and reassuring, allowing you to leverage emotional support into the situation.
4) Consider the source. When reading, scrolling, watching, and listening about the situation, take some time to think about where the source of information is coming from. Is it dependable and trustworthy? Stick with sources of credible medical information, thereby avoiding misinformation about the virus and the illness it causes.
5) Before talking about the situation (or even during conversations about it), ask yourself what's your motive for sharing what you are saying? Is it to inform and teach? Is it to spread proper details and education about the virus? Or will it spread even more unknown details, revving up the staff, members, and yourself even more? Is it true, is it kind (or not panic-inducing), is it necessary?
6) Practice mindfulness practices and calming breathing techniques.
7) Take breaks and find ways to Rest, Relax, Rejuvenate, Revitalize, Refresh, and Rejoice.
8) Treat underlying mental illness or conditions that could be triggering or flaring up.
If you are concerned about your own symptoms (physical and/or emotional) or those or a client, team member, staff, or other, it is advised to seek proper medical or clinical attention.
---
References:
Centers for Disease Control and Prevention (CDC). www.coronavirus.org.
CDC. Coronavirus Disease 2019 (COVID-19). How COVID-19 spreads. Retrieved from: https://www.cdc.gov/coronavirus/2019-ncov/about/transmission.html
CDC. Coronavirus Disease 2019 (COVID-19). People at Risk for Serious Illness from COVID-19. Retrieved from: https://www.cdc.gov/coronavirus/2019-ncov/specific-groups/high-risk-complications.html
CDC. Coronavirus Disease 2019 (COVID-19). Steps to prevent illness. Retrieved from: https://www.cdc.gov/coronavirus/2019-ncov/about/prevention.html?CDC_AA_refVal=https%3A%2F%2Fwww.cdc.gov%2Fcoronavirus%2F2019-ncov%2Fabout%2Fprevention-treatment.html
CDC. Coronavirus Disease 2019 (COVID-19). Stigma and resilience. Retrieved from: https://www.cdc.gov/coronavirus/2019-ncov/about/related-stigma.html
Environmental Protection Agency. (n.d.). EPA's registered antimicrobial products for use against novel coronavirus SARS-CoV-2, the cause of COVID-19. Retrieved from: https://www.epa.gov/sites/production/files/2020-03/documents/sars-cov-2-list_03-03-2020.pdf
McKinsey & Company. (2020). COVID-19: Implications for business. Retrieved from: https://www.mckinsey.com/business-functions/risk/our-insights/covid-19-implications-for-business?cid=other-eml-alt-mip-mck&hlkid=8245bf75367d4efd80f5afbe64e78e70&hctky=11404968&hdpid=b8b26d7f-2a0d-4616-ad4e-d72ef987f101
Shephard, M. (2020, March 9). Controlling Coronavirus anxiety. Retrieved from: https://www.psychologytoday.com/us/blog/erasing-stigma/202003/controlling-coronavirus-anxiety
Sharp, J. (2020, March 12). Coping with Coronavirus anxiety. Retrieved from: https://www.health.harvard.edu/blog/coping-with-coronavirus-anxiety-2020031219183
Thomas, D. (2020, March 8). Gyms and Coronavirus: What are the risks? The New York Times.
U.S. Department of Homeland Security. (2020). Pandemic readiness. Retrieved from: https://www.ready.gov/pandemic
U.S. Department of State. (n.d.). Travel advisories. Retrieved from: https://travel.state.gov/content/travel/en/traveladvisories/traveladvisories.html/
World Health Organization. (2020, March 11). Rolling updates on coronavirus disease (COVID-19). Retrieved from: https://www.who.int/emergencies/diseases/novel-coronavirus-2019/events-as-they-happen