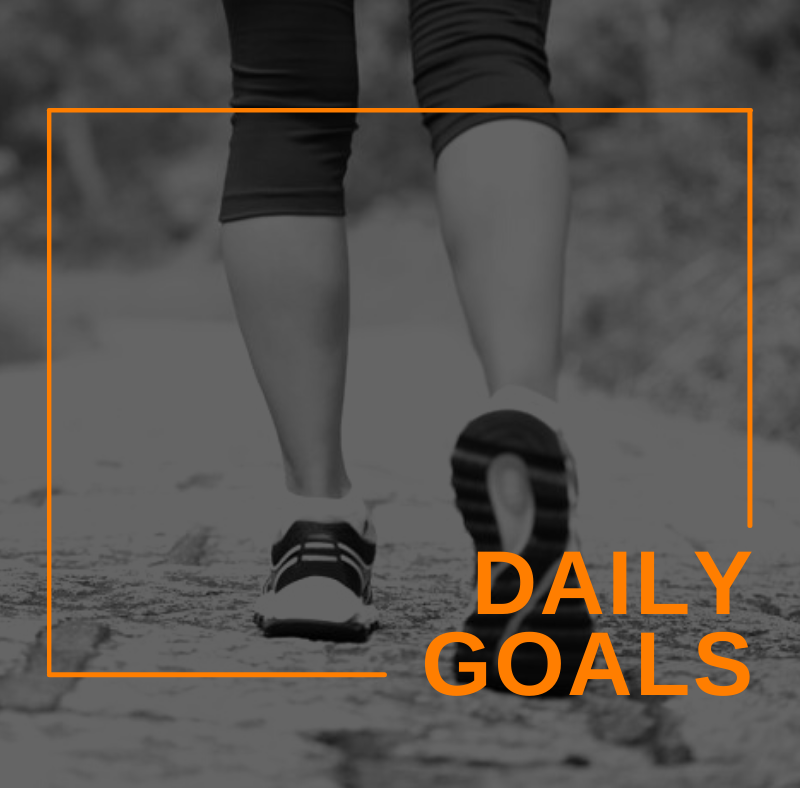 Simple daily goals eventually form long-term lifestyle change. Setting them is a cognizant decision that's repeated to instill habit. Starting small allows success to flourish in the bigger picture. Like the proverbial saying, rather than tackling the whole staircase, take one step at a time.

Hiring a trainer is a great first step. Using a refillable water bottle that's always in sight is another. But, how do you change daily habits to be healthier? Trainers can work with clients to help them create necessary changes, but it's ultimately up to them to carry them out.

I spoke with two people who recently made a concerted effort to a healthier, more active lifestyle. Here's what they did and what happened in the process.
Achievable Daily Goals
Walking
Stephanie Shaul committed to walking every day at the beginning of the year. "I have gone on a 2.5-5 mile walk outside every single day since January 1st, regardless of the weather," she said.
"My daily step count in February was almost five times what it was on average in both November and December, and in March, it was just about six times higher than November and December." That is a big increase in steps. Instead of dreading the activity, she found she actually enjoyed the walks.
"It's been really fun to challenge myself to get more steps, on average, every passing month and to be so much more active," Shaul commented. "Just getting outside and moving has been so refreshing and has really become something I look forward to every day."

Timing
Setting aside a specific time of day devoted to exercise works for some people. Ben Richardson starts the day by getting active in several ways finding benefits for mind, body, and soul.
"I've been developing a routine of morning beach rides, runs, and walks to clear my mind," he said. "To feed my spirit so that I have the energy to encourage and support others. I've never in my life been a morning person but this alone time has been a game changer for me. Fuel the spirit. Fuel the mind. Fuel the body." Living near a beach certainly has its advantages.

Planning
Planning is a key component to setting daily goals, making a change and sticking with it. Whether you mark it on a calendar or put a reminder in your phone, plan to do it…whatever it is.

Choose a time that works. Early risers might choose to exercise in the morning when they feel most energetic. Night owls might prefer an evening exercise routine. Many squeeze workouts in during a lunch hour. Find what works.

Make it accessible. I knew someone years ago who used to leave their workout shoes by the back door. This simple reminder was an easy way to get moving with shoes readily available.

A neighbor of mine taped a bathing suit picture of herself on her refrigerator. The photo was taken during a time she was fit. As she began to modify her exercise and eating habits, the picture reminded her to stay on track with what she chose to consume from inside the frig.

Lifestyle
Fad diets and get fit quick exercise plans with outrageous claims can be discouraging when they don't work. If it sounds too easy to work, it probably is.

Fitness is a daily lifestyle and an ever-present mindset.

What do you do every day?