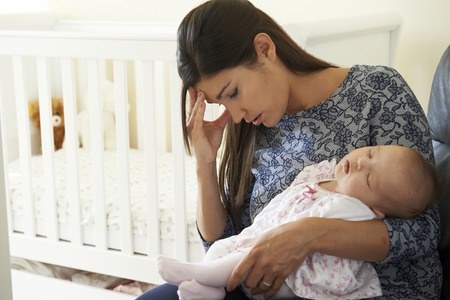 Welcoming the addition of a precious new "bundle of joy" into the family is always a celebrated life event. After nine months of waiting and wondering, there is nothing quite like the moment when a newborn is placed into the arms of anxious parents. Amid such elation, however, many new mothers experience a period of post-partum depression, often referred to as "the baby blues".
This can be quite a confusing time, since many mothers wonder what could possibly be causing such sadness when one of the greatest events in their lives just occurred.
Classic post-partum depression can be characterized by sadness/episodes of weeping, irritability, fatigue, increased sensitivity, a sense of hopelessness and isolation, and the loss of interest in formerly pleasurable activities. While much of this can easily be attributed to the demands of a new baby, altered levels of circulating hormones, and a decrease in the amount of rest to which one has become accustomed prior to delivery, more severe post-partum psychosis can last for months and become all-consuming for the new parent, interfering with the bonding process and overall caring for the infant.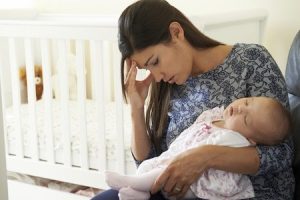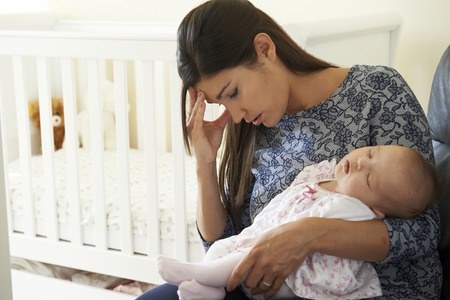 Recent research has illustrated that exercise may have a profound effect on helping to ease the symptoms of post-partum depression. Since many women choose not to consume any medications during the first few months after delivery, owing in large part to the transfer of most drugs into the breast milk, taking advantage of the antidepressant effects of exercise seems to be a prudent course of action. A study by Dunn and colleagues (2005) examined the efficacy of exercise as a treatment for depression, along with the dose-response relationship of exercise and reduction in depressive symptoms. They concluded that moderate to intense physical activity, performed 3-5 times a week, heralded significant reductions in symptomatic women. In addition, some early results from a study in Australia have suggested that a stroller walking program has helped alleviate the symptoms of postpartum depression.
The above-mentioned symptoms can be exacerbated if a new mother already has a history of depression. Preliminary data of a study from the United Kingdom suggest that aerobic exercise has a significant positive effect on mood in perinatal women, and that this pattern can have a heightened effect on these same women in the period after delivery. If one is prone to bouts of depression, engaging in an exercise program during the pregnancy would prove to be beneficial, not only for the health benefits but to mitigate the onset of a post-partum depressive state.
The mechanism whereby exercise facilitates mood is not a new concept. Upon engaging in any form of exercise, the body releases chemicals called endorphins. Not only do endorphins interact with receptors in the brain that reduce the perception of pain; endorphins are also responsible for the triggering of a morphine-like feeling of euphoria. The release of such an emotion often is accompanied by a more positive, energized outlook on life, precisely what an overwhelmingly saddened new mother needs. An added benefit is that, unlike with the use of morphine or similar drugs, activation of these particular brain receptors by endorphins does not lead to addiction.
For some women who are quite conscious of their body image post-partum, the presence of residual abdominal tissue can be a cause of much anxiety. Engaging in a regular exercise program can help restore muscle tone in the midsection as well as boost the body's overall metabolism, further facilitating rapid loss of "baby weight" and restoring the new mom to a happier, more fit and healthy place.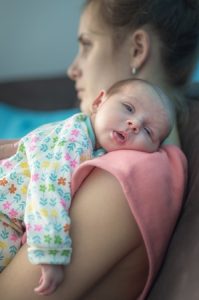 While exercise has been shown to be an effective mechanism in helping to alleviate the symptoms of post-partum depression, it should be noted that in some extreme cases, this depression can become severe. In cases such as these, exercise alone most likely will not eradicate the problem. For example, any woman suffering from post-partum depression may experience fleeting thoughts of suicide or of harming her baby. A woman with postpartum psychosis, however, may feel as though she has to act on these thoughts. If this pattern of behavior is suspected, a medical professional should be consulted immediately.
Post-partum depression is not at all an uncommon occurrence. Often new moms find it helpful to meet with others who may be experiencing the same feelings, so as to garner support and share ideas. Group exercise classes, held at many gyms and local community centers, provide the perfect opportunity to interact with other mothers while eliciting endorphins. However one chooses to exercise, be assured that it is going to be beneficial not only for the post-partum individual but for the entire family. When a mother feels secure and elated with her new offspring, she can't help but become a more successful caretaker!
References:
1. Nordahl, Karen M.D. Urbanbaby and Toddler Magazine, Winter 2005-06
2. Daly, Amanda J. PhD. et al "The Role of Exercise in Treating Post-Partum Depression: A Review of the Literature" Journal of Midwifery & Women's Health, Volume 52, Issue 1, January-February 2007, pages 56-62
4. Dunn, A.L., Trivedi, M.H., Kampert, J.B., Clark, C.G., Chambliss, H. G., 2005. Exercise treatment for depression: efficacy and dose response. Am. J. Prev. Med. 28: 1-8.
5. Koltyn, K.F., Schultes, S.S., 1997. Psychological effects of an aerobic exercise session and a rest session following pregnancy. J. Sports Med. Phys. Fitness 37 (4), 287-291.
6. Heh, S.S., Huang, L.H., Ho, S.M., Fu, Y.Y., Wano, L.L., 2008. Effectiveness of an exercise support program in reducing the severity of postnatal depression in Taiwanese women. Birth . 35 (1), 60-65.
About the Author
Cathleen Kronemer is an AFAA-Certified Group Exercise Instructor, NSCA-Certified Personal Trainer, competitive bodybuilder and freelance writer. She is employed at the Jewish Community Center in St. Louis, MO. Cathleen has been involved in the fitness industry for 22 years. Look for her on www.WorldPhysique.com.
She welcomes your feedback and your comments!