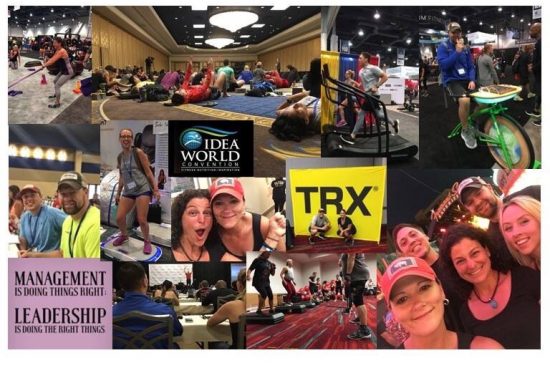 I was surprised in a few different ways when attending my first Idea World Convention this summer. I did not know what to expect, or how much I would gain from going to Idea World. It was so much more than I could have imagined.
Do you remember how you felt before your first day of school? The excitement, anticipation and underlying nervousness for the unknown? This was me before my first attendance at the Idea World Fitness Convention.
Here's my story and some tips if you'll be attending a convention like Idea World for your first time.
Make it Happen
Back in January of this year, the boss of my brand new job approached me about attending Idea World with her and some other trainers from our gym. I had never heard of Idea. I was new to the gym and hardly knew my boss or co-workers. My social insecurities were screaming "no way am I traveling with strangers!".
However, a four day educational fitness convention was too interesting to pass up. Impulsively, I agreed to go with them. Mind you, I had just returned to the U.S from a five month trip around Europe and India. I was certainly not rolling in the dough. I did not know how I was going to pay for this trip, nor did I truly understand what it was I was getting myself into. None the less, I was going to make it happen.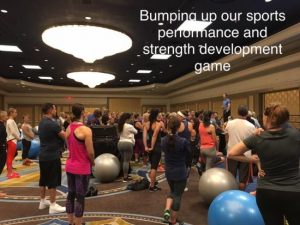 Vegas Baby
As it usually does, life worked itself out. I had an incredibly successful summer and created relationships with my fellow trainers, boss and amazing clients. I felt myself becoming a part of my gym.
Suddenly it was July 17th and I needed to get myself ready and packed for Idea! We left town on the 19th, spent all day traveling and arrived (for my first time) in Las Vegas, Nevada at 10:30 pm. By 11:30 pm I'm snuggled into the sinfully comfortable bed of the Westgate resort, feeling like tomorrow is my first day of school. I was eager and excited to learn all that I could over the next few days. I didn't even mind that I was needing to set my alarm for 5:40 am.
Wait! It's over?…
The Idea convention went by in a whirlwind of information, fun new workouts, and general sensory overload. Before I knew it I was on a Delta flight home, slightly panicking because it felt as if I didn't remember any of the things I learned. It was all so much, packed into three and a half days. I had filled my schedule as much as I could. Taking 3-5 workshops a day, and then exploring the Nutrition and Fitness Expo in between.
Along with this, my gym and I spent the evenings having amazing dinners and exploring the insanity that is Vegas. It was one of the busiest weekends I have experienced, and a week later I am still absorbing all the new information.
Tips for Attending Your First Idea World Convention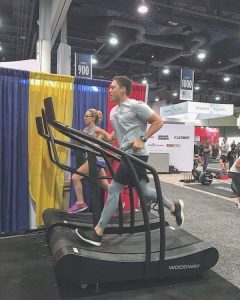 Reflect!
I believe this is the most valuable action that can be done while attending an event such as Idea. I suggest, if there is time, to spend five minutes after each workshop/lecture to write about what stuck with you.
Highlight
what it was that you found most interesting
what was new information for you
how you can apply that information with your current clients.
If you are not able to find time during the day, spend 20-30 minutes at the end of your day reflecting on each workshop and lecture. Recall the information and then physically write it down in a journal.
I believe if I had spent more time specifically reflecting on what I learned, I would have been able to bring more home than I did. Which, on the positive side, is an incredible amount of new and applicable information.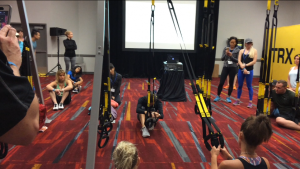 There is no time to waste
Between sessions I was occasionally looking at a 10-15 minute window to:
find a restroom with a reasonable line
grab a snack to tide me over for two hours
somehow decompress
When you leave your hotel room for the day, make sure you have any and everything you might need. It will be rare for you to find time to wait in the elevator line to run up to the 16th floor to grab something you've forgotten.
Among these essential items should be plenty of snacks! There are some 10,000 other attendees who are also frantically looking for sustenance between the workshops. The lines are heinous, save yourself the stress and time. Bring jerky, trail mix, fruits, veggies and anything else you love to eat to keep your energy up.
What it's really all about
Don't forget about the most important part. Enjoy yourself! You will not be able to remember every little thing from the 12-15 workshops/lectures you attend. Allow the information that you find most useful and interesting to be your focus within each session.
Idea World is an incredibly fun and exciting experience, and it should be just that for anyone who attends. It is a place full of other people who share the same passions for wellness, health and fitness. It's an event that will inspire and motivate. All possibilities are presented and made accessible. Events like Idea World are made for those professionals that want to be the very best they can.
I highly suggest making the commitment, time wise and financially to attend. Not only do you have the opportunity to come face to face with some of the leading innovators in the field, most PT certifying agencies offer CEU's for attending. It is an experience I believe can be pivotal to any wellness professional who wants to expand their profession, skills, experience and overall knowledge.
Idea World sparked a fire in me. I am inspired, motivated and feel even more excited about my growing career. I highly suggest you attend if you are looking to improve your career and personal health pursuits.