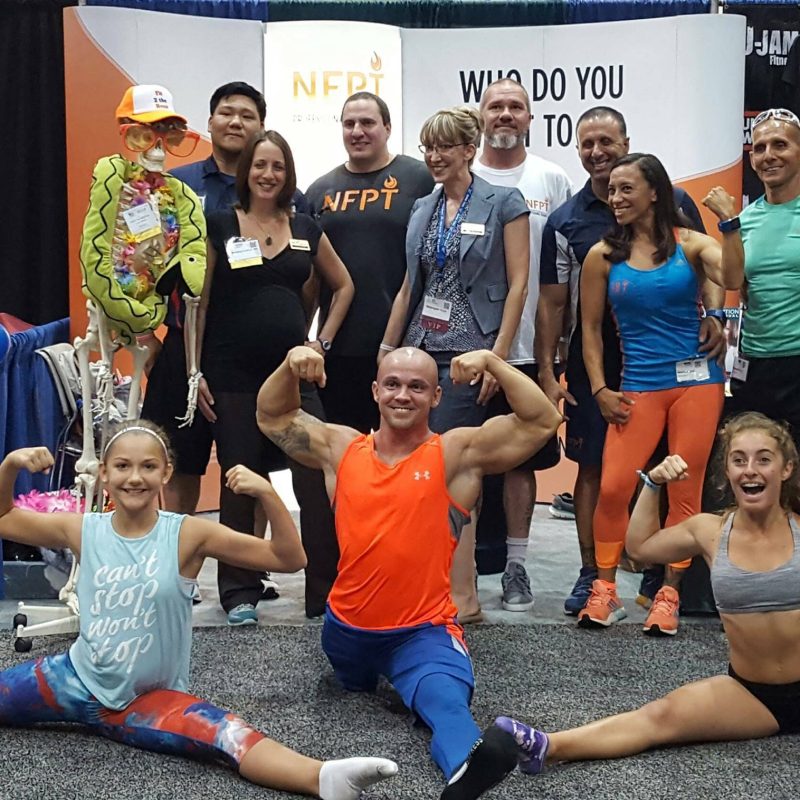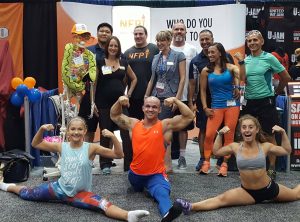 A handful of the NFPT family made it out to Los Angeles over the weekend to represent the company and mingle with like-minded fitness fanatics. 14,000 people attended from all over the world to refresh knowledge, sample various food concoctions and become inspired! Trade-shows sometimes seem like a bunch of glitz and glamour, but there is more heart beneath the surface than you can imagine. Here are our five favorites!
Chickpea Pasta
It's not just chickpeas that caught our attention, but the GLUTEN FREE movement and how it's hit the fitness industry in a massive way. Every one of the food/beverage companies in the trade show was sampling and showcasing their gluten free options. Nutrition bars, pasta, protein powders, bean dips, etc. DAIRY FREE was another phrase seen throughout the Nutrition Pavilion, which is what they call the hundreds of food vendors making a case for their product. The education to back up the various eating trends was being taught in the Nutrition & Behavior Change Summit, which included 9 eating experts sharing research and game plans for dining.
Playing Dress-Up
Fitness and fashion go together these days. While there were many clothing reps at the show with hot new outfits for sweat seekers, there was a different type of accessory being worn at this event. NFPT wasn't the only company with a photo booth (and polaroid camera) at the convention. Idea also had one at their opening party on Friday night and the NFPT team didn't hesitate to get dressed up for a pic! Community and friendship is a key component at a fitness convention, bringing people together for old-fashioned fun in a way that social media can never replace.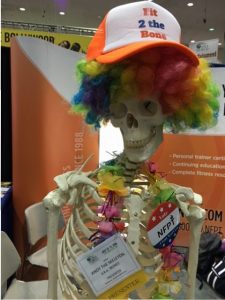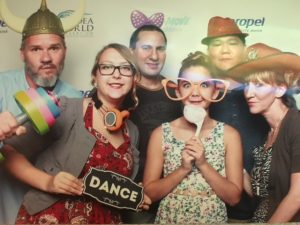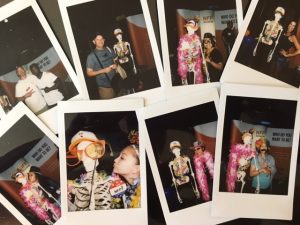 What the Idea Photo Booth was missing however, which the NFPT booth had was Andy the Skeleton…
Andy the Skeleton
He was there for fun, but when it was time to get down to business, Andy didn't disappoint. NFPT sponsored two anatomy based sessions at the convention and had an excellent showing of participants who wanted to know more about the foundations of movement. Participants used balloons and body awareness to navigate themselves like never before!
Muscles are the foundation for everything a fitness professional does with their client, yet this knowledge gets lost soon after certification exams are passed. NFPT has an anatomy course, check it out and get yourself up to speed using your computer and your body! "Hands-on" is the motto with this 8-week program.
Speaking of great NFPT educators….
CONGRATS Personal Trainer of the Year – Carol Michaels
Author and creator of the Cancer Recovery Specialist Course won this very deserved award during the opening ceremonies! What a way to kick off the conference. Carol Michaels is the leading expert in cancer fitness. She's a role model to follow with over 18 years of experience as a fitness professional and cancer exercise specialist. She has worked with hundreds of cancer patients. We've all been touched by cancer and can learn a lot from Carol.
The Direction of Fitness
There were several events going on within the Idea World Fitness Convention 2016.
Club & Studio Summit – There is an abundance of wisdom to be shared by club/studio owners who are making a difference in a big way, by leading a team of fitness professionals who then touch hundreds and thousands of lives every week.
The main take-aways were:
Provide exceptional customer service, by knowing what the client wants before they know.
Help people feel like they're a part of a community.
Have a mission and statement to guide your team AND use it every day!
Know your ideal customer and create experiences specifically for them.
Success Academy – This collection of 9 hand-picked speakers was for the entrepreneurial minded dream chaser. Want to make a million dollars? Start a franchise? Get noticed? Famous fitness stars shared their secrets. Persistence and hard work were constant themes throughout the talks. There's a reason not everyone makes it big in show business. It takes sacrifice, blood sweat and tears!
Blog Fest – Social media isn't slowing down anytime soon and it's ever-changing. Some of the information presented this past weekend is probably out-dated already! Beneath all good social media practices, there is one thing in common. AUTHENTICITY. The people who make it big on social media do so without strategic plans (although this is another path that can be pursued) by being who they are and showing that THEY CARE. It's easier said than done, but surely more effective when you have a mission, know who you are and what you stand for.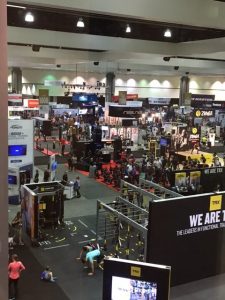 There is indeed a lot of glitz and glamour at fitness conventions, but it's nice to see that timeless principles hold true.
Be authentic, care for the people around you and have FUN!