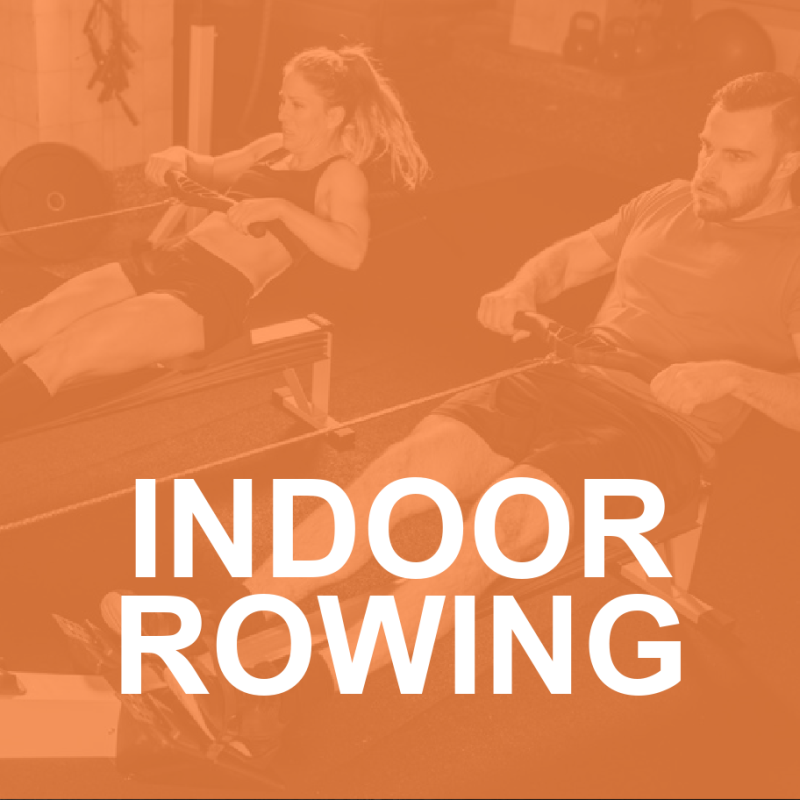 Advances in technology and publicity have added to a growing awareness of the superb stamina and strength activity via the notoriety of "ERG" CrossFit workouts of the day (WoD) and CrossFit World Championship events, otherwise recognized as indoor rowing. A well-known author Kenneth Grahame once wrote, "There is nothing so fun as messing around in boats." Yet, few athletes are able to get to the water's edge and then row on the water.
Three key reasons why indoor rowing can complement other fitness routines, or become a mainstay element of clients' regimens are:
Elite water rowing is documented as the most intense Olympic sport, based on Kilocalories burned per minute of event time.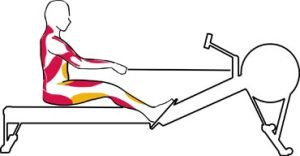 Just review these biomechanics of the rowing stroke to fully appreciate why this high output assertion is science-backed.
Each leg-push, back-hinge, and elbow swing motion of an indoor rowing stroke, which rowers call "the drive", approximates a 60-pound "clean" as a lifted weight is delivered. One can repeat that "clean"30 or more times a minute for extended periods.

As a whole-body, repetitive exercise, indoor rowing can be adapted to a client's desire for Volume, Intensity, and/or Tempo.

Individual indoor rowing is an effort-based exercise for bespoke training regimens.

Ladies can improve bone density without "pounding" pavement or employing plyometric exercises.
If an elder athlete can get up from a chair and pull her/his arms to the chest, then indoor rowing is a fitness exercise to consider for the client's kit.
Clients in either pre-habilitation or rehabilitation therapy, such as knee joint replacement, can experience gentle impact and "good" range of motion [RoM] exercise on an Indoor Rower.
This article highlights performance points to recommend and monitor when a client tries indoor rowing. It describes the merits of this whole-body exercise vis a vis power, endured strength, and body control/balance.
Performance Points of Indoor Rowing
Gym owners and trainers may have preferences for the preferred make and model of an indoor rower for a client or themselves. While only subtle differences exist in performance measures among major models, there are a few cost-benefit considerations for an individual and her/his desired features.
Is a selectable, changing rowing scene on the machine's monitor a must-have, a nice-to-have, or no-need-to-have criterion for the client?
While a new indoor rower may cost $1,000 USD (or more), it should last for millions of meters rowed and years of regular usage.
Injury considerations? An effort-based exercise like indoor rowing can lead to soreness or even injury from overuse or heavy loading.
Proper form is a key to avoiding or mitigating the chance for injury to the elbow regions, ribs, and lumbar regions of a client.
Indoor rowing taps the majority power of quadriceps and glutes for each drive (about 60% of the power generated). About 30% of the stroke power comes from the hinging drive of back muscles and the anterior core groups. The final 10% of human power on the "ERG" comes from the arms and shoulders as finishing actions of each stroke.
Fitness Merits
The indoor rower serves as a variable apparatus to challenge clients' volume, intensity, and tempo-based exertions for stamina and strength.
Examples:
A well-documented measure of athletic fitness is to "power" the "ERG" for a 500-meter distance for the lowest possible time.
A very respectable benchmark for "masters" men is to "ERG" that 500-meter distance in under 90 seconds. That achievement equates to an average power of 480 watts – or an average of about 2/3rds of a Horsepower (HP).
Also of worthy consideration is the VO2 max of a woman's 2,000-meter time trial on an ergometer. This is the Olympic event distance. An 8 minute finishing time for 2,000 meters by a 155-pound woman exemplifies excellent cardio-respiratory fitness for any female athlete aged 30 or older!
Any client who can achieve either or both benchmarks (with age-and gender dependence) demonstrates an enviable capacity to work at a high aerobic and anaerobic level to go fast. All three major energy-tapping systems of the human body are needed for such good and great performances.
Such competitive achievements are not performance goals for all clients.  Yet, the alternative low-intensity volume and "whole body" exercise of ERG'ing has other notable merits besides measuring a client's peak power output.
Imagine a former 10K roadrunner as a current client. She or he can cover that same "measured" 10K distance on the rower in about the same time as briskly done by running on a road or trail. That ERG performance has the added merit of "burning" up to twice as many dietary calories as does a serious runner for the same distance.
Why? The rower emulates one's pushing of a surface craft through the water – a substance that has a much higher resistance than does air.
Further, one's knees and hips do not absorb the same impact shock as a running stride does.
Each indoor rowing stroke taps the lengthening and contraction of all major muscle groups in the human body. It is not solely peak power that leads to high performance in ERGing competitions (which are open to all qualifiers, by the way). Body control and balance are needed for the recovery portion of each rowing stroke. Thus, small muscle groups and concerted mental efforts also contribute to speed.
The repetitive "closed cycle" nature of this indoor sport makes rowing an innovative therapy for traumatic brain-injured and post-traumatic stress disorder victims. Additionally, almost any rowing studio has welcomed a doctor's cardiovascular patient who needs effort-based exercise to increase her or his aerobic capacity for longevity and improved health.
Summary
As an effort-based, whole-body exercise, indoor rowing is a valuable component of many performance athletes as our clients.  Although rowing machines might be considered to be costly, they are quite rugged and have long-lasting value.
When viable, a client can listen for the coach's starting command: Attention, Row!