Change is in the air as the new year approaches. New Years resolutions circle our thoughts.   Many people have the best intentions, but don't follow through.  How do you know if someone is serious about their desire to change?
You can't predict the future, but you can arm yourself with tools to give the right kind of nudge to those that need it.
The Stages of Change were developed by Prochaska and colleagues to categorize a persons readiness for change. Being able to identify which of these five stages a person is in helps you speak directly to them where they're at and be a more effective influencer.
Pre-contemplation 
"Exercise, yeh that's good stuff. It's not for me. I get the mail each morning, that's enough."  The cons outweigh the pros for this person and they're not likely to make any changes to their lifestyle.
What You Can Do
RUN! Just kidding!  Don't give up on them, but don't waste too much breath either.  When you do cross paths, listen more than you talk.  People drop clues and hints if you listen instead of give advice and opinions.  They might have grandchildren that they can't keep up with or have a health issue that interferes with their life.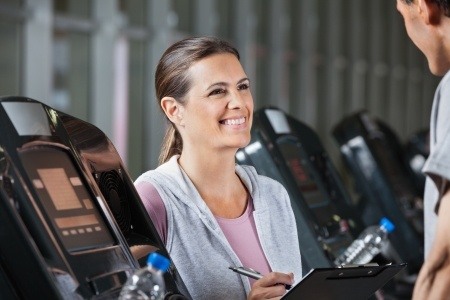 Connecting exercise to these deeper goals is your best chance of making a difference.  Providing them with facts that they can specifically relate to is the best way to win them over and get them contemplating…
Contemplation

"I'll start exercising next month, when I get back from my business trip." They have good intentions, but it's all talk – without action.  They view themselves as someone who should exercise, but there are just as many pros as cons.
What You Can Do
Talk to them about how regular exercise would make them feel.  Say "Have you exercised in the past?  How did it make you feel?"  Imagination and visualization are powerful tools.  Work to tip the scale so that the pros outweigh the cons by pairing it with their emotions.
Preparation 
"I bought new running shoes so I can get back on track. Did you know I used to run five miles a day in college?"  These people are similar to contemplators, but have taken an extra step, making them more ready for change.  They might go for an occasional walk around their neighborhood, but not consistently.
What You Can Do
Encourage them to be more routine (30 minutes/day).  Help them identify time in their schedule to start exercising or find a buddy to workout with.  Have them keep an exercise journal or keep track of their daily steps (most smart phones can do this).  Raise their awareness about their consistency.  
Keeping track or having an accountability partner are two proven methods for this.
If they do a trial session with you, don't make it so hard that they can't walk the next day.  They need to succeed and not have positive experiences, not negative ones.  Their confidence about exercising may not be as high as their intention.
Action (most personal training clients)
"I've been working out at your gym for five weeks. I want to bump it up a notch by getting a personal trainer." These people have been exercising for less than six months and they're highly motivated.  However, 50% of people dropout during the first six months, it's a fragile time. The goal is to get them past that mark into the next stage of maintenance.  
What You Can Do 
They'll buy sessions from you with ease, but don't get over-excited or think they're a client for life because of their enthusiastic intentions.  Adapting a new habit is challenging, so check in frequently.  
Be careful that they don't over-commit or over-do it.  Find out what motivates them and keep them focused on that.  Set achievable goals with them.  Pay careful attention to any cues that they'll relapse back into sedentary behavior, such as canceling sessions and making excuses about eating habits.  Address these immediately. 
Maintenance (we all want these clients)
"I've been working out since college.  I need to mix it up and had a personal trainer in the past.  Are you taking new clients?"  This is every personal trainers ideal client, motivated and committed.
Their #1 setback is injury, with schedule interruptions being a close second.
What You Can Do
Tap into their personality type, what their needs are and keep them interested.  Help them see potential barriers such as an upcoming holiday party or vacation.  Emphasize injury prevention and make sure they aren't over-training.  
Time For Action!
Now it's time for you to practice these skills.  Analyze the people in your life and see if you can pin point their stage of change.  Transform your conversations according to each person's phase.  It'll become more natural as you go.
Let us know how you do in the comments below and if you enjoyed this article, please share it with a colleague!