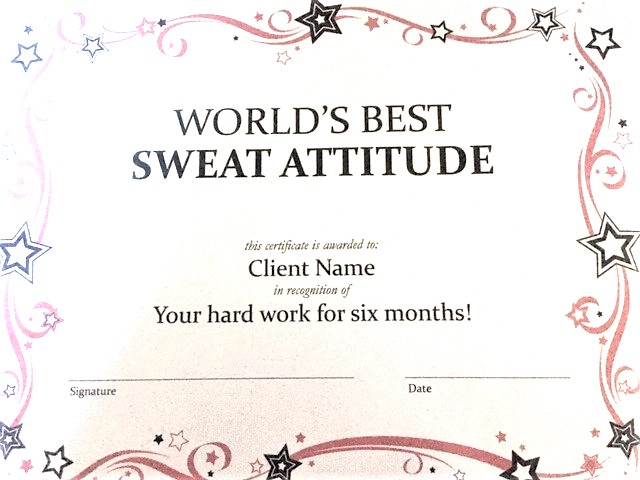 We are all more likely to keep doing something if we enjoy it. As fitness professionals, we have already discovered the fun in exercise. Carry that one step further by showing clients how training sessions can be fun.
Sometimes we need a little pep in our training sessions to liven things up a bit. This can be due to winter doldrums, exercise monotony, or external factors. External factors include a client's stress level outside of training, distractions at work or home, or general fatigue. Or perhaps they have yet to discover how fun working out can be! As trainers, we need to recognize the signs and address them.
It's easy to slide some fun into the sessions without compromising the training. While keeping the client's personality in mind, here are a few tried-and-true methods for fun-loving clients.
Music
Set up a playlist beforehand. You can play your client's favorite genre including some of their favorite songs. Try playing a few entertaining songs that coordinate with the exercises. *Some songs have explicit lyrics, so use your own discretion.
"Side to Side" by Ariana Grande (resistance band side steps)
"Motivation" by Normani (any challenging exercise)
"Never Really Over" by Katy Perry (towards the end of the training session)
"Push It" by Salt-N-Peppa (overhead presses, bench presses, squats)
"Baby Got Back" by Sir Mix-a-Lot (glute-targeted exercises)
"I'm Too Sexy" by Right Said Fred (any exercise)
"Jump" by Van Halen (burpees, box jumps)
Pictures
A picture is worth a thousand crunches? Well, maybe not, but it's still worth trying! A celebrity crush can be a fun motivator. Find posters or pictures of your clients' celebrity crush or even their current sweetheart if that's what they'd prefer. Position them on the wall where your client might be coming up from crunches, balancing on a BOSU ball, or in view while swinging kettlebells.
Double the fun. If the celebrity crush happens to be a musician, you can incorporate the music playlist with the poster.
Jar of Choices
Come up with the planned exercises for parts of the training session and write them on individual pieces of paper. Fold the pieces of paper in half, so the exercise isn't visible. Put them in a jar or container, and let your client choose the exercises one at a time.
This takes a little planning, but you can use the jar of choices multiple times. You might want to have a jar for cardio and one for strength training. Or have your client choose from the jar for their warm-up or cool-down. I've tried this "jar of choices" with several outdoor training sessions, and it worked very well. It can also be effective indoors. There are pre-made decks of cards with different bodyweight exercises that can work just as well if you prefer.
The clients feel somewhat in control and it adds variety to the workout. You might hear an "ugh" from them, but they chose it!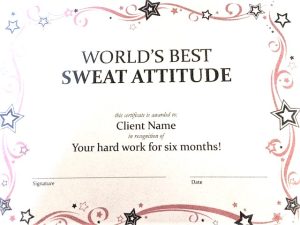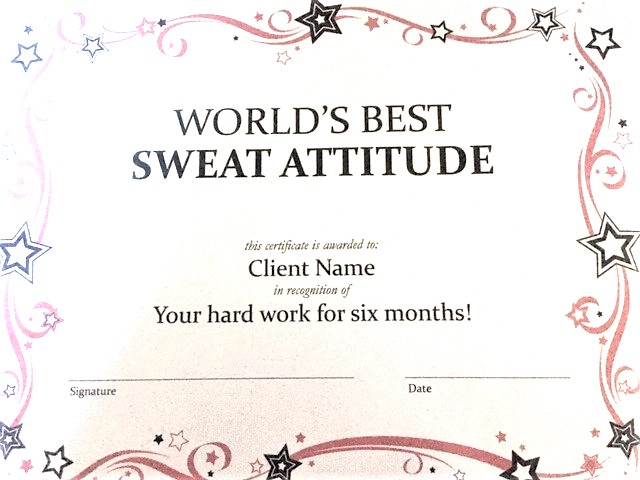 Achievement Awards
Give out achievement awards for small feats like a client who extends their walking/running distance, gains strength, hits a weight loss goal, or if you see a positive change in attitude. You might recognize a certain number of sessions completed. Print out certificates to make it somewhat official or give them small gift certificates. Check with local health food restaurants and sporting equipment stores to see if they will give you vouchers for discounts. Give the vouchers to your clients in lieu of certificates or along with them.
Getting creative and coming up with your own ways to have fun during sessions can help boost your morale just as much as your clients', keeping your workouts fresh and your professional bond stronger.