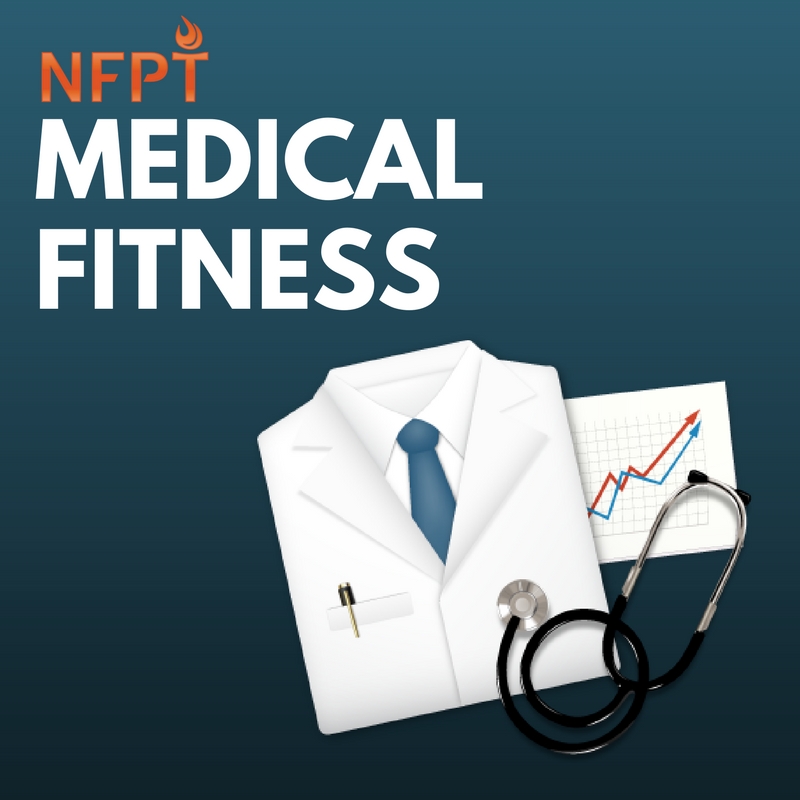 The gap between medical treatment and the application of fitness has finally been bridged. As a fitness professional, are you prepared to cross over to new opportunities?
Obesity, diabetes, and hypertension constitute some of the most challenging and costly public health threats facing the public today. To combat these threats in a more holistic, drug-free, lifestyle -change approach, health care providers must become comfortable addressing issues of diet and fitness with their patients.
Doctors, nurses, and other health professionals are uniquely positioned to deliver effective messages and counseling about the importance of these lifestyle factors in achieving and maintaining good health. Sadly, today's health care educational system often fails to provide practitioners with adequate training to counsel patients about nutrition and physical activity. Luckily change is upon us.
What is Medical Fitness?
Medical fitness includes medically supervised, integrated, outcomes and accountability-based fitness and exercise platforms that are led by primary care physicians. Personal trainers cannot prescribe exercise, but doctors can. And when they do, people are often more motivated to make a lifestyle change.
Doctors are becoming more educated about fitness and how it impacts a host of health issues including but not limited to arthritis, Parkinson's, mental health, autism, cancer and many more.
Wouldn't it be nice if doctors were referring fitness professionals their large list of patients who need guidance and supervision? Read on and position yourself properly.
The Medical Model is Changing
More than half of the physicians trained in the United States receive no formal education in physical activity, according to a 2015 study. The authors of this study further discovered that most medical colleges do not offer physical activity-related courses, and the rare exceptions are often electives and not mandatory aspects of the curriculum.
According to Centers for Disease Control and Prevention & National Center for Health Statistics (2010), less than 12% of doctor visits include counseling on fitness and nutrition. This is easily explained when less than 25% of practicing physicians feel their medical school education provided adequate training in counseling patients on ways to alter lifestyles and improve health with regard to diet or physical activity.
Up until recently, the medical profession has been accustomed to treating an illness or condition with medication and/or surgical procedures, rather than taking measures to prevent it from ever occurring. The costs of such treatment options are staggering, and our country's wellness is still not improving. The time has come to take a proactive approach to health care, in an effort to prevent or at best delay onset of lifestyle-related illnesses that plague our population in ever-increasing numbers.
"Conceptually, since Hippocrates on down, medicine has largely been focused on treating illness after it happens," says Dr. Jordan Metzl, a Sports Medicine physician with a faculty appointment at Cornell University. "We spend literally trillions of dollars on treating issues that oftentimes are preventable. Exercise is available to every single person, has zero side effects and works in some capacity for everybody who takes it…and no drug fits that safety profile with that efficacy."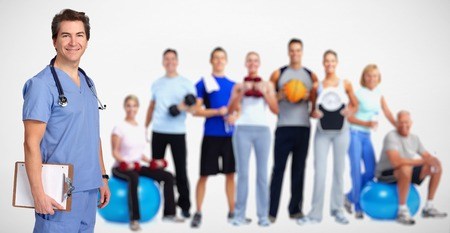 An Integrated Approach to Wellness
Recognizing the rapidly growing number of Medicare-eligible adults, estimated to reach 71.5 million by 2030 according to the Administration on Aging, the demand for disease prevention through cost-effective lifestyle interventions is at an all-time high. When such data is considered alongside research illustrating the potent benefits of exercise, physicians and hospitals are starting to sit up, take notice, and assume more proactive measures. The tide seems to be turning, paving the way for a new wide-open career path for qualified fitness professionals.
One growing trend that seems quite promising is the evolution of medically integrated training centers, with a physician on site to supervise personal trainers. "It's the best of both worlds," said Zoe Guirlinger, an owner of a fitness center called Ultimate U Total Health near Columbus, Ohio. Her unique facility employs a physician, physical therapists, personal trainers and dietitians. Combining these disciplines under one roof allows patients/clients to receive an integrated health prescription, offering great promise in improving wellbeing.
Collaboration For Meeting Clients' Needs
John McCarthy, retiring Executive Director of the International Health, Racquet & Sportsclub Association in Boston, recently named Medical Fitness #4 in the top 10 reasons why the fitness industry will continue growing. In 2005, 855 hospitals in the United States owned medical fitness centers, where doctors and well-educated trainers can collaborate to create exercise regimens for their patients/clients, up from 715 in 2004, according to the trade group Medical Fitness Association.
There has been almost a 1,000% increase in the number of hospital-owned or physician-sponsored wellness or fitness centers in the past two decades. Today, such medical fitness facilities serve nearly 2 million members. While the traditional fitness center catering to healthy young adults still thrives, a different kind of club—and a different kind of fitness professional—is emerging to meet the fitness needs of a variety of special populations.
Exercise as Medicine
One can think of this newly emerging profession as a bridge between clinical care/rehabilitation and more mainstream exercise programs. A variety of possibilities exist in terms of where a medical fitness professional might seek employment. Some trainers are full- or part-time employees of hospital-based wellness centers.
Others have started their own businesses, working primarily with clients who have been released from rehabilitation but do not yet feel ready to re-enter mainstream fitness. Some may continue in their current capacity in commercial health clubs and spend a fraction of their time training higher-risk individuals.
When working with special populations, medical fitness professionals generally follow a 10-step approach, articulated by ACE in its Clinical Exercise Specialist Manual:
Perform pre-exercise health risk assessment.
Obtain physician clearance.
Identify exercise benefits and goals.
Determine acute exercise risks.
Prepare for medical emergencies.
Obtain informed consent.
Plan baseline "fitness" testing.
Design exercise program.
Plan exercise program implementation.
Double-check established guidelines.
This approach not only assures high-quality care for each client but also provides important health information for the individual. When this information is appropriately documented and communicated with the client's physician, the medical fitness professional more effectively gain that physician's trust and respect. The approach also helps the client transition back into his or her community with support and encouragement to permanently adopt a safe, effective physical activity program.
Quite often, trainers already utilize many of these steps upon first meeting a potential client. The difference comes into play when such a client presents with a complicated health history. Being a liaison between the client and his/her managing physician is a leading role for the medical fitness professional, ensuring the safest route possible as the client transitions into regular exercise and an improved lifestyle.
How Fitness Professionals Can Get Involved
In addition to obtaining sufficient education and certifications to take on such a position, establishing ties with both health professionals and clients is a key to success. "The medical networking involved with this field is extremely critical to establish and promote the relationships necessary to gain the respect, receive the referrals and ultimately have reciprocation with the medical community," says Wendy Williamson, MHS, a Kansas–based ACE-certified clinical exercise specialist.
She recommends that newcomers to this industry must seek out opportunities to communicate and interact with the medical community in a way that will promote growth and professional development. This may include attending local conferences and talks that address medical fitness topics, taking a class on specific health conditions that may respond well to such programs, becoming involved in promoting health-related activities in the community, strengthening relationships with familiar providers, and widening this network in an attempt to offer as many options as possible for client referral.
We now have the unique opportunity to educate doctors, nurses and allied health professionals on the virtues of movement and strength training as it relates to recovery/rehabilitation as well as illness prevention. The more familiar the medical community becomes with this concept, the easier it will be to counsel patients on the long-term benefits to health and wellness that fitness can create. While it certainly is not our place to be a substitution for necessary medical care, exercise can be viewed as an adjunct approach, whether for healing or prevention.
[info type="facebook"]If you're an NFPT trainer, join the Facebook Community Group to chat with other trainers. If you're not, come talk with NFPT here, like our page, we would like to meet you![/info]
REFERENCES:
https://www.usnews.com/news/articles/2016-04-12/doctors-inform-patients-theyre-obese-but-offer-few-solutions
http://www.washington.edu/news/2016/02/29/doctor-patient-expectations-differ-on-fitness-and-lifestyle-tracking/
https://www.ncbi.nlm.nih.gov/pmc/articles/PMC4241367/
http://fitness.mercola.com/sites/fitness/archive/2014/01/10/exercise-preventive-drug.aspx
http://www.cnn.com/2016/11/08/health/prescribing-exercise-as-medicine/index.html
http://bipartisanpolicy.org/wp-content/uploads/sites/default/files/Med_Ed_Report.PDF
http://www.nytimes.com/2006/09/21/fashion/21Fitness.html
http://www.ideafit.com/fitness-library/building-bridge-career-medical-fitness