Plyometrics are widely used amongst personal trainers in a variety of settings. Trainers use plyometrics as a way to up the intensity of their workouts and keep their clients interested. Plyometrics are great for building explosive strength and give athletes an edge over their opponents when done correctly. The main problem with this type of training is that more often than not it is done incorrectly and for the wrong reasons. Trainers read a few articles and think they know everything about plyometrics and that any client can do them for fun and variety. This is so far from the reality of what plyometrics are meant for and the reason people get hurt doing them.
Plyometrics are an advanced method of training and should only be prescribed to clients that have proper balance, strength, flexibility, muscle coordination and joint mobility. In most cases the average person has no business doing plyometrics because the risk outweighs the reward. There are plyometric type exercises that are great for the general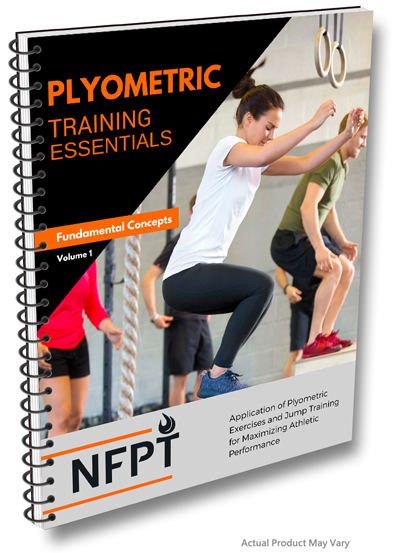 population but true plyometrics are best suited for athletes. A good example is a single box jump, which in reality is not a true plyometric movement. In order for a movement to be considered plyometric the athlete must explode immediately into the next movement after landing. For example if you had the athlete jump onto a box then immediately jump onto a second higher box then that would be a true plyometric movement. The true plyometric effect is measured by the amortization time (time spent on ground between movements). If your landing is too long then you lose the benefit of the stretch reflex and defeat the purpose of a plyometric movement.
We wrote this entry-level course for trainers in an effort to give them a foundation to start from. The objectives for this online course are to provide students with a general understanding of what plyometrics are and when to apply them. Students will learn basic assessment techniques and how to determine if a client is actually capable of doing plyometrics. This course will explain the chain of events that lead up to accomplishing a true plyometric movement. Students will be introduced to the science behind plyometric training and learn the benefits of applying it. Students will watch videos to see the correct exercise form. This course is only meant as an introduction so trainers should not take the course and start doing plyometrics with everyone they see.
If you are looking to give your resume a boost, need some CECs or want to further your knowledge in the fitness industry, this course is for you. For more information on this course, check out our official Plyometrics page or give us a call with your questions and concerns.