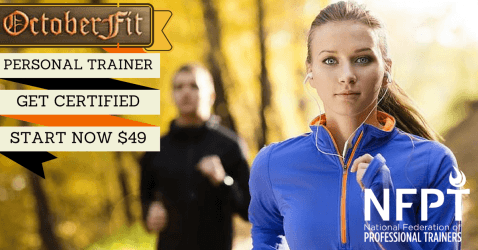 That time of year again…mums, pumpkins and spiced lattes, oh my!  At NFPT, we're big fans of the fall season. First because it's just a beautiful time of year. And second because all the signs of change and preparedness are right there in front of us. It's time to start thinking about what our end of the year goals are, and how we'll get them accomplished.
At  NFPT, we look at our organizational goals through the lens of the trainer…and, in this case, the aspiring trainer. We think about how long it would take someone to get certified, if they start now. Could they be done before the New Year? We think so! We all know that the New Year is like Christmas for the fitness industry…the gift of resolutions that spark up large increases in gym memberships and new business for trainers.
Take Advantage of OctoberFIT
We do a little thing each year called "OctoberFit". It's fun, it's inline with our festive outlook on the season, and we hope it's helpful for aspiring trainers. This year, we're opening up our Premier Certification Package to anyone who wants to get started for $49! There's no obligation, there's no automatic credit card charges when you don't cancel, and there's no strings attached. So, if you're thinking about being a trainer, or if you know someone whose been thinking about, now is the time. Goals are good, but realistic time frames are the make or break of reaching them.
Take the Time
There's 3 months to January 1st! It's hard to believe but the time of year is upon us…before we know it we will be making gift lists and tuning up the vocal chords for some Jingle Bells and breaking out winter coats (okay, not all of us need winter coats. It applies to me and the NFPT fam unfortunately – nothing like a Midwest winter!) While you're prepping for the seasonal norms, you could be reading a chapter or two and studying up to take the test before Christmas.
Take the Test
If you're nervous about trying to fit all this studying into a hectic holiday schedule…don't be! We'll help you with a well defined path for your studies. It's all about breaking it up and being realistic with time frames. For example, if you got started this week, then you'd have about 14 weeks to get certified before the end of the year. There's 19 chapters in the NFPT manual. If you read, review and take the quizzes for 2 chapters every week then you'd be done in less than 10 weeks – totally do-able! When you feel comfortable and you have checked off all the subjects on your exam outline (we'll give you one to study from) then the next step is test taking and getting certified! Want more info about NFPT – CPT test taking?, go here.
If you have questions…let us know! Leave us a comment or email me direct at
[email protected] I want to help you reach your fitness trainer certification goal before the New Year! Until then, enjoy the changing season and a beautiful time of year!