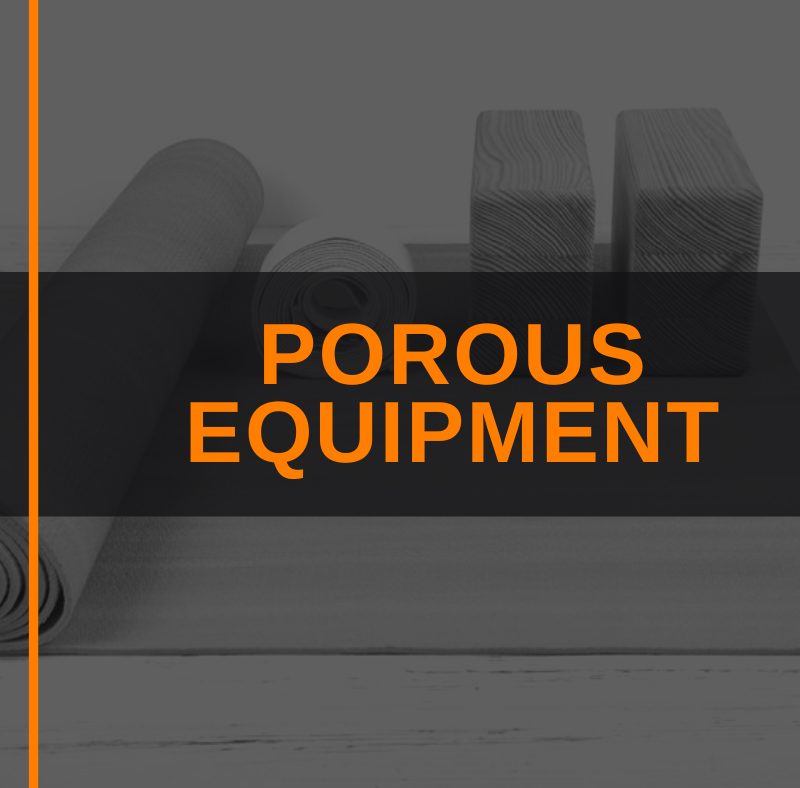 Gyms are beginning to open after months of closures during the pandemic. Many, if not all, are taking extra safety precautions to prevent the spread of germs. Gyms might look a little different with increased hand sanitizing stations, extra disinfecting spray, wearing a mask when not actually exercising, ultraviolet lighting, temperature checks, and spaced-out equipment. Many fit pros feel these current precautions may be long-term. One factor to bear in mind is the type of equipment being used between clients that can help mitigate the harboring of germs—porous equipment vs non-porous equipment.
Types of Porous Equipment
Lots of gyms have chosen to eliminate porous equipment altogether as a precaution since they are so much more difficult to clean. Check CDC guidelines for specific EPA-approved disinfectants and recommended methods for cleaning all types of equipment. 

Types of porous equipment include:
• Mats
• Foam rollers
• Weighted bars with padding
• Straps
• Bands
• Blocks
How does this impact trainers? Consider safe practices in your home gym, while following state and federal guidelines. You may choose not to use these types of equipment at all and opt for a no-equipment workout.
We all have our favorite types of equipment for using with our own workouts, as well as working with clients. Several of mine fall into this "porous" category. 

Alternatives 
What can we as trainers do if we want to incorporate this equipment in training sessions? If you are currently training individuals who are able and willing to purchase the equipment, encourage them to go ahead and do that. This will give them the opportunity to work out at home to complement the training more effectively. Plus, they bring their equipment to training sessions. Make suggestions as to which ones would be most helpful based on the client's needs.

For future clients, you might want to stock up on items you find on sale. Like buying several blocks or straps to have on-hand. By doing this, you choose the equipment you prefer. Keep a sealed supply of the equipment with pricing to be reimbursed to you when you take on new clients. This provides a convenience to the clients. Also, buying ahead of time allows you the time to shop for deals saving a few bucks. A quick Google search pulls up plenty of options for online purchases.

By having clients use their own equipment, it eliminates sharing equipment between clients. Of course, disinfecting is still important. Gym life and training may look a little different these days, but it can still work! As fit pros, we can embrace these challenges to do what's right for our clients. 
---
References:
https://www.npr.org/sections/health-shots/2020/07/13/890387205/coronavirus-sparks-new-interest-in-using-ultraviolet-light-to-disinfect-indoor-a
https://www.cdc.gov/coronavirus/2019-ncov/community/reopen-guidance.html