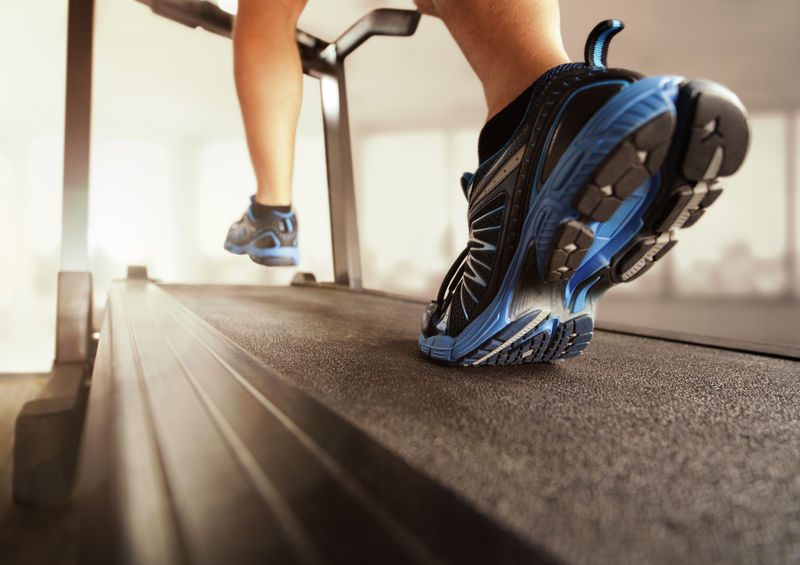 I'm often asked what brand of exercise shoe I prefer. While I'm loyal to ASICS, I know plenty of fans of Brooks, Adidas, Puma, Nike, and so many more. Choosing proper footwear is really about preference and individual comfort since we all have different feet and activities we participate in.
Wearing the right exercise shoe is key to feeling comfortable during exercise and reducing injury. A new client may not be aware of this as they jump eagerly into a new exercise routine. I've seen many people working out in unacceptable shoes, including high heels, knee-high boots, leather loafers, and work boots. So, selecting appropriate footwear is clearly not as obvious as you might think.
Footwear Choices Abound
Aside from the barefoot classes of yoga and Pilates, the Zumba-specific shoes, cycling shoes, and shoes for Tai Chi, general workout, cross-training, and running shoes are a confusing bunch. A basic exercise shoe is far from basic.
Some exercise enthusiasts take a minimalist approach, opting for close to barefoot or barefoot. Brands like Vivobarefoot, Xero Shoes, Vibram, and Kinis footwear offer nearly barefoot, high-performance options for those who prefer to train barefoot.
The bottom line is if your feet hurt, your whole body can ache. If your shoes do not properly support posture, movement will be inefficient if not injurious. Take a few minutes to educate your client on the exercise footwear scene.
A few shoe hints can be helpful:
Try Them On
When someone is new to exercise, it can be overwhelming to find the right clothes and footwear. I advise newbies to go to a store to try on several types of shoes, walking and jumping in the various styles to see how they feel. Compare the weight differences. Once you know the style and size you can order online. But in the beginning, you've got to try them on.
It's oftentimes recommended to go up half a siz
e for exercise shoes. If you wear a size 7 regular shoe, you might want a 7 ½ for your workout footwear.
Have a Shoe Rotation
Those who exercise most days of the week, might want to stock up on more than one pair. It doesn't take long before shoes lose their support and the tread begins to fray. By having more than one pair, you can rotate the shoes on opposite days to prolong the need for shoe shopping again.
Lace up!
Double knot shoelaces during exercise. We all know that it's easy to trip on a shoelace that comes untied. Double knotting the laces helps keep this from happening. I learned the hard way that shoelaces can get entwined in bike pedals. I had my foot completely trapped on a stationary bike pedal when my shoelace came untied and wrapped around the pedal. I was oblivious to this during my ride until I finished and was stuck. I had to enlist the help of another gym rat to help untangle my foot.
Socks
Just as wearing the right shoe is crucial, wearing the right sock is too. The right pair of socks can prevent blisters and calluses from building up on feet. Wicking fabric helps keep feet dry when sweating.
The exercise sock industry is booming. If you attend a race expo, you'll see the huge number of sock companies, like: Fitsok, Feetures, Swiftwick, Bombas, and PowerSox. Some socks are made with left and right designations, so you know which foot to put which sock on as it conforms to the anatomy of the foot.
Socks might be ultra-thin or extra cushy. Again, it's an individual's preference, but it is key to make sure the heel comes up high enough to prevent heel blisters. Wicking fabric resists sweat to keep feet dry, crucial for endurance athletes.
And there are the trusty compression socks that are used to combat pain and swelling due to various medical issues. The socks are said to aid with blood flow.
Cinderella had to find the right glass slipper to fit her foot. Although we aren't living in a fairy tale (until maybe those endorphins kick in), we need the right socks and footwear to help us perform at our best.