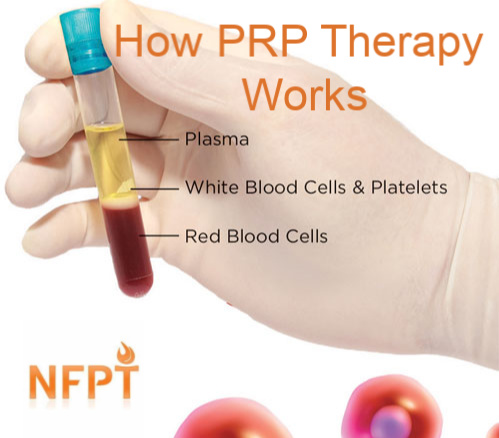 What exactly is PRP Therapy and how did it come about? You may recall from the first article in this series, that PRP stands for Platelet Rich Plasma and has been found to be beneficial for the treatment of soft tissue injuries.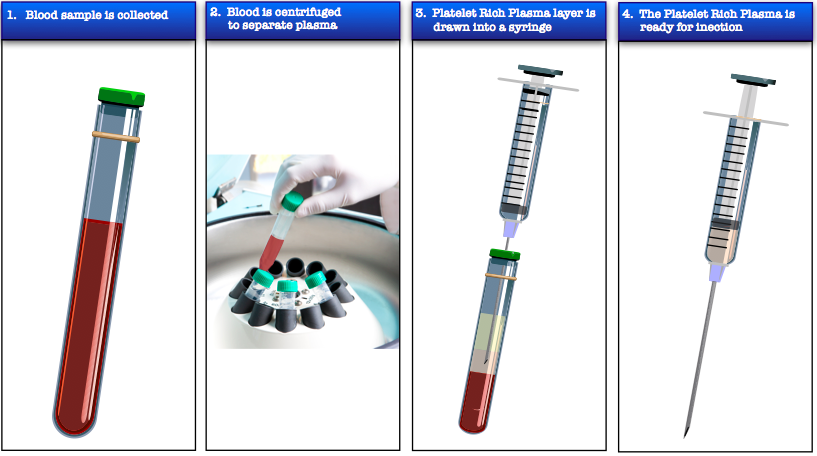 Regenerative Medicine
PRP treatment falls under the Regenerative Medicine category. Per Alves and Grimalt (2017), PRP was conceptualized in the 1970s by hematologists. Hematologists specialize in the field of hematology, the science or study of blood, blood-diseases, and blood-forming organs. Some diseases treated by hematologists would include hemophilia, leukemia, lymphoma, sickle-cell anemia or thrombocytopenia (low blood platelet count in the human body)..
They coined the term PRP to describe plasma that had a richer platelet count than peripheral blood. Peripheral blood refers to all the cellular parts of blood (red blood cells/erythrocytes, white blood cells/leukocytes, and platelets) found in blood that circulates in the human body.
In the 1980s, PRP started to be utilized in maxillofacial surgery (surgery specializing in the mouth, jaw, and face), in the form of PRF (Platelet Rich Fibrin, another type of platelet concentration). PRF contained fibrin which has adherence potential and hemeostatic properties, helping blood to clot and injuries to heal, or in this case, post-surgical healing. PRP, on the other hand, was designed to stimulate cell proliferation and utilized for its anti-inflammatory effect.
Since then, PRP has been used by licensed medical professionals in the musculoskeletal field with sports injuries and other types of soft tissue conditions.
Other fields of medicine where PRP has gained prevalence are:
Pediatric surgery
Gynecology
Cardiac surgery
Urology
Ophthalmology
Plastic surgery
Of late, PRP treatment is gaining traction in dermatology due to its tissue regenerative properties for wound healing, skin rejuvenation, alopecia (an autoimmune disease creating hair loss), and scar revision. Studies show that PRP increases type 1 collagen synthesis and can stimulate human dermal fibroblast proliferation when injected appropriately.
New collagen deposition, new blood vessel and tissue formation make it useful in the field of dermatology (Alves & Grimalt, 2017).
More on PRP Treatment:
Platelet rich plasma focuses on harnessing the power of platelets, which are also called thrombocytes and develop from bone marrow.
Platelets are mainly known for their coagulation properties. For example, if you ever have a small cut and you start to bleed and within seconds, you stop and see a scab forming, platelets are hard at work to stop the blood from flowing freely down your arm. They coagulate the blood. Obviously, in regards to bigger lacerations/cuts, you may need a band-aid, gauze, compression, and up to stitches or other medical interventions. Originally, platelets were well researched for this coagulation effect, or, hemostatic activity.
It's now also been found that platelets contain a vast amount of growth factors and cytokines and can positively impact inflammation, angiogenesis (formation of new blood vessels), cell proliferation, and stem cell migration.
So, the platelets in PRP are vital and PRP itself serves as a natural source to signal molecules once the platelets in PRP is activated. The key to remember is that PRP contains platelet levels that are above the baseline of platelets contained in peripheral blood of the human body (before they are placed in a centrifuge).
Another key to PRP is that once the blood drawn is placed into a centrifuge, the blood will separate into its parts based on their densities (as in the image below).
PRP that is used for the treatment of musculoskeletal and soft tissue injuries will typically have higher numbers of leukocytes (white blood cells). These healer cells can be activated by PRP kits or other methods to be used along with platelets when they are re-injected into the body. This initiates the healing process.
My Injury and Experience with PRP Therapy:
A little more about my story:  I had developed tendonosis in my left shoulder and inflammation around the soft tissue in my rotator cuff from playing competitive sports throughout my life. It's been a persistent issue for over 20 years.
I wish I knew then what I know now, but am amazed that treatments such as these exist. In addition to the recommended approaches like RICE and eventually PT, I had tried other forms of therapy such as:
prolotherapy
acupuncture
cupping
gua sha
dry needling
electric stim
reiki
kinesiology guidance
While all were giving me some relief, none were lasting. I was interested in trying PRP after leaning more about it and how it is touted for cell regeneration.
Before the injections were administered, my medical team performed an ultrasound exam so they could determine exactly the best areas in the joint to inject. This is an example of what can take place with a shoulder issue; obviously PRP can be used for other joints and connective tissue. The shoulder cavity is larger than joints such as the wrist or ankle, so the imaging  helped locate the most effective injection sites.
Here's a video showing the the ultrasound exam that was done. Once the ultrasound was done, it was also explained to me where the injections where to be made and why:
I went through three rounds of injections, with the first one being on January 17, 2019. Each subsequent round of injections were done two weeks following the first one, respectively. Research indicates that PRP tends to be more effective over a period of time (Fedato et al., 2019; Lin et al., 2019).
Plus, the fact that my shoulder pain was chronic, played a role in deciding on multiple rounds of injections. If you are considering PRP treatment, it is important to have these important discussions with your treatment team while taking medical considerations into account.
We spread the three rounds of injections over the course of 6 weeks. The first one was January 17, second one was January 31 and the final injection was February 14. PRP tends to be more effective over a 6 month time frame than short term (3-6 week) corticosteroid injections (Lin et al. , 2019). Not to mention that corticosteroid injections often times don't treat the root cause of the issue.
My six month follow up will be in August so stay tuned!
In my next installment of this PRP series, I will share my outcome and perspective on how my shoulder has responded. As always, if you have other questions, please feel free to ask away either on our NFPT Facebook Page or reach out to me at ShayTheCoach and I'll do my best to address them in the follow-up blog this fall!
---
References:
Alves, R. & Grimalt, R. (2017).  A review of platelet-rich plasma: History, biology, mechanism of action, and classification. Skin Appendage Disorders, 4, 18-24.   DOI: 10.1159/000477353
Fedato, R. A., Francisco, J. C., Sliva, G., de Noronha, L., Olandoski, M., Faria, J. R., Ferreira, P. E.,….Gaurita-Souza, L. C. (2019). Stem cells and platelet-rich plasma enhance the healing process of tendinitis in mice. Stem Cells International, Article ID 1497898, 1-9. https://doi.org/10.1155/2019/1497898
Lin, M. T.., Chiang, C.F., Wu, C. H., Huang, Y. T., Tu, Y.K., & Wang, T.G. (2019). Comparative effectiveness of injection therapies in rotator cuff tendinopathy: A systematic review, pairwise and network meta-analysis of randomized controlled trials. Archives of Physical Medicine and Rehabilitation, 100(2), 336-349. https://doi.org/10.1016/j.apmr.2018.06.028