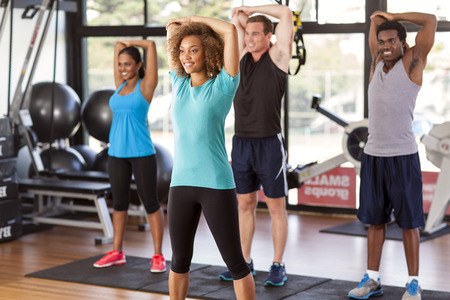 Summer travels and now being back at the desk puts our cervical spine in unnatural positions for long periods of time. This post builds on Ergonom-misses: 7 things missing in your desk life that affect your fitness and Reduce Trigger Points after Travel and / or Office Work. As a trainer, I like to practice a root cause analysis with my clients and get down to what is really causing their issues. That is, to the best of my ability. Clients absolutely love when they leave a session and can hear your voice telling them to stand up straight, roll their shoulders back, tuck their pelvic in, etc. It makes them know you care and aren't just a pull this push that kind of trainer. In my first post I talk about posture at the desk and while seated. My second post covered inhibition techniques for overactive muscles in clients who sit a lot.
This post discusses the third aspect of corrective exercise – lengthening (stretching). Regardless of whether your client sits for a long period of time or not, they should still be following a corrective exercise program to enhance the training you do together. Why? If they spend 8 hours a day, 5 days a week seated, leaning to one side (or whatever repetitive posture they may have from work, hobby, life, etc.) what is the measly one hour, three days a week, Max! going to do for most people? Most likely strengthening any muscular imbalance they have. Sure, you'll have clients for life because they'll always be broken, in and out of the gym, up and down in weight. But, wouldn't wouldn't you want to have the 10 clients he or she tells about you when you help alleviate their feet, knee, hip, shoulder, back and neck problems? Absolutely. So what do you do?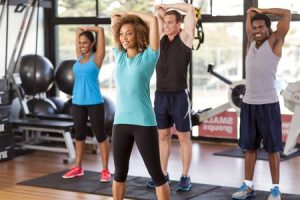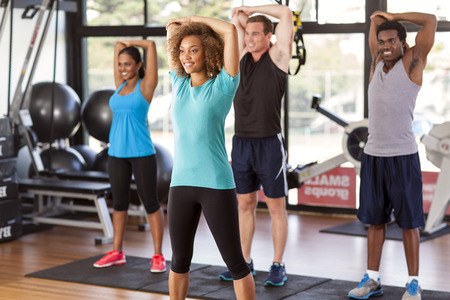 Programming Part I 
Each client should have a 10-15 minute warm up composed of inhibition, lengthening, activation and integration techniques. Inhibition techniques were covered in the Reduce Trigger Points after Travel and / or Office Work article. Lengthening techniques will be covered here. Activation and Integration techniques will be covered in future posts.
I like to start from the feet and work my way up, identifying four overactive muscles in a static posture and overhead squat assessment. If the client is pronated in a static posture and knee's knock in an overhead squat assessment that tells me her / his peroneals, calves, soleus and adductors are overactive. I focus on these four muscles for a month and see if what I do makes a difference. If it does, I move to the next four that seem overactive from the foot up and focus on those for a month, so on and so forth.
If I know I will have a client for at least a month, after our first session I prepare an exercise plan so they have it, I have it and we are both on the same page – no pun intended. It has which component (massage, stretching, activation, etc.) comes first, which of each I'd like them to do, a picture of the stretch, a link to a video demonstration, tips on duration and notes. I print this for our second session so I can take notes on how they perform each in case I need to modify. 
Here is an example the inhibition and lengthening part of my chart. Why stretching after massage, you ask?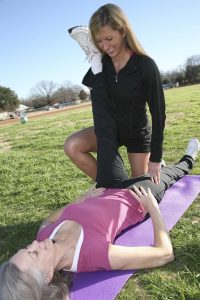 Lengthening 
Through self-myofascial release, you work to decrease overactive neuromyofascial tissue (see Reduce Trigger Points after Travel and / or Office Work) and also prepare the tissue for the remaining corrective exercise techniques (Clark). Afterwards, you want to lengthen those overactive neuromyofascial tissues. Overactive muscles are mechanically shortened. Lengthening means to elongate these muscles and surrounding connective tissue. Doing so increases range of motion in the tissue and joint. Better range of motion, better ability and more pleasure in exercising. Better abled and pleased clients = better paychecks.
Programming Part II 
There are many ways to lengthen a muscle. This depends on which phase of training they are in. Beginners in the stabilization phase of training (12-20 reps, 1-3 sets, unilateral exercises, 4-2-1 tempo) should use static stretching and progress to active when in the endurance stage of training (8-12 reps, 2-4 sets, super-sets, 4-2-1 tempo super set with 2-0-2 tempo). Static stretching entails low force, long duration (30 -60 seconds). This helps reduce passive stiffness of the muscle – tendon (Guissard). Clients should be doing these massages and stretches at least five days a week to be the most beneficial (Shrier). Especially if you're having the client doing any kind of jumps or speed drills.
Now is a great time to get in the habit of not only doing stretches while you're with your client, but giving them homework for what they should be doing to combat this repetitive posture as we start back up with the daily grind.
Join the conversation on our Facebook page to comment on this article or ask questions.
If you're an NFPT Trainer, join our Facebook community group!
References
Clark, A., Lucett, S., Sutton, B. (2012). NASM Essentials of Personal Fitness Training. Baltimore, Maryland: Lippincot Williams & Wilkins, a Wolters Kluwer Business.
Guissard, N., Duchateau, J. (2004). Effect of static stretch training on neural and mechanical properties of the human plantar-flexor muscle. Muscle Nerve. 29(2): 248-55. Retrieved from: http://www.ncbi.nlm.nih.gov/pubmed/14755490
Shrier. (2004) Does stretching improve performance? A systematic and critical review of the literature. Clinical Journal of Sports Medicine. 12(5): 267-73. Retrieved from: http://www.ncbi.nlm.nih.gov/pubmed/15377965.