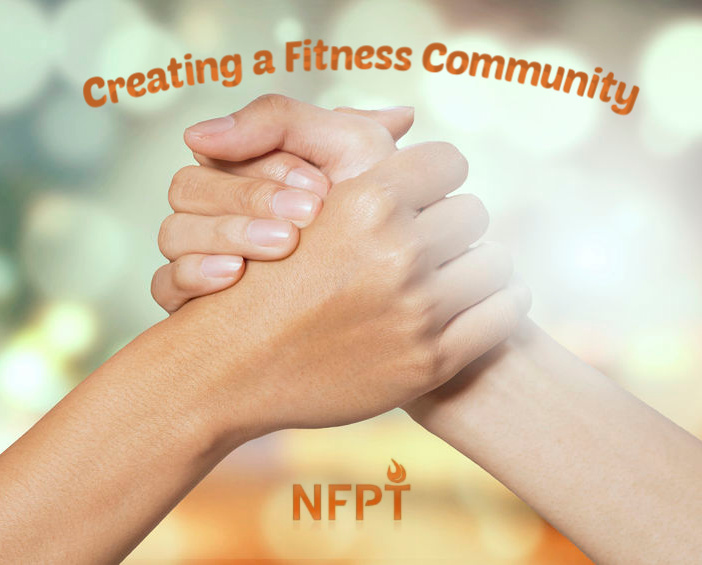 Social support provided by friends, family, and peers is a significant predictor of success in the achievement of health and fitness goals. For our clients to be successful in the pursuit of their goals, they need to be a part of a fitness community that supports their achievements, encourages them when motivation wanes, and assists them in sidestepping obstacles to goal attainment. Part of facilitating success for our fitness clients is creating a socially supportive community upon which they can rely and share their respective journeys.
A community gives people a sense of belonging and allows them to develop meaningful connections with others who may be traveling a similar road. Humans were not meant to live as socially isolated individuals; humans are naturally gregarious creatures. We seek understanding, empathy, and encouragement. Our clients naturally need the same from us and from their peers when working towards their individual fitness goals.
Creating a sense of community for your clients doesn't need to be formal, sophisticated, or overly complex. In fact, a fitness community can take many shapes; it's about finding what works for your clients and you as the facilitator of that community.
Here are a few ways to begin cultivating your unique fitness tribe.
Fitness Friend or a Buddy System
A road traveled is far less lonely when we have company. Many clients respond well to the buddy system and perform better when there's friendly competition and mutual encouragement. Think of ways you can offer your current clients this option. Perhaps it takes the shape of discounted buddy sessions or "bring a friend" workouts. It may also take the form of a small group fitness class in which there are limited participants (up to 3 or 4). Still, new clients may benefit significantly from being introduced to veteran clients who may have shared the same type of fitness goal and achieved it.
Fitness Sponsors
Behavior change is hard. Mostly, because it is an unimaginably complex topic with twists and turns and unexpected derailments. It's not impossible – just multifaceted. Support groups or Fitness Sponsors can work wonders in keeping a client on track or getting him or her back on track when faced with a relapse. Encourage clients to identify a sponsor they can turn to (outside of you) for additional emotional support. In turn, you can create small support groups that meet at your studio, someone's house, or public space to hold intimate conversations about goal progress and challenges.
Group Activities/Workshops/Social Gatherings  
There's comfort and power in numbers integral to a fitness community. If you have several clients – and you likely will – who are struggling with the same thing (portion control, meal prep, morning motivation, etc.) create and offer some type of group activity, workshop, or social gathering where those clients can meet for additional support and extrinsic motivation.
This could include a mini make-ahead healthy snack workshop and social time. Coordinating a group walk-a-thon or weekend hiking adventure may also pique the interest of several of your clients. What about Yoga in the park? Or Yogalates (combo of Yoga and Pilates) and Lattes? Vino and Vinyasa? The possibilities are only as limited as your creativity.
Asynchronous Online Discussion Boards
Some individuals process their thoughts better through written forms of communication versus oral conversations. Social media offers a number of potential outlets for you as the professional to create group chat boards for clients to participate when they are able.
You could facilitate participation by posing reflective questions or "try this exercise" prompts. You could also ask, "What challenged you this week and how did you address it?"
It really doesn't matter what the question is – what matters is the presence of such a group that allows clients to share their ideas, frustrations, and exciting news and receive feedback and comments from their peers.
Brag Boards
We cannot overlook the importance of celebrating client success. Create a studio brag board (you can replicate this virtually as well) to share all successes of your clients. Let's face it – sometimes just getting out of bed and facing the day is a success when we are feeling less than extraordinary! Cheer on your clients and encourage them to cheer each other on – focus on building up.
Communities are important for fostering inclusion and for sharing the message that "we aren't alone" in whatever challenge we face. What can you do today to work towards the goal of integrating a sense of community into your work and your clients' experiences with you and each other?