GET CERTIFIED
Earn your NFPT Certified Personal Trainer credential and immediately be recognized by your NFPT-CPT title.
7 Reasons Why
Personal Trainers Choose NFPT
Nationally Accredited
NFPT's CPT program is accredited by the National Commission for Certifying Agencies, NCCA – our industry's gold standard for certification programs. We operate under strict guidelines for certification business and test development practices that provide a legally defensible skill set assessment for your NFPT-CPT title. Compare trainer certification companies here.
FREE CECs
NFPT makes getting continuing education credits (CECs) convenient and affordable! Free NFPT methods for CECs include our biannual Self-Test, monthly Fitness Flops and Trainer Refresher quizzes, all available to you at no cost! Your Certified Personal Trainer credential requires CECs for recertification – with NFPT, all health and fitness learning activities get you credits. Learn more about NFPT CECs and recertification.
Focus on Fundamentals
We take a back-to-basics approach to learning, assessing and getting real, lasting results. NFPT education is designed for comprehension first, using a step-by-step philosophy for teaching fundamental exercise science, fitness principles and goal-oriented assessment and training methods. Learn more about NFPT Education.
History & Recognition
NFPT was established in 1988. Founded by a man who lives, eats and breathes fitness, Ron Clark was a Marine in the 70s, competitive bodybuilder in the 80s, personal trainer in the 90s and in between the decades accomplished his vision for a real-world, practical trainer certification. NFPT is a family of fitness professionals and personal trainers, learn more about us.
Convenient Testing
The NFPT – CPT exam is administered at over 350 locations, and you may find several in your area to choose from. If you are more than 50 miles away from an NFPT testing location, you may have a local certified teacher or other eligible proctor administer your exam! Learn more about the exam.
Discounts for Club Staff & Military
Existing health club staff will be eligible for special discounts, and NFPT proudly offers discounts for Military, Fire and Police service. You can even use your military G.I. Bill reimbursement for the NFPT – CPT exam sitting fee!
Financing Made Easy
Our financing option is a great way to be on your way to personal trainer certification, without the up-front financial obligation. Just make a down payment, get all of your education prep tools and materials, and make payments in any amount that you want over a period of one year. Learn More
Personal Trainer Certification
BUY NOW
Exam Voucher
Exam Content Outline
Trainer Manual
Study Guide
Online Learning
Exercise Animations
Assessment Videos
Practice Tests (2)
Tech Support
The NFPT Certified Personal Trainer (CPT) certification program is designed to qualify personal fitness trainers to work one-on-one with apparently healthy individuals or in small group settings. NFPT trainers are individuals who demonstrate the understanding of fundamental exercise science principles for safe and effective fitness program design.
Angie Pattengale, NFPT
"Certification provides you with credibility and demonstrates high standards that can earn you more money in your career as a personal trainer. Whether you're beginning a career as a personal trainer, or looking to accelerate your growth in the industry, NFPT can help you succeed as a fitness professional".
I started personal training more recently, but it didn't take long to know that fitness training is what I want to do with my life! I had the pleasure of working directly with Ron Clark, NFPT's founder, and I learned so much that I knew I could put it to work. Getting certified was the next step. I know now that it's possible to take my passion and make it a career – because I'm doing it! Thank you NFPT!
Daniel Mills, NFPT-CPT
Being a personal trainer has been the most rewarding career choice I've ever made. After 25 years of acting and entertainment, I met a personal trainer with the NFPT, his knowledge was amazing. I investigated the many affiliations but none of them offered what the NFPT did. I feel blessed to be a part of such a committed organization!
Debrae Barensfeld, NFPT-CPT and NitroForce Owner
The NFPT CPT program is my recommended certification for entry level trainers to pursue. What makes NFPT different is how effective it is in giving trainers a good foundation of knowledge in an easy to understand format without overwhelming them. Beyond certification, the NFPT gives trainers an amazing yet cost effective platform to grow and expand their expertise.
Matt Hirschberg, NFPT-CPT and Club Owner
Certification packages include the following:
Exam Voucher
The NFPT Certified Personal Trainer (CPT) exam will test your ability and understanding of personal trainer skill sets required by the profession. The NFPT Certified Personal Trainer credential is obtained by successfully completing the NFPT – CPT exam. The exam consists of 120 multiple choice questions, derived from 5 content categories. We will provide you with the subjects of these 5 categories in a detailed exam outline that may be used as a checklist for your review and exam prep.
Trainer Manual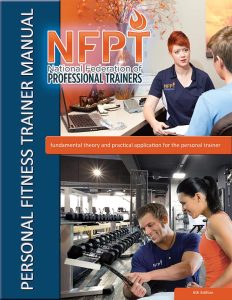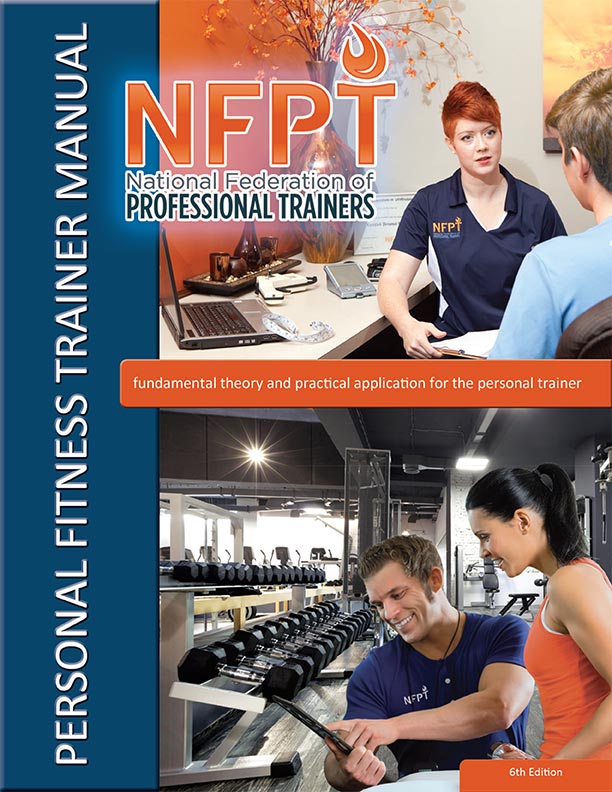 The NFPT Personal Fitness Trainer Manual provides comprehensive teaching for safe and effective fitness training services and complete consultation guidelines. It reinforces fundamental exercise science concepts with a back-to-basics approach that will compliment your current knowledge, at any level. This educational manual is provided as a digital download in your NFPT Account. A hard copy can be purchased at a discount with your certification package.
Study Guide
The study guide is a supplemental text that supports your review and understanding of the NFPT Personal Fitness Trainer Manual. The guide is broken up chapter by chapter for your convenience. The guide is provided as a digital download in your NFPT Account. A hard copy version of the guide may be purchased at a discount with your certification package. Your study guide includes 365 questions that are designed to reinforce the course learning objectives. It also includes the NFPT exam outline to use as a "checklist" through your studies.
Online Learning
NFPT's Online Learning Portal allows you the ease and flexibility of convenient step-by-step study that takes you chapter by chapter through the NFPT Trainer Manual. This is an online learning version of the NFPT Study Guide that quizzes your knowledge of each chapter. Each of the 19 Chapters are broken up for you to follow through at your own pace. Online quizzes, at the end of each chapter, allow you to grade and gauge your understanding of the chapters as you go through the manual. Answer keys are available to you upon completion of chapter quizzes for your self-assessment and reinforcement of the education material.
In addition, the PREMIER Certification Package includes:
Practice Tests
Like the NFPT — CPT exam, these practice tests have been developed by experts in the field of personal training to give you a sampling of the kinds of questions you can expect to see on the real thing. Each practice test is 45 multiple choice questions that represent each of the 5 exam categories. With your Premier Certification Package, you receive 2 practice tests that you can take multiple times at your convenience.
Exercise Animations
Over 80 exercise animations, involving nearly every major muscle group, are available to you before and after you have taken the exam. These illustrated animations provide dynamic instruction, demonstrating a broad range of properly performed exercise movements that are focused on musculoskeletal modeling and properly executed form.
Client Assessment Videos
Over 45 videos that take you step-by-step through the necessary assessments for the purpose of creating and implementing a fitness training program that is personal to the needs and goals of your clients. These assessment videos are broken down by 3 client types: General Fitness, Athletes and Older Adults. All assessments are performed with each respective client type in hands-on demonstrations conducted by an expert trainer. Assessments for both Physical (e.g. 3 Minute Treadmill Test, Squat Test, ROM Sit and Reach) and Nonphysical (e.g. Body Fat% and PAR-Q and CVD Risk Profiles) are demonstrated.
Tech Support
Have questions about what you're reviewing in the NFPT Personal Trainer Manual? Need clarification, or just want to be sure that you understand specific exercise programming concepts? NFPT expert trainers are available by appointment to answer any questions that you may have about training concepts or subject matter of the education material. There is no time limit or question limit with NFPT tech support.
3 Step Certification Process
PICK a Cert Package
Pick the Personal Trainer certification package that's right for you. Certification approval requires the following pre-reqs:
Minimum age of 18 years
High school education or equivalent
Agreement with NFPT codes of conduct
See Certification Terms and Conditions for certification eligibility details and re-certification policies
PREP for the Exam
The NFPT-CPT Exam is an assessment of your knowledge, skills and abilities (KSAs) in the areas of anatomy, physiology, training methodologies and goal-oriented fitness programming. NFPT will assist you with preparation for the exam by providing the exam content outline as a reference for assessed KSAs. The NFPT Personal Fitness Trainer Manual is an optional resource to assist with your preparedness. The Standard and Premier Certification packages include this resource. Use the NFPT Manual, your current knowledge, and/or as many other credible resources as possible to get ready for your exam. Knowledge is power!
PASS the Exam
On average, trainers take the NFPT Personal Trainer certification exam within 30 – 60 days of application, but you are given one (1) year to pass it. When you feel that you are ready to take the exam, log in to your NFPT Account and follow the instructions for "Exam Appointment."
You will receive instant exam results when using one of NFPT's computer based testing sites. Your certificate and membership card will be sent by mail immediately following. Use your NFPT-CPT title in your bio, resume, online and as a pre-req to the trainer job you've been looking for!
Financing Options
Our financing option is a great way to be on your way to personal trainer certification, without the up-front financial obligation. You can break up your payments in any amount that you want for up to one year – no interest and no extra fees! Schedule your exam date after you have completed your finance payment balance.
Choose Standard or Premier certification package
In your Cart, Choose the Financing Option in the Dropdown
You get all of your education prep tools and materials up front
Take a year to make payments as you can
Pay off your balance before taking the exam
NO fine print. NO catch.
Get My Financing Started: