A Rewarding Career Awaits
Become a Certified Personal Trainer
Accredited Certification
Free CECs for life
No hidden fees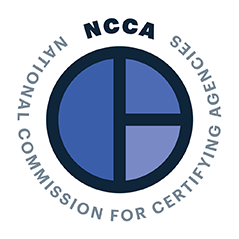 The NFPT Difference
NFPT's Personal Trainer Certification program is accredited by the National Commission for Certifying Agencies (NCCA), the fitness industry's gold standard employment pre-req and validation of fitness trainer skills.
Certification with NFPT gets you:
FREE Continuing Education Credits (CECs) for the LIFE OF YOUR CERTIFICATION! You never have to pay for credits to get recertified. Get free credits from your NFPT Online Account.
NO TESTING FEES! Compare this to other certification companies. The package price includes testing.
The care and attention from a family owned and operated organization. We were founded on the same passion and principles that you have for the love of training. With us, you're a name, not a number – and we're a FitFam, not an online run-of-the-mill business.
Simple financing. Just choose PayPal Pay Later when checking out.
NFPT offers the highest value for your dollar. Our personal trainer certification packages are guaranteed to prepare you for a career in te health and fitness industry.
Reasons to Choose NFPT
NFPT Education is user-friendly, fundamental, and 'real-world'.
We're the most affordable accredited certification. And, we never hit you with hidden fees.
Online prep course gives you the freedom to move at your own pace.
'Train the Trainer' videos are available to elevate your trainer work and confidence.
Did we mention – FREE CECs for the life of your certification!
Step-by-Step client consultation & assessment procedures.
NFPT partnerships & affiliated discounts on insurance, events, courses and more.
The People. The Support. You're part of our Trainer Family!
This is a user friendly company! Their CPT course is in layman's terms and easy to follow. It equips you with just the right amount of information to get started as a personal trainer. Then there's all sorts of Continuing Ed options to build upon the foundation.
Shaweta Vasudeva
'Shay the Coach'

I have been a Certified Personal Trainer since 2009. I originally certified with another nationally accredited certifying body. Switching to NFPT was the best move I ever made. They are a family owned company that cares about my success. Whenever I have any questions about the industry or any aspect of fitness training someone is always eager to assist me. They allow me to be directly involved!

Being a personal trainer has been the most rewarding career choice I've ever made. After 25 years of acting and entertainment, I met a personal trainer with the NFPT, his knowledge was amazing. I investigated the many affiliations but none of them offered what the NFPT did. I feel blessed to be a part of such a committed organization!
Debrae Barensfeld
NitroForce Industries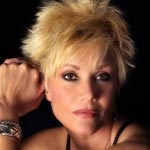 After calling several other certification companies, most seemed cold over the phone and always tried to say they were the best. Not with NFPT! They were honest and down to earth. I know other people who are certified with other companies and they seem dissatisfied when talking about what their companies do for them.
Jerald Evans
Body Ministries

NFPT's Process for
Success
Pick Your Package

Choose the package that fits you.

Choose between the Standard or Premier package. The Premier package includes more education material and exam prep resources, but both of these packages include the exam. Unlike other certification companies, NFPT does not charge extra for making your exam appointment. When you purchase a package, you receive a welcome email with your NFPT ID to create your online account. All digital education resources and test scheduling instructions will be available immediately after your account has been created.

Prep for Your Exam

Start studying today.

Get immediate access to your personal online account to start studying.  The average prep time for studying is about 60 hours, usually over a 2-3 month period, but you can schedule the exam anytime within 1 year of your enrollment date. The NFPT education material and prep resources will prepare you to get exam ready and feel comfortable on exam day. Our manual will help you to understand the principles of human anatomy, physiology, fitness components and training methods as well as how to develop, implement and modify goal-oriented training programs for your clients.

Pass Your Exam

You've studied. You're prepared. Pick a date.

You get instant test results as soon as you complete the exam. When passing the CPT exam, your digital certificate will be available through your NFPT Account within 1-2 business days and a hard copy certificate (for framing) will arrive by mail within 7-10 business days.  Hard copy certificates are only available in the US and Canada. If needed, a re-test can be taken (for a discounted re-test fee).
Learn more about the process
You are not required to purchase the education material to sit for the Certified Personal Trainer exam. If you feel you already possess the knowledge, becoming of a Personal Trainer, then you can proceed with the purchase of the Exam Only option. Upon enrollment, a welcome email will arrive so you can begin creating your account to access the exam scheduling instructions.

BUY NOW. START NOW.
Eligibility
Be 18 years of age or older
Hold a high school diploma or equivalent
Possess a current, government-issued photo ID
That's it!
Personal Trainer Success Traits
Be passionate about your fitness
Aspire to help people achieve their fitness goals
Demonstrate exercise experience and a desire to continue learning
Personal Trainer Certification Exam
Five Exam Categories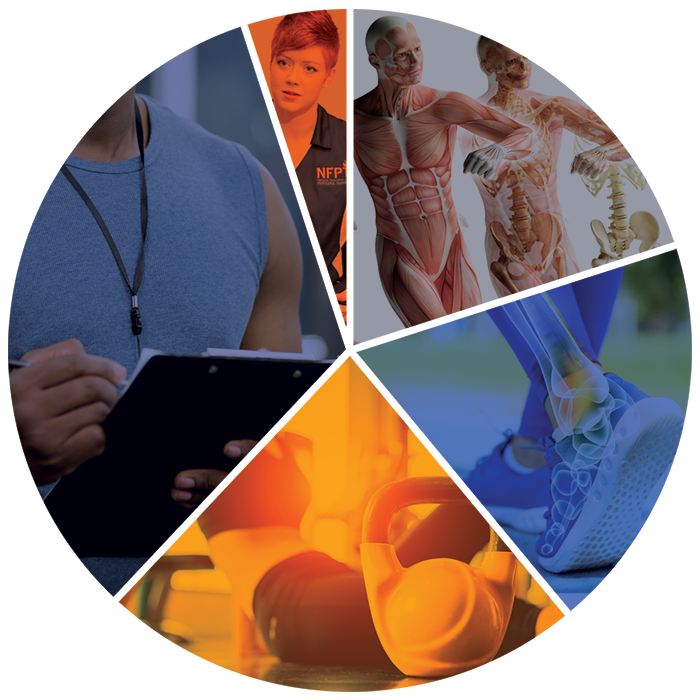 Principles of Human Anatomy – 20%
Principles of Human Physiology – 19%
Fitness Components – 23%
Training Program Development, Implementation and Modification – 33%
Professionalism and Communication Skills – 5%
Exam Quick Facts
Test at 400+ sites worldwide
Choose your exam day
Pay no additional fee to take the exam
Answer 120 multiple-choice questions in two hours
Earn 750/1,000 points to pass
See Test Sites near me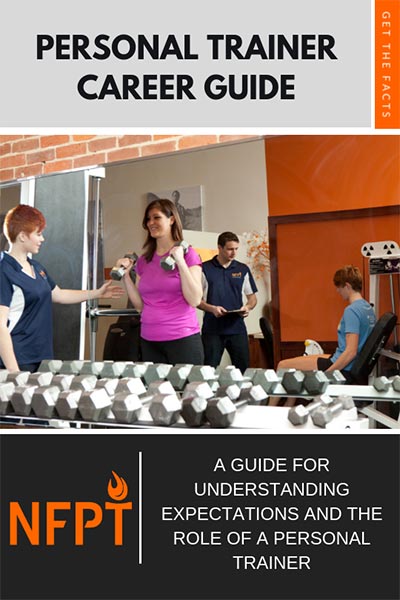 FREE Trainer Guide Download
We've put together this start-up guide to help you learn more about where you can work and tips from career personal trainers
Your Expected Daily Routine

Your Career Options – Both Short and Long Term

Your Potential for Income – Now and Long Term

Self-Employment versus Outside Employment

Lifestyle Changes and Time Commitments
We're here for your fitness future
Ready to join the NFPT Trainer Family?