Anatomy Fundamentals
Gain confidence in human anatomy and its application for exercise techniques.
Just the Facts
NFPT CECs =

2.0

CEC Guarantee
Est. Prep/Completion Time =

10 hours

Price =

$109.00
ADD TO CART
About the Course
Gain a deep understanding of muscle anatomy so you can work more expertly with clients, cue form properly for injury prevention and address concerns with confidence. The Anatomy Fundamentals course will help you learn how 100 muscles work through 21 videos and dozens of exercises. You'll become more effective at creating and tailoring exercise programming with this course.
Dive Right In
The Anatomy Fundamentals course will deepen your understanding of muscle anatomy and help you design more effective exercise programs for your clients. Your deeper level of confidence in your anatomy knowledge will improve everyday exercise for you and for your clients. In this course, you will review muscle attachments and how the muscles function for optimal performance. Understanding anatomy is a major component of personal training success and knowing it proficiently can be the determining factor in a client's decision to work with you.
Course author Beverly Hosford earned a master's degree in kinesiology and has more than 10 years of experience teaching college anatomy classes and independent anatomy workshops at major fitness conventions, including IDEA World. Beverly will guide you around the human skeleton with weekly videos, visualizations, handouts, recordings and articles that heighten body awareness and enhance movement integrity.
Is This Course Right for You?
If you are studying to become certified as a personal fitness trainer, then the Anatomy Fundamentals course is the perfect supplement to your existing understanding of anatomy and your current exam preparation materials. If you are already certified, then this course will reinforce what you already know. You'll receive continuing education credits and you'll relay your anatomy knowledge to your clients with more confidence. This course is for anyone who enjoys learning, at a deeper level, the muscle structure and function that makes up our body's anatomy. NOTE: This is an advanced continuing education course. NFPT recommends you have an understanding of basic human anatomy before you enroll.
What You Get
Digital workbook
Online test and practice test
32-minute video
21 video modules (four hours total)
Education support
Certificate of completion
Continuing Education Process
Add to Cart
Purchase this course to enroll.
Check Your Email
NFPT will send course instructions and education preparation material to you.
Take the Test
When you're ready, log in to your NFPT Account and take the test. You'll receive your certificate of completion and CECs when you pass.
Education Objectives
Week 1: Course prep with terms and bony landmark review
Week 2: Hip extensors and hip flexors
Week 3: Adductors and deep six rotators
Week 4: Knee flexors, knee extensors, ankle plantar-flexors, ankle dorsi-flexors
Week 5: Application/break week, practice and review
Week 6: Scapula muscles, shoulder muscles
Week 7: Rotator cuff, elbow flexors, elbow extensors
Week 8: Abdominals, erector spinae, breathing (rib) muscles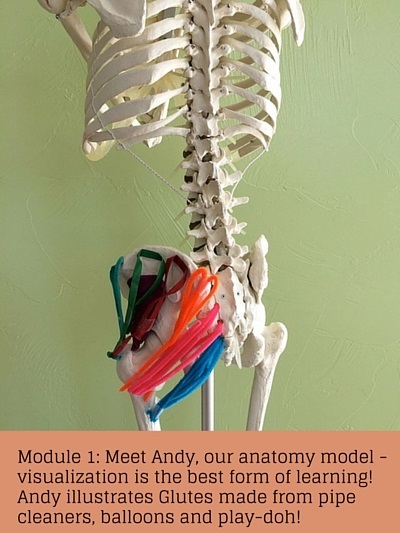 TEST DETAILS
Take multiple choice test online
Answer 40 questions in an hour
Score 70% to pass
Get results instantly
Retest once for free