Core Training
An introduction to training the core and assessing core stability
Just the Facts
NFPT CECs =

0.8

CEC Guarantee
Est. Prep/Completion Time =

3-4 hours

Price =

$54
ADD TO CART
About the Course
Help your clients strengthen their core for maximum performance. You'll create exercises to enable motor control, mobility and stability, and core strength.
Tighten Up Your Powerhouse
The core is where most of the body's power is derived. It provides the foundation for all movements of the arms and legs. It must be strong, have dynamic flexibility and function synergistically in its movements in order to achieve maximum performance. This course discusses in detail all the different muscles of the core, how to properly train the core, tests to evaluate your clients' core stability and functional core routines for runners, cyclists and the everyday Joe or Jane.
Is This Course Right for You?
Help your clients reach their core fitness goals. Create exercise programs to help clients develop their core muscle groups into a stable base to generate optimal force and motion. With your guidance, they can strengthen the stabilizers of the spine (transverses, abdominis and multifidus) while keeping their spine safely in a neutral position. When they train their core effectively through a variety of exercises, your clients will gain motor control, mobility and stability, along with their increased core strength. You will learn techniques to evaluate your client with core stability testing and use it to create a solid exercise program. This course will demonstrate effective exercises to reach your clients' goals.
What You Get
Ebooklet
Online test
Education support with the course author
Certificate of completion
.75 CECs
*Order a printed manual during checkout, if you prefer
Continuing Education Process
Add to Cart
Purchase this course to enroll.
Check Your Email
NFPT will send course instructions and education preparation material to you.
Take the Test
When you're ready, log in to your NFPT Account and take the test. You'll receive your certificate of completion and CECs when you pass.
Education Objectives
Understand the muscles of the core
Learn a functional core routine
Master core stability testing
Explore corrective exercises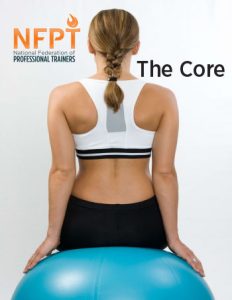 Preview the book now
TEST DETAILS
Take the multiple choice online
Answer 30 questions in an hour
Score 70% to pass
Get instant test results
Retest once for free