Personal Trainer Recertification
Only 2 Steps to Renew
The NFPT difference…recertification simplified!
Many trainers walk away from their credential due to the stringent recertification requirements.  NFPT values your time and provides simple, flexible, free ways to keep your credential active.  Our in-house education will allow you the opportunity to complete all continuing education at no cost, or take any health/fitness course through other providers for credits without petition fees.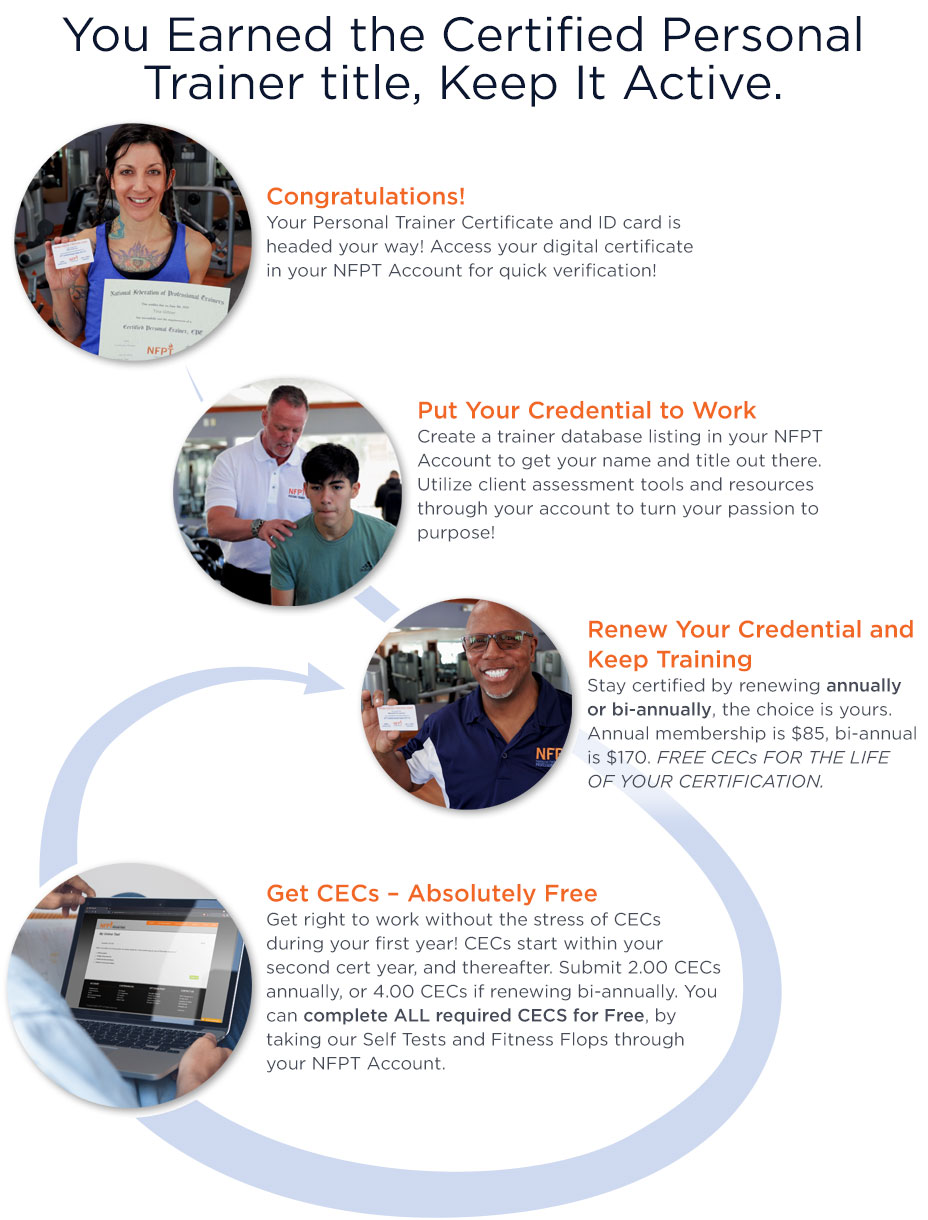 How Do I Stay Certified?
Renewing your certification is a two part process, which consists of an $85 Annual Membership Fee and submission of 2.00 Continuing Education Credits (CECs) each certification year (10 credit hours are required each year, 1 hour = 0.20 credits).  All NCCA accredited certification organizations require completion of CECs for recertification, but NFPT Trainers get theirs absolutely FREE, and have a full year to complete them through their online account.  These FREE Offerings are available for the life of your certification, and there will always be enough to earn the full credit requirement each certification year.  Note: The first year's CECs are waived, they're on the house!  You will not need to complete CECs until after you've been certified for one whole year. 
If renewing on a yearly basis seems a bit much, no worries, you also have the choice to renew on a two-year cycle.  You can work up to one cert year ahead on your CECs and Membership Fee to extend your credential 2 years.  We will never let you fall behind and will always be there sending reminders to give you ample time to keep up on your credits prior to approaching your renewal date.
What is Continuing Education?
Continuing Education not only adds to your fitness portfolio, it assures that you are maintaining and retaining your education, to continue supporting the needs of your clients. Setting yourself apart with fresh skills and knowledge will keep you on the cutting edge. Clients are eager to try new techniques, and they want to learn from enthusiastic trainers who are passionate about fitness and knowledge on all fitness fronts. Continuing to educate yourself is a vital part of your trainer career.
Why do I need CECs?
Requirements can be different for each type of fitness certification you pursue, but all certifiers require that you demonstrate ongoing competence through continuing education.  Your credential impacts your work opportunities, your liability insurance, your credibility in the fitness industry, and the respect of your clients. It's important to continually grow and maintain your knowledge to support your clients needs and goals.
How Do I Get Free CECs?
NFPT offers FREE Self Tests and Fitness Flops through your NFPT Account.  You will never have to bear the expense of Continuing Education as long as you are NFPT Certified! 
Self Tests, worth .60 credits each, are derived from FREE education resource articles on our NFPT Blog.  Read selected articles, then take a 50 question test.  Once you've passed the test with an 80% or higher, your credits will automatically post to your account.  Don't let the word "test" worry you though…it's open book, not timed, and you can take it as often as you need to receive a passing score.
NFPT Fitness Flops , worth .10 credits each, are monthly "mini-quizzes," 4-5 questions on each quiz, that can be completed right from your NFPT Account. Some are asking for problem identification depicted in the image and some could be incorrect form or incorrect client:trainer etiquette – identifying the wrong way reinforces the right!  Other quizzes are generated from articles found on NFPT's Blog, quizzing you on specific subject matter to reinforce skills or knowledge presented in the related article.
What About Other CEC Options?
If you're one who likes adding credentials to your trainer toolbelt, you can also check out our Specialty and Fitness Courses.  We have a wide variety of courses available that will award anywhere from .50 – 2.00 CECs.  Don't forget to check out our Partner Courses as well!
We know there are great courses out there, and we want you to expand your fitness knowledge in ways that interest you.  When you invest your time on ANY health/fitness/business course we WILL give you credit for that learning assessment…without a petition fee! Some examples of acceptable credits are: proof of liability insurance (.25 credits), emergency response card (.60 credits), Contributing to the NFPT Blog (1.00 – 2.00 credits), and attendance to tradeshows/workshops/seminars (1.00 – 4.00 credits).  As long as we have the official document of completion, and the hours associated with the course, we will apply the appropriate credit award to your account.  You can simply upload your official document to your NFPT Account, or email a copy of the document to [email protected], and we'll process the credits for you.
Recommended CEC Options:
FREE NFPT Self Tests and Fitness Flops  – NFPT Trainers Only
ANY health/fitness/business credential – No Petition fees
Emergency response card (CPR/AED/First Aid)
Proof of liability coverage
College transcript showing health, fitness or business classes
Attend health/fitness trade shows, workshops or seminars
Already Certified? Renew Now
Login to your NFPT Account to complete Free CECs, upload coursework completed outside of NFPT's online account, or complete your NFPT Specialty/Fitness Courses.  You can choose a combination of desired coursework to meet your credit requirement.  A CEC Report will be available through your account to help keep track of your accumulated credits.
NFPT Online Courses
Never Stop Learning
Set yourself apart with fresh skills and knowledge, keeping you on the cutting edge! Clients are eager to try new techniques, and they want to learn from enthusiastic trainers who are passionate about their growth. Give your clients more!  Continuing to educate yourself is a vital part of your trainer career.  Check out the many avenues you can take to enhance your existing skill set, whether that be through additional credentials, or just educating yourself on topics specific to your every day needs.  You can also educate yourself through articles from our NFPT blog!
Earn Additional Credentials
Become a

Fitness Nutrition Coach

Add to your nutrition knowledge and earn the title NFPT Fitness Nutrition Coach. You'll help clients learn to make healthy food choices to support their healthy lifestyle.

Learn More