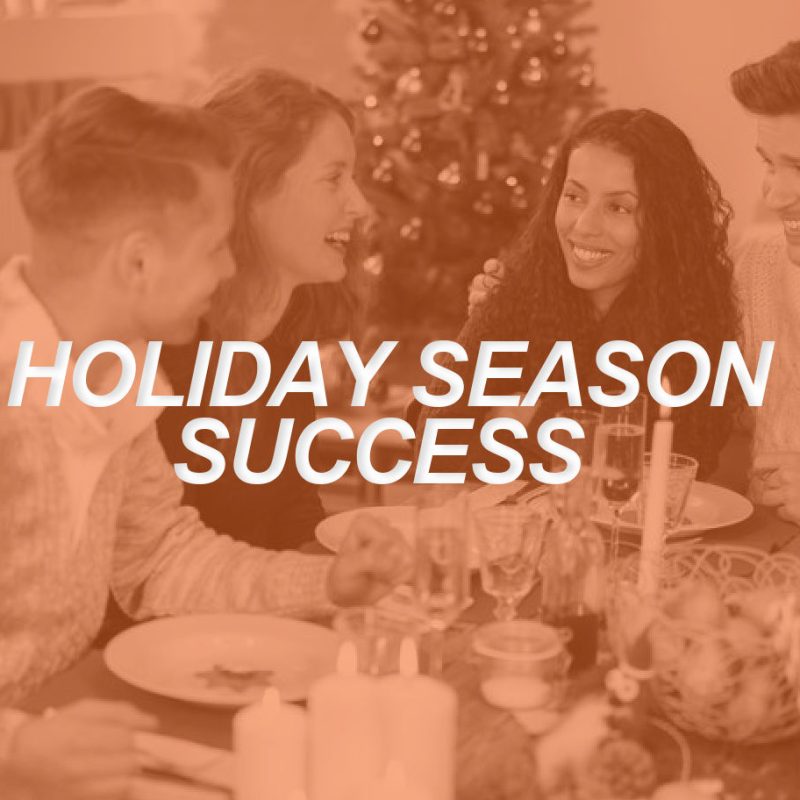 The holiday season is fast approaching, and this means one thing to most clients: "avoiding weight gain" or "not losing the progress I've made." As health and exercise professionals, we see this differently, and usually from two perspectives. First, we want our clients to enjoy the season, their experiences, and to embrae the merriment that surrounds them. Second, we want to empower our clients to remain committed to their goals – whatever those may be.  How do we best position our clients for success and enjoyment during the holiday season?
Review these 6 strategies for success and implement what works for you and your clients.
Supportive Strategies For Holiday Season Success
Help clients plan for high-risk situations. Before the holiday season hits, carve out time to review clients' goals and discuss what situations they may encounter which could interrupt their commitment. Collaborate with clients to brainstorm ways to manage those situations. For example, if attending multiple parties with calorie-laden foods presents a concern, engage clients in a conversation about self-monitoring and strategies they can implement to avoid overindulgence and pressure from party goers, family, and friends.
Provide take-home workouts. The idea of movement during the holidays is not necessarily about structured exercise, but about an intentional commitment to move the body in ways the clients enjoy. I love to provide quick 20-minute workouts that clients can do with their family and friends. These workouts range from restorative yoga, after dinner dancing, or adventure walks. When I give clients their holiday gifts, I include suggested activities and movement sessions that can support them throughout the season.
Create holiday social support forums or groups. We cannot forget that holidays come with additional stress, emotions, traveling, and family challenges. Consider creating holiday support groups through social media platforms, your own website or app platform, or messenger option. Here, you can facilitate group check-ins, and offer clients an asynchronous outlet to share their wins and struggles.
Have honest conversations around food fear and guilt. Thanks to diet culture, clients tend to experience guilt when enjoying meals that might be outside of the "norm" for them. Sometimes all a client needs is to engage in a conversation about what causes these feelings of guilt, what outcomes they fear, and how they can combat or dismiss fear related to food consumption. Help clients brainstorm ways to reframe their thinking patterns and address cognitive distortions that arise.
Encourage boundaries. Some clients may struggle with overcoming peer pressure (or family pressure) to imbibe or consume foods they are not comfortable eating because of their commitments and goals. You can help clients craft boundary statements without having to make excuses for declining a beverage or food option. Sometimes practicing "No, thank you, I'm enjoying what I have right now" is the simplest way to decline.
Give permission to enjoy food. Food is a source of joy and celebration. Clients need to hear that it's okay to enjoy, it's okat to celebrate, and it's okat to take some time to breathe in the season that surrounds them. Doing so does not mean they are dismissing their goals, neglecting their commitment, or derailing their progress. Help your clients find harmony in the message of seasonal enjoyment and commitment to progress.
Preparing for a shift in routine is half the battle for clients. Invite clients to discuss their fears, their desires, and their intentions with you in honest and candid ways. You can collaborate effectively with clients to create solutions and identify supportive outlets they can rely on during the more chaotic moments of the holiday season.