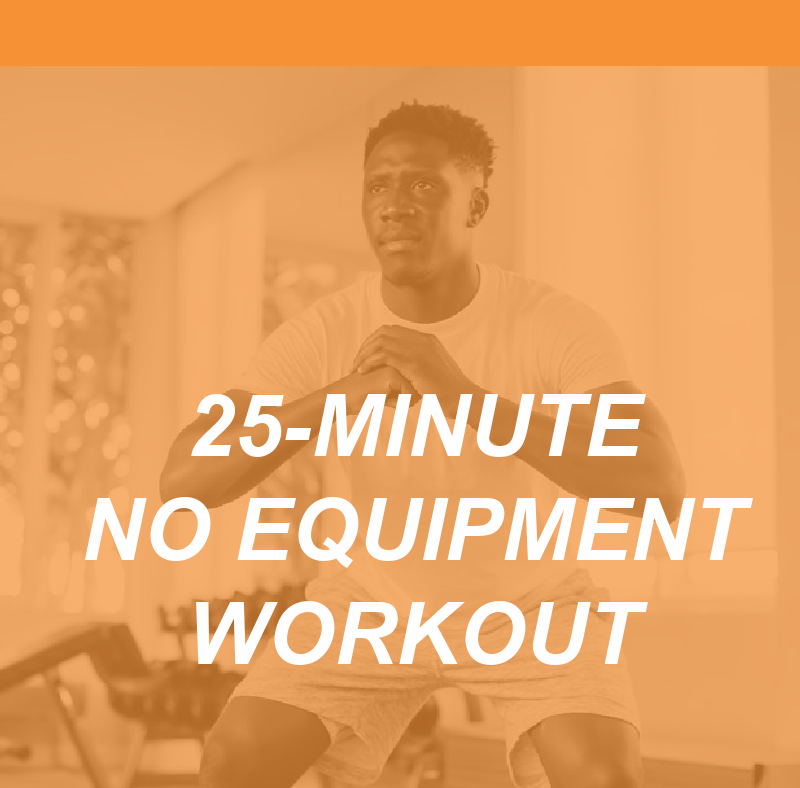 A workout doesn't have to be lengthy or involve expensive equipment to be effective, fun, and functional. There are times when a no-equipment bodyweight workout is just the right approach for a client who is just not feeling the weights, or who is headed out on vacation. This no-equipment workout has many positives: it's portable; it's fast; it involves multiple joints and muscle systems; and it involves all three planes of motion. Try it out with your clients at your next session or send them on vacation with a ready-made plan.
The No-Equipment Workout
It's always best practice to incorporate a warm-up that mimics the movements the client will be doing during the conditioning bout. I recommend this 3-minute movement preparation sequence.
Movement Prep Warm-up
15 seconds each, repeat 2 times:
Jog in place
High knees
Jumping jacks
Windmills
Side lunge (alternating sides)
Alternating toe touches
If a client needs additional time to warm-up, it's fine to encourage them to do the circuit a third time.
Conditioning Phase
This no-equipment workout consists of six exercises (three lower body, three upper body). Repeat the circuit as many times in 25 minutes as you can (keeping in mind form is a priority). Set a timer after the warm-up and get started aiming for a tempo of 1-1-1!
Bodyweight squats (10 reps)
Mountain climbers (10 total)
Sumo (wide-stance) squat (10 reps)
Push-ups (10 reps)
Reverse lunges (10 reps total – 5 on each side)
Inchworms to plank and walk back in (5 times)
Rest intervals can be structured for a variety of skill and fitness levels. Recommend anywhere from 15-20 seconds between exercises (some may prefer transitional rest only and that is fine). Before starting another round, rest 30 to 45 seconds and then get started on another round. Be sure to encourage sips of water throughout the workout bout.
 Cool-down and Mobility Work
A cool-down is equally as beneficial as a movement prep or warm-up session but for different reasons. It helps bring the heart and breathing rates back to pre-exercise levels and allows the body to re-balance itself. The cool-down period is also an ideal time to work on a client's flexibility and range of motion. Below is a sequence of cool-down static stretches your client can perform on their own or with your leadership.
Hold each stretch for 20-30 seconds and repeat twice. Other stretches and movements can easily be substituted for the options below as long as they include movements that target the areas worked in the conditioning phase.
Runner's lunge (left leg, then right)
Adductor stretch (left leg, then right)
Standing quad stretch (left leg, then right)
Chest stretch (stand in a doorway with arms overhead in a "Y" and lean forward.
Shoulder stretch (clasp hands behind back, straighten arms, and lift high)
Triceps stretch
This workout is efficient and requires nothing special but comfortable workout clothes, shoes, and six feet of space. It's perfect for the on-the-go client or as a way to encourage clients to perform a quick weekend burst of activity.
Workouts like this are especially useful if you have a client whose schedule experiences disruption and they can't make a session at the last minute. I like to keep a library of these quick workouts to give to clients in a pinch. The combinations are limitless and it's easy to pack in a lot in a short period of time.
A Note of Caution
As always, be sure your clients can perform these movements adequately and with proper form. It's best practice to demonstrate these exercises and evaluate if clients can perform these in an unsupervised environment. You can provide basic modifications for these exercises as well.