Introduction to Selling Course
$55.00
The information provided in this course is a look at the basic principles for selling personal training sessions, whether in a private studio, small or large club or as an in-home CPT. We also take a look at sales strategies for gym tours and memberships. The general principles of selling fitness training sessions hold true across many training environments – basic sales strategies, fundamental marketing approaches and purposeful communication are some of the skill sets required to successfully sell and retain clients.
Est. Prep/Completion Time = 2-3 hours
NFPT CEC Award = 0.5
*CEC awards vary with other certifiers
What You Get
Test
Course Booklet (PDF Download)
Certificate of Completion
0.5 NFPT CECs
MORE DETAILS:
Online, multiple choice test
30 questions, limit = 1 hour
70% pass score
Instant test results
1 Free Online Re-test
Course/Test access for 3 Years
Learning Objectives:
Understanding the general sales process and approaches to earning more.
How to handle client objections and confrontation.
How to improve client retention.
Maximizing lead generation and methods for following up.
Understanding your role and responsibilities as a trainer.
Meet the Author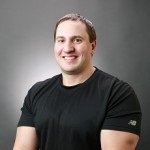 President & CEO of THE ARENA, Owner of Fit and Functional
Charles DeFrancesco provides all in-house education to the ARENA staff. Charles was co-founder of Greenwich Sports Medicine, where he was in charge of all personal training and therapy operations for over five years. Currently Charles is a consultant for Westchester Sports and Wellness, Tomorrow Medicine and Phoenix Fitness. He is certified by the National Academy of Sports Medicine (NASM) and by the National Federation of Professional Trainers (NFPT). He is also USAW Olympic lifting certified and Equinox Fitness Group Prenatal certified. Charles has completed specialty courses for Functional Exercise Specialist, Cardiac Conditions (AFPA), attended EFTI, and has over 7 years of clinical experience. Charles was a guest speaker at the 2009 IHRSA conference in San Diego. He also holds year round seminars and educational courses in the tri-state area. Charles is a contributing author to NFPT education course material and is a presenter on various topics, including: basic movement screenings, essentials of core training, flexibility and strength & conditioning. Charles works with a variety of doctors and has consulted with them on developing programs and training staff for their rehabilitation facilities. In addition, he consults with commercial gyms, corporate parks and fitness studios. Charles recently received his license in NY and CT for Health, Life and Accident Insurance. This license allows him to work with carriers to help members get discounts and gym reimbursements and allows Charles to offer full service corporate wellness programs.