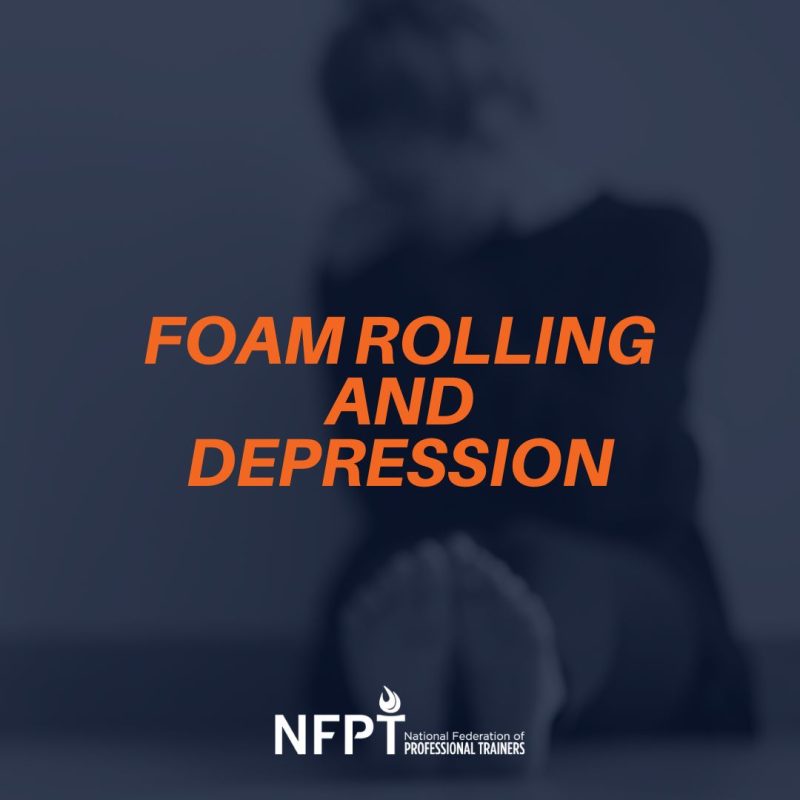 Personal trainers wise to the relevant link between foam rolling and depression may be in a position to truly help their clients with depression. Exercise and other health behaviors have been proven time and time again to help reduce the symptoms and severity of Major Depressive Disorder (MDD). Exercise releases natural cannabinoids and various neurotransmitters that can help improve mood and behavior. More simply, a good workout may also provide a healthy distraction from the negative thoughts that torment MDD patients (Mayoclinic). Recent research suggests that another tool in a certified personal trainer's box may help have the ability to positively affect the symptoms of clinical depression. Let's explore the positive relationship between foam rolling and depression.
What is Major Depressive Disorder?
MDD affects approximately 8% of the U.S. population. Persons with MDD usually suffer from severe sadness, lack of interest, feelings of disgust, low energy, and inability to find joy in any activity. MDD sufferers often dwell on negative thoughts & memories (rumination), have feelings of worthlessness, and can potentially feel angry. Unlike general feelings of sadness, clinical depression is persistent and may be caused by low dopamine, epinephrine, or serotonin activity in the brain, and abnormal structure in the prefrontal cortex and other brain areas. 
Among these symptoms and potential causes, persons with MDD may also have a "slumped" posture,  with a hunch in their upper back (hyperkyphosis), or a forward translation of their head. This may cause excessive tension in the neck and upper back. According to recent research from Michalak J., et al (2022) MDD patients have more stiff, less "elastic" tissue in their upper back and neck than people who don't have MDD. 
Depression and Fascia
The authors of this paper questioned whether there may be any relation between the stiff myofascial tissue in MDD patients and their depression symptoms. One study points to a link between myofascial facial pain and depression. Additional research has shown that tai chi, breath work, and actions as simple as holding a "proud" posture have proven to improve mood in persons with depression.
For the study cited here, 69 MDD patients were recruited. the stiffness in the tissue of their upper back and neck was measured, and they were split into two groups. Each participant in group 1 performed a very simple Self MyoFascial Release (SMFR) routine with a foam roller. Individuals in group 2 however performed a simple set of NON-SMFR exercises. Tissue stiffness was then remeasured: group 1 (the SMFR group) showed significant improvement in stiffness compared to group 2. No big surprise there. However, both groups were tested for "negative word recall" and negative memory bias as well as positive affect. Group 1 showed significantly better scores than group 2 on both measures.
It's not clear from this study whether the stiff tissue lends to a cause for MDD, or is simply correlative with the mood disorder. It's also not clear what the mechanism is that caused the improvement in the patients. Was it the act of doing something positive for themselves, is there some biochemical element in fascia that may help, or is an effect on "down-regulation" of the sympathetic nervous system providing the benefit. 
Foam Rolling and Depression
While more exploratory work is likely necessary, this preliminary finding is promising for mental health professionals, fitness professionals, and sufferers of depression alike. One of the difficult aspects of treating MDD with exercise is that a major symptom is a lack of energy and/or motivation. Foam rollers and SMFR might be stepping stones to help improve the symptoms of a patient without the expectation of potentially taxing exercise routines. Personal trainers can work within their scope to make an impact on the physical and mental health of our communities by acknowledging that foam rolling and depression are likely related, and actively incorporating foam rolling into client programming to help improve mood.
---
References
Michalak J, Aranmolate L, Bonn A, Grandin K, Schleip R, Schmiedtke J, Quassowsky S, Teismann T. Myofascial Tissue and Depression. Cognit Ther Res. 2022;46(3):560-572. doi: 10.1007/s10608-021-10282-w. Epub 2021 Dec 21. PMID: 34955570; PMCID: PMC8688142.
https://pubmed.ncbi.nlm.nih.gov/10534589/
https://www.mayoclinic.org/diseases-conditions/depression/in-depth/depression-and-exercise/art-20046495