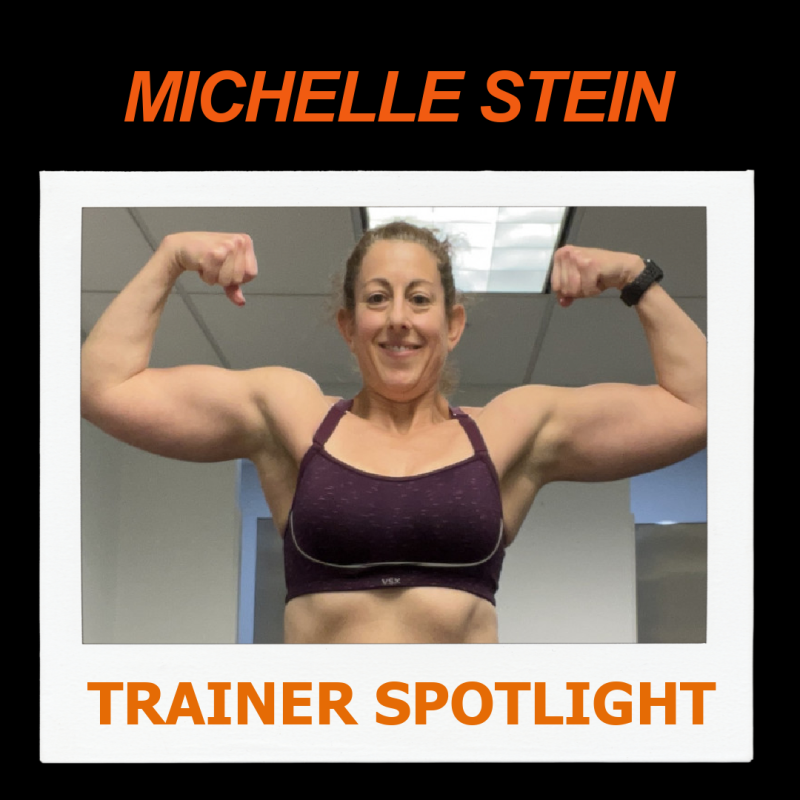 Meet Michelle Stein, an NFPT-CPT born and raised in North Massapequa on Long Island, New York. She attended Roger Williams College in Bristol, RI for a year and then transferred to LIU-CW Post campus. At both schools, she played competitive tennis which she still enjoys today and along with pickleball. After graduating with a bachelor's of science in Marketing and Graphic Arts she got into advertising, working in direct mail and print production.
Like many working moms, she took a break from her career to have kids and then returned when she felt they were old enough.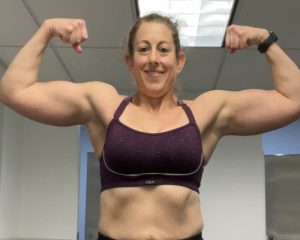 Circumstances changed again and she decided to be a stay-at-home mom. At that point she joined a gym, even invested in a trainer, and fell in love with lifting weights and seeing how it changed her body.  
How long have you been certified with NFPT?
I have been certified with NFPT since November  2016. I chose NFPT on a recommendation of a well-respected friend. After doing some research, I liked the ability for continuing education directly through NFPT as well as the support my friend shared that he received.  
Why did you decide to become a personal trainer?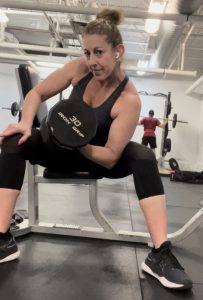 I chose to become a fitness professional after having to deal with some personal challenges. Fitness changed my life. It was my way to channel negative emotions, and provided the release and strength I needed to get through some tough times. It made me a better person and mother, and I became "hooked"!  After turning over this new leaf and lifting weights six days a week, I decided to become a personal trainer to help others obtain their goals.
What has been your biggest challenge as a personal trainer?
The greatest challenge I face as a personal trainer is trying to keep my clients focused, motivated, and consistent. When I'm hired by a client, I rise to this challenge by fully committing myself to them and hope to get the same in return.  No one is going to be successful without that.  
What has been your biggest accomplishment in the fitness industry?

My biggest accomplishment besides getting my certification and beginning a new career, was working on my own and getting clients.  Once I was certified, I got CPR/AED certified and worked for a short time for a franchised personal training business.  It gave me the opportunity to learn how to train clients properly and run a business. In November 2019, I went out on my own and created Simply Fit Personal Training. I was also asked to compete for the cover of Muscle and Fitness magazine 2022, making it to one of the final rounds!
What has been your most rewarding experience as a personal trainer?
My most rewarding experience as a personal trainer is seeing the changes in my clients, watching them hit new personal bests as well as getting referrals from new potential clients that were recommended by current clients.  

\
What role does social media play in the success of your business?
Social media plays perhaps a larger role than expected due to Covid. Almost all clients went remote during Covid enabling them to get their workouts in during the pandemic no matter where they were. It allowed me to set up a FB group that has been shared with my clients and continues to welcome anyone locally and internationally who is interested in health and fitness. I also provided bodyweight workouts for those who didn't have equipment at home during the pandemic. Every day I post a motivational quote to help get the day started. It just takes a few words of inspiration to help jump-start your day.  
Any advice for people thinking about a career in fitness?

Fitness is a great career.  Depending on what you want out of it, it could be very flexible, definitely rewarding seeing and helping create transformations daily.
What are your plans for the future?
I hope to continue my education and work toward more certifications to better educate myself and my clients.  This will make me a better trainer and well-rounded.  The fitness industry is growing every day due to the larger focus on health and wellness and I can't wait to be a part of everything that will happen in the future.  
---