A continuing education credit (CEC) is awarded to trainers for their participation in a health and fitness learning activity. All accredited personal trainer programs require CECs. Continuing education is a critical component for success and professional development for personal trainers. Earning these additional certificates lets your clients know that you're serious about learning and growing.  NFPT offers a variety of different courses that will earn you credits with NFPT and all other major certifying agencies.
Continuing Ed Requirements for NFPT Certification
Continuing education requirements can be different for each certification agency. If you don't keep up on your CECs, you will lose the CPT credential that you worked hard for (which will affect your job, your insurance policy, and your reputation – we'll help make sure that doesn't happen)!
Our requirements are simple . No (none, nada, zero) CECs are required in your first year. Starting your second year, 2.0 CECs are required annually. We'll keep you updated on your status and will notify you by email as deadlines approach.
NFPT keeps your CEC cost low. There are even options for earning free CECs. Our renewal fee + CEC cost will be lower than others, by far!
We make CE and NFPT-CPT maintenance convenient, affordable and easy to understand. If there is ever a question about how to get CECs, contact us and we will help you to find something that's right for you and that is in your budget.
How To Get Continuing Education Credits
There are a wide variety of ways to get Continuing Education Credits. There are so many possibilities for obtaining credit that we can't even list them all!
Courses / Classes
Workshops
Seminars
CPR/AED Certification
Proof of Insurance
Content Contribution
NFPT Self Tests
Fitness activities
If you take the time to do something that educates you in exercise science or fitness business, we'll give you the credit!
Credits are based on the subject and participation time. NFPT Standard and Specialty CE Courses range from 0.5 up to the entire 2.0 CECs needed for renewing your certification!
| Participation Hours | CECs Awarded |
| --- | --- |
| 1 to 2 hours | 0.25 |
| >2 to 3 hours | 0.50 |
| >3 to 4 hours | 0.75 |
| >4 to 6 hours | 1.00 |
| >6 to 7 hours | 1.25 |
| >7 to 9 hours | 1.50 |
| >9 to 10 hours | 1.75 |
| more than 10 hours | 2.00 |
Submission of a cert of completion or similar documentation is required to receive credit. You are automatically awarded CECs for NFPT courses, no submission is required.
How To Get FREE CECs
Self-Tests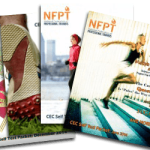 NFPT Self-Tests are free, optional quizzes consisting of about 40 questions. They are published twice a year in June and December. Questions cover continuing education articles we publish on the blog monthly. The tests are taken through the Online Learning Portal. Score 80% or higher to be awarded 0.5 CECs. Take both self-tests and get 1.0 CECs each year at no cost.
Trainer Refresher
This 120 question quiz is based on the NFPT Personal Fitness Trainer Manual. It covers the basics of personal trainer knowledge. Take the quiz through our Online Learning Portal.
Fitness Flops
A free monthly quiz where you identify the problem depicted in an image. Correct answers are awarded 0.1 credit. Easily get half your annual CEC requirement by participating each month.
How To Submit Your CECs
If you take the time to do something that educates you in exercise science or fitness business, we'll give you the credit!
Submit documentation for CECs through your online NFPT account, or by snail mail or email at info@nfpt.com. Documentation could be in the form of a certificate of completion, transcript or confirmation letter – heck, take a picture of the doc with your smart phone and send it to us, we'll accept it that way too!
At NFPT, we make CECs a breeze. No stress and no hassle when you submit information for your credits, and no submission fees either! NFPT is one of the only cert companies that won't charge a fee for reviewing your documentation and processing your credit award. Any method that you use to get the information to us, courier pigeon or cell phone, we'll take it! As long as you provide us with something that shows your participation in a fitness related course or continuing education related activity, get it over and we'll award you the credit!
Ready to Submit for CECs? Log in to your NFPT account, or contact us for our mailing address, a quick CE doc submit, or to ask any questions. We're here and happy to help!
Continuing Education Courses
Courses for your continuing education and professional development are available from NFPT and our approved providers.
NFPT courses provide 0.5 – 2.0 credits. Courses range from introductory to advanced. Some are conveniently available online. Cost varies by course.
Cost and credits awarded from our approved providers vary.