National Federation of Professional Trainers was founded in 1988 with a mission to provide foundational, comprehensive and applicable education to fitness enthusiasts pursuing an industry recognized Certified Personal Trainer (CPT) credential. Since 2005, NFPT's personal trainer certification program has been accredited by the National Commission for Certifying Agencies (NCCA). Accreditation of the NFPT certification program assures authority and reliability of the credential in the fitness industry. Visit About NFPT to learn more about the beginnings, missions and objectives of the NFPT organization.
About our trainers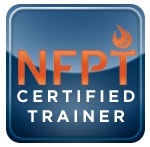 Sure, we're a little biased because at NFPT we strive to make solid connections with our trainers  – put simply, we think NFPT professional trainers are the best there is! But the proof is in the pudding! If you've worked with an NFPT trainer before, you should find like we have, that NFPT trainers demonstrate time and time again their effectiveness, their passion and their ability to make a difference in peoples' lives. NFPT professionals work in health clubs as well as private studios and strive for excellence in their businesses; their clients are more than an anatomical body, there is an entire human state of being at work in an effective fitness program. NFPT professional trainers set realistic goals and implement effective fitness programming to achieve those goals long term.
Participation in the NFPT Certification program requires a high school education or equivalent and at least 18 years of age (we highly recommend at least two (2) years of fitness related experience, but this is not required). Pre-requisites for the program are just the enrollment minimum, professional trainers don't stop there! NFPT – CPT's have demonstrated their understanding of fundamental exercise science concepts and fitness program design ability to work one-on-one or in small group settings in a safe and effective way. NFPT – CPTs are required to obtain credits for continuing education to demonstrate the maintenance and development of trainer skill set. As a result, the professional growth of an NFPT trainer doesn't stop at the certification, it's an ongoing process. In our experiences at NFPT, we find that most NFPT trainers are seasoned fitness professionals who strive for excellence in their workplaces and personal lives – and healthy happy lives are their business!
Sure, NFPT education strives to equip personal trainers with tools and resources that add to the development of skills – but a personal trainer is so much more than the course they took and the exam they passed. The smartest personal trainer out there would have no success at all if it weren't for their ability to serve others as an inspiration and passionate example of the benefits of health and fitness on overall well being. Those aren't skills that are taught, those are gifts of the individual – and at NFPT we help to put the gift of serving others through fitness to work!
Scope of practice in a nutshell
Certified Personal Trainers work inside this basic scope of practice:
Enhancement of overall health and well being to the apparently healthy population that is appropriate for the individual
Identification of potential risk factors associated with exercise, using protocols for medical release or referral when needed
Implementation of appropriate fitness programs based on physical screening, health consultation, consistent evaluation and reasonable goals of the client
Demonstration and promotion of the safe and effective use of fitness equipment, techniques and program design
Application of fundamental exercise science and fitness program design principles in a one-on-one or small group setting
Motivation, support and teaching of clients and fitness enthusiasts in an effort to improve levels of fitness and maintain an enhanced health and well-being
A smart career choice
There are many reasons to choose a career as a personal trainer. As with any career choice, it's a personal issue that is driven by passion and potential. If you have a passion for healthy living and you enjoy teaching others how to reach their fitness goals, than a career as a trainer just might be the perfect fit. In addition to teaching others about something that will impact their lives, as it has yours, there are an incredible number of tangible and intangible rewards in store for you as a credentialed NFPT-CPT.
The personal training industry is developing and evolving at an increasingly steady pace. According to the U.S. Department of Labor Statistics, fitness training is one of the top 20 fastest growing occupations. Jobs in this field are expected to grow at least 20% over the next 5 years, and at least twice this over the course of 10 years. Fitness isn't a fad, it's a way of life that is here to stay – a high demand in the fitness trainer job market continues to prove it.
Or provide us with your name and email and we'll send you more info! Email us at [email protected]