Endurance Training Specialist
Learn fundamental aerobic principles to increase stamina and overall fitness.
Just the Facts
NFPT CECs =

2.0

CEC Guarantee
Est. Prep/Completion Time =

10 hours

Price =

$145
ADD TO CART
About the Course
Deepen your knowledge of fundamental endurance principles to improve your clients' overall fitness. Emphasize activities that target the health of the heart, lungs and circulatory system.
Reenvision Aerobic Exercise
Aerobic conditioning isn't always choreography and dance; it's a method of training used by serious athletes and fitness enthusiasts. In fact, many of those who want to get into better cardiorespiratory condition don't venture anywhere near aerobics classes. NFPT has the inside-out education you need to consult effectively with clients eager to use aerobics in their fitness program. NFPT teaches fundamental methodologies relating to aerobics and endurance that you immediately can put to work.
What You Get
Ebook
Online test and practice test
Education support
Certificate of completion
2.0 CECs
*Order a printed manual during checkout, if you prefer
Continuing Education Process
Add to Cart
Purchase this course to enroll.
Check Your Email
NFPT will send course instructions and education preparation material to you.
Take the Test
When you're ready, log in to your NFPT Account and take the test. You'll receive your certificate of completion and CECs when you pass.
Education Objectives
Understand general health and aerobic prescription
Learn about aerobics for fat loss and for athletes
Understand muscle endurance, strength and power
Explore flexibility, stability and core strength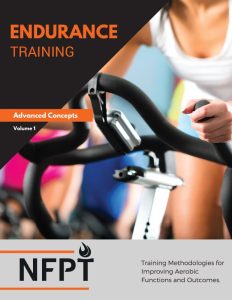 Preview book now
TEST DETAILS
Take the multiple choice test online
Answer 100 questions in two hours
Score 70% to pass
Get test results instantly
Retest once for free