Running Mechanics
Master the complexities of body mechanics for more efficient running.
Just the Facts
NFPT CECs =

0.6

CEC Guarantee
Est. Prep/Completion Time =

2-3 hours

Price =

$45
ADD TO CART
About the Course
Help your clients learn proper running mechanics and counteract poor muscle flexibility, improper muscle fiber recruitment and muscle imbalances that lead to overcompensation.
Going the Distance
In the Running Mechanics course, you'll learn about the basic science of running. Running seems simple enough but it is actually a very complex movement and, if you want to get the most from it, it is important to understand and implement proper running mechanics. Almost every sport requires some type of running. Therefore, it is crucial for trainers, especially those working with athletes, to understand the fundamentals. This course explains and demonstrates basic running mechanics and how to correct common dysfunctions. You'll learn warm up and stretching methods that can reduce injury and improve finishing times and you'll come away with simple exercises that are easy to apply with immediate benefit.
Is This Course Right for You?
Even as running becomes more popular, a majority of beginning runners lack proper running mechanics. When you can spot issues that could lead to short- or long-term injury, you become enormously valuable to your clients. Whether your client is a casual runner or goes long distances, you can help them improve their flexibility and target weaknesses. In this course, you'll learn a variety of dynamic movements, corrective exercises, strength exercises and more. After completion, you'll have the skills to develop a training program that helps your clients meet their running goals safely.
What You Get
Online test
Presentation slides
41-minute video
Education support from course author
Certificate of completion
Continuing Education Process
Add to Cart
Purchase this course to enroll.
Check Your Email
NFPT will send course instructions and education preparation material to you.
Take the Test
When you're ready, log in to your NFPT Account and take the test. You'll receive your certificate of completion and CECs when you pass.
Education Objectives
Understand the mechanics of running
Correct common runner dysfunctions
Learn to implement basic movement therapies
Understand how to improve running performance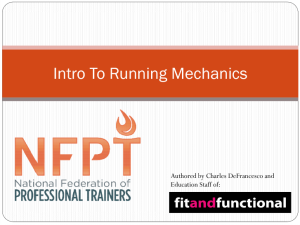 Preview course now
TEST DETAILS
Take the multiple choice test online
Answer 36 questions in one hour
Score 70% to pass
Get test results instantly
Retest once for free