MS Fitness Essentials
$89.00
A GUIDE FOR LEARNING MENTAL AND PHYSICAL EXERCISES TO HELP CLIENTS WITH MULTIPLE SCLEROSIS
Learn safe and effective techniques for training MS clients. It is a common misconception that MS sufferers should remain inactive, resting and sedentary. The opposite is true. Those with MS should be encouraged, active and moving – you can help get MS clients to a better mental and physical place. Take your knowledge to the next level, learn how to affect positive change for MS clients!
Est. Prep/Completion Time = 5+ hours
NFPT CEC Award = 1.0
Other CEC Awards = CEC GUARANTEE!
See Descriptions: Education and Test Details >>
$89. GET STARTED:
Description
In this course we explore the daily struggles faced by people diagnosed with MS. This course is an introduction to Fitness with MS will give you, the certified personal trainer, a foundation of knowledge to build from when presented with an opportunity to work with and help those clients who have MS. Those diagnosed with Multiple Sclerosis often feel hopeless as this disease presents symptoms that can often feel debilitating and physically and mentally exhausting. But there is hope through wellness and training techniques that will improve the quality of life for those struggling with this disease.
David Lyons, author of this course and Founder of the MS Fitness Challenge, knows these struggles firsthand and will help you to help others through the knowledge and exercise education that are presented in this text. You will receive continuing education credits for this course, but, more than that, you will gain the understanding of what a MS client is going through and how you can support their desire to live a happy, healthier life.
What You Get with this Course
Online Test
Course eBook & Exercises
Education Support (w/course author)
Certificate of Completion
 1.0 CECs
IS THIS COURSE RIGHT FOR YOU?
If you are a certified personal trainer or allied health professional, then this course is a great stepping stone to understanding what it will take to train clients with Multiple Sclerosis. Some MS patients are under the impression that they should remain inactive because it helps with fatigue and speeds recovery – wrong! Exercise after an MS diagnosis is extremely helpful for one's overall well-being. Learn to improve the quality of a MS client's life through specific types of exercises for both physical and mental wellness.
This is an introductory Continuing Education Course. This course is the groundwork and foundation for you to take the next step in making MS clients part of your personal training business. MS Fitness Essentials will guide you in being able to provide initial services to people with MS but it is highly recommended that you continue to advance your understanding of MS and effective training methodologies to increase the health and well-being of your MS clients. After completing this introductory course, consider the Advanced MS Fitness Specialist course to earn your MS Fitness Specialist credential and to be a fully qualified MS trainer (NFPT advanced course release: spring 2018).
TEST DETAILS:
Online, multiple choice test
35 questions, limit = 1 hour
80% pass score
Instant test results
1 Free Online Re-test
Course/Test access for 3 Years
EDUCATION OBJECTIVES:
Understanding symptoms and various limitations of Multiple Sclerosis
Learn how Multiple Sclerosis is diagnosed
Recognize the importance of mental fitness and emotional implications
Know the basic exercises that should be implemented in a fitness routine
Identify different options in nutritional guidance for your MS clients
Know the current and new treatments for MS
Know the current treatment for MS
Know how to create safe and effective workout regimen despite the limitations
THE PROCESS:
After your purchase of this course, NFPT will verify your registration information and then send you an email confirmation and instructions for accessing all course material and the test through your personal NFPT online account (this can take up to 24 business hours. However, your receipt of purchase will be sent immediately). When you pass the test, you are instantly awarded your certificate of completion for printing and display. If you are an NFPT Certified Personal Trainer, your continuing education credits (CECs) automatically post to your account.
BACK TO PRICING INFO: GET STARTED >>
Meet the Author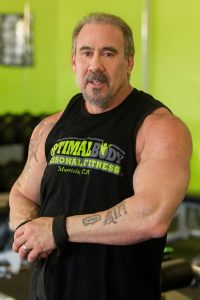 David Lyons is the founder and creator of the MS Fitness Challenge®, a worldwide charity, alongside his wife Kendra Lyons R.N., developed to educate and train people with multiple sclerosis and fitness professionals in the benefits of exercise and nutrition in winning the battle against MS.  His cause is supported by entertainment celebrities, athletes and major corporations. David is the first person with Multiple Sclerosis to train to compete in an NPC bodybuilding contest winning the Most Inspirational Bodybuilder trophy in 2009 at the age of 50. He is the only person with MS to receive the Health Advocate Lifetime Achievement Award presented by Arnold Schwarzenegger in 2015. He was awarded the Health Advocate Achievement Award (alongside Lou Ferrigno) in 2013, the Lifetime Fitness Inspiration Award from the Global Bodybuilding in 2016 and the Special Recognition Award from the National Fitness Hall of Fame in 2017.
David was the recipient of The National Multiple Sclerosis Society's MILESTONE AWARD for being "an individual who is relentless in the fight against MS, achieving significant milestones…" He has been featured on FOX, CBS and other TV networks and radio shows and featured in magazine articles internationally. David is actively working with the Multiple Sclerosis Foundation on fitness education and training and he is a columnist for EverydayHealth.com and Executive Director of the Fellowship of Christian Athletes (FCA) Bodybuilding & Fitness ministry.