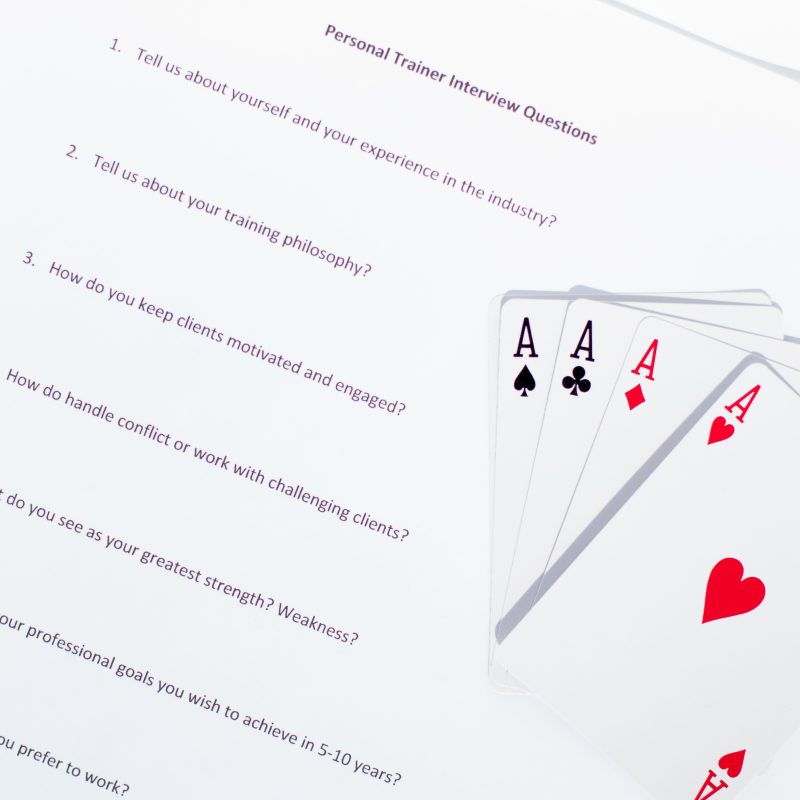 You landed an interview. Now what? Interviewing for a new position isn't the most relaxing experience, and preparing for it can be a real challenge when you don't know what to expect.
Your job in the interview is to teach the job interviewer or committee about who you are and why you make a quality candidate for the position.
Ease your nerves by researching the people and place where you want to work. Locate their mission statement and the type of client they serve.
Prepare and review your curriculum vitae or resume before the interview. It'll boost your confidence to identify customer service skills from a job unrelated to the fitness field or a contact you have that might help the organization you are applying to.
What to Expect in a Personal Trainer Interview
This element can vary. You can likely, however, expect the following:
A team of interviewers (two to three)
A site or facility tour
A presentation (teaching or training demo, mock client session, class, etc.)
A 45-minute (give or take) question/answer session with the interview team or manager
An opportunity to ask questions of the interview team or hiring manage
Fitness Trainer Interview Questions
This is the heart of an interview. There might be 5 questions, there might be twenty. If you get nervous answering questions, practice ahead of time with a friend, colleague or family member. You can search for sample questions on the internet or use the ones in this article: Personal Trainer Interview Questions – What to Anticipate (it shares questions and also a video interview with answers that you could model or get ideas from).
Whatever position you're there to interview for, be prepared to answer this question: "Why this organization and why this position?" It's important to know this before going to the interview because it assures you that it's worth your time to even consider this position.
You'll also want to be prepared to ask a few questions. This is where researching the company and interviewer(s) ahead of time comes in handy. Remember, wait to ask about salary and benefits until you're in the final stages.
Personal Trainer Interview Workout
If you are asked to perform a workout or teach exercises, the facility should provide you with guidelines. If the details seem "fuzzy", ask for clarification.
Other questions to ask:
Are there special conditions the client or group members may have?
What is the health risk profile?
Remember – the first step is knowing the client goals and moving forward from there. Also, be prepared to justify why you chose the exercises you did as well as how those exercises could be modified to either decrease or increase the challenge.
To learn more read: How to Prepare for a Personal Trainer Practical Interview
Personal Trainer Interview Attire
A good rule of thumb is business casual (slacks, nice top, dress shoes). Pack a coordinated set of workout clothes and appropriate footwear in case you are asked to teach a class or demonstrate exercises. You could also visit the site ahead of time and take a quick inventory of what the "attire theme" appears to be with the current employees.
Do you have more questions about clothing? Check out: Personal Trainer Interview Attire – What to Wear
Frequently Asked Questions About Personal Trainer Interviews
What's the best way to prepare for the interview?
Start by doing some homework. Research the company or organization to get a sense of their culture and values. Pay a visit to the physical location to feel the space and take a look around.
Ask yourself "why do I want this job?" and "what makes me the best person?" You need to sell yourself on the job before you can convince the committee of their need to hire you for the job.
What should I bring with me?
A set of professional workout clothes for the practical portion of the interview.
A sample of a client intake folder/client records.
Extra copies of your CV or resume.
A confident attitude.
How long should I wait to follow-up?
After you have your interview, send a thank you email to each individual committee member that does two things: thank them for their time and for allowing you the opportunity to interview with them AND reiterates your excitement about the position.
If more than a week goes by and the committee has not followed-up with you, it's okay to call and inquire about an update.
Interviewing is a stressful and time-consuming process, but taking some active and intelligent steps to adequately prepare will help alleviate some of that stress and anxiety. If you are nervous, it means the opportunity in front of you excites you, which means it matters. Use that nervous energy to fuel and motivate you to impress the panel and, hopefully, land the job!