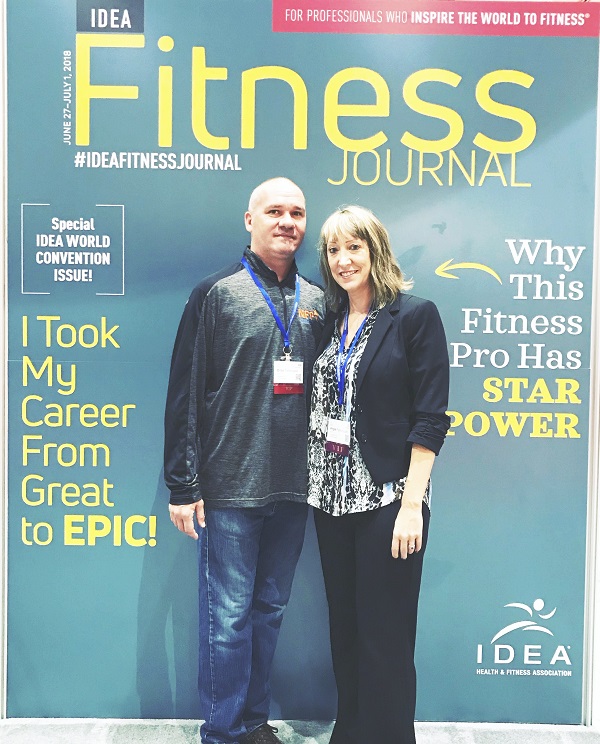 Personal trainers and those aspiring to become personal trainers can further their knowledge in many ways, including attending conventions and trade shows. As an organization, NFPT has attended the IDEA World Fitness Convention (home of the Club & Studio Summit and Nutrition & Behavior Change Summit) in the past. We attend sessions, met with 'old' friends and made new ones, attended special events, and enjoy meaningful conversation over morning coffees, delicious meals…and nutrition bars.
It is an event that garners the attention of the world of fitness, rightfully named IDEA WORLD! For the love of puns, this event is the best of both 'Worlds'! Learning and connecting. This is what we did, and all of us with a like-minded love for fitness.
Kellie Kaseburg, IDEA Events Senior Director, said it best, "You are the future of fitness, and we hope you'll take this opportunity to join our team at the most epic event of the year. Invest in yourself, connect with the entire industry and bring your passion to life as we transform and Inspire the World to Fitness®."
If you weren't there this year, consider IDEA World next year. But, either way, here or there, know that YOU are the future of fitness and YOU make a difference every day in your work! Recognize how important your personal trainer certification is. It's the foundation that you build on.
Your passion got you started, your trainer certification made it official, and now your continuing education strengthens your profession.
Let Us Know
At this event or others (insert plugs for some other favorites here… Club Industry, MANIA® Conventions, IHRSA, Medical Fitness Tour), you can get all of the continuing education credits that you need to recertify. Everything under one roof, it's an added bonus to being a part of something bigger. Thing is, sometimes CPTs (Certified Personal Trainers) have a challenging time jumping through the hoops of CE submissions to their cert orgs, or they don't know how to do it quickly and easily.
Most fit convention hosts will give you the certificates of completion or a grid of your attendance for each session that you were a part of. NOTE: workSHOPS get you credits, but workOUTS don't. IDEA makes these easy to locate and download (as so do all of the shows mentioned … they all do a great job making sure that attendees get their CECs).
Thing is, sometimes trainers don't think to let us (the certification organization) know what they've been up to so that they can get CECs towards recertification. I can't speak for other certifiers, but as for NFPT we make it easy and all you have to do is let us know!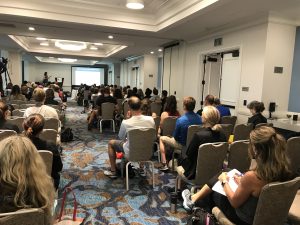 Sometimes we forget to take full advantage of what we have going on in our lives because there's so much going! It can be hard to keep track of life as it is, so sometimes we don't think about the certificate on the wall that we worked so hard on X years ago.
Thing is, it's vital to the reputation that you've built and the professional authority that you continue to build. We make it easy enough to submit any kind of learning activity that you're a part of, no fees and no hoops, so don't forget to submit!
Tips for Attending Fitness Conventions
If you've never attended a fitness convention before, the process and experience can be overwhelming. Simple strategies and planning ahead can ensure a stress-free, fun experience!
Set a Goal!
Shows and conventions are great venues to reconnect with friends and colleagues, and to make new ones. Over the course of a year or two, you'll find that many of the people you regularly connect with are going to the same industry events that you are.
Set a goal to make the most of this.
Be well-planned and connect with those you want to meet or eat with.
Schedule and confirm lunch dates or formal meetings, ahead of time.
Be purposeful in your efforts, whether it's to come out of your shell or it's to represent your brand well, know your goal and remind yourself of it.
Draw Your Route
Most Convention planners provide attendees and exhibitors with vital info on their website. Research the list of exhibitors and spend time reviewing the map or interactive floor plan, if one is provided. Print it off and check your must-see booths and prioritize them.
Don't Be a Hero
It's very easy to become overwhelmed when entertaining a convention with hundreds of people in a large space. Don't try and see everyone in one day. Maybe take the first day to hit your priority contacts. But, then on your second day, walk the floor and network with everyone and anyone. The fitness world is quickly changing and many in the industry are making some pretty big changes.
Keep Diligent Notes
You will become infiltrated with a ton of information. Write it down in your trusty notebook, record audio or video clips with your smartphone, or use an app – whatever your method, keep track of everyone you meet and the information you want to remember and research when you get back home.
One of our NFPT trainers Alexandria Clearwater shares her insights about the first IDEA World convention she attended:
"Reflect! I believe this is the most valuable action that can be done while attending an event such as Idea. I suggest, if there is time, to spend five minutes after each workshop/lecture to write about what stuck with you. (Keep diligent notes!)
Highlight the following:
what it was that you found most interesting
what was new information for you
how you can apply that information with your current clients.
If you are not able to find time during the day, spend 20-30 minutes at the end of your day reflecting on each workshop and lecture. Recall the information and then physically write it down in a journal.
I believe if I had spent more time specifically reflecting on what I learned, I would have been able to bring more home than I did. Which, on the positive side, is an incredible amount of new and applicable information.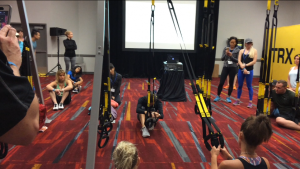 There is no time to waste
Between sessions, I was occasionally looking at a 10-15 minute window to:
find a restroom with a reasonable line
grab a snack to tide me over for two hours
somehow decompress
When you leave your hotel room for the day, make sure you have any and everything you might need. It will be rare for you to find time to wait in the elevator line to run up to the 16th floor to grab something you've forgotten.
Among these essential items should be plenty of snacks! There are some 10,000 other attendees who are also frantically looking for sustenance between the workshops. The lines are heinous, save yourself the stress and time. Bring jerky, trail mix, fruits, veggies, and anything else you love to eat to keep your energy up.
What it's really all about
Don't forget about the most important part. Enjoy yourself! You will not be able to remember every little thing from the 12-15 workshops/lectures you attend. Allow the information that you find most useful and interesting to be your focus within each session.
IDEA World is an incredibly fun and exciting experience, and it should be just that for anyone who attends. It is a place full of other people who share the same passions for wellness, health, and fitness. It's an event that will inspire and motivate. All possibilities are presented and made accessible. Events like IDEA World are made for those professionals who want to be the very best they can.
I highly suggest making the commitment, time-wise and financially to attend. Not only do you have the opportunity to come face to face with some of the leading innovators in the field, most PT certifying agencies offer CEU's for attending. It is an experience I believe can be pivotal to any wellness professional who wants to expand their profession, skills, experience and overall knowledge.
Idea World sparked a fire in me. I am inspired, motivated and feel even more excited about my growing career. I highly suggest you attend if you are looking to improve your career and personal health pursuits."
Be A Piece of the Puzzle
The bigger picture puzzle is this amazing industry that we share. By default, the fitness industry is filled with life, activity and passion for healthy living – don't dismiss the part that you play in it! Let yourself, convince yourself, do it for yourself that you may do it better for others. Be a part of the big puzzle, because there are like a million pieces and it needs you to make the finished work.  
This industry is bigger than us as individuals, it is a way of life and lifestyle that breaks barriers of every kind. No matter the socioeconomics, the politics, the religions, the sames and differences between people – fitness is for every person and can be achieved, and then some, by anyone and everyone.
You are part of a huge and always trending industry that isn't getting smaller – so feel the community of it and do what you can to make it to the 'family reunions' (aka Conventions, Trade Shows, Summits – OH MY!) there's enough to choose from in order to get out in the World of fitness and feel the difference that you make, firsthand.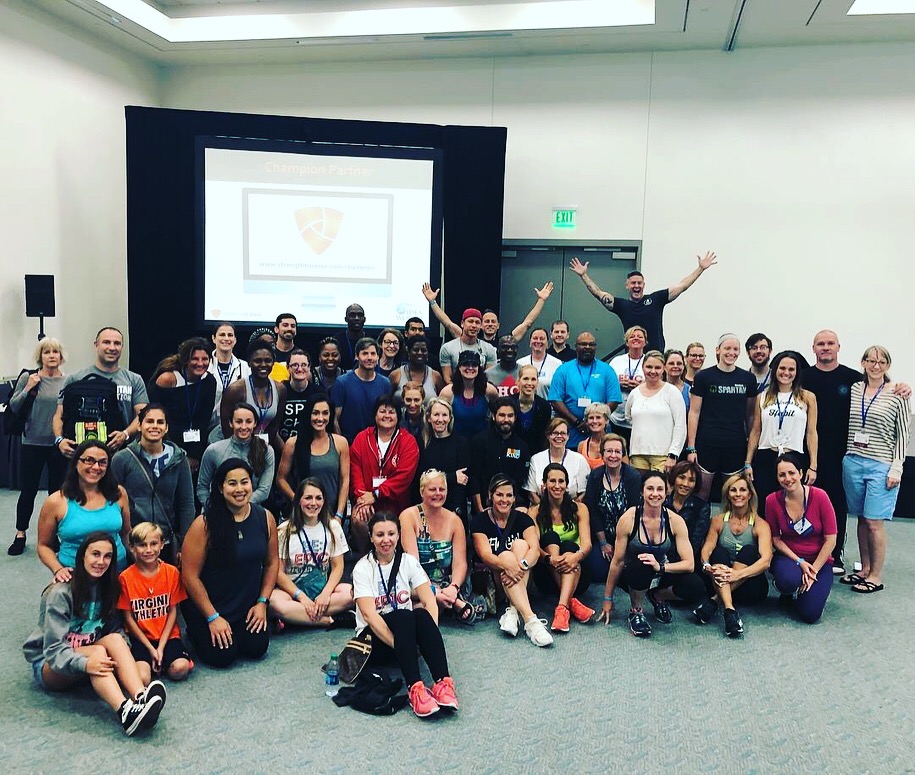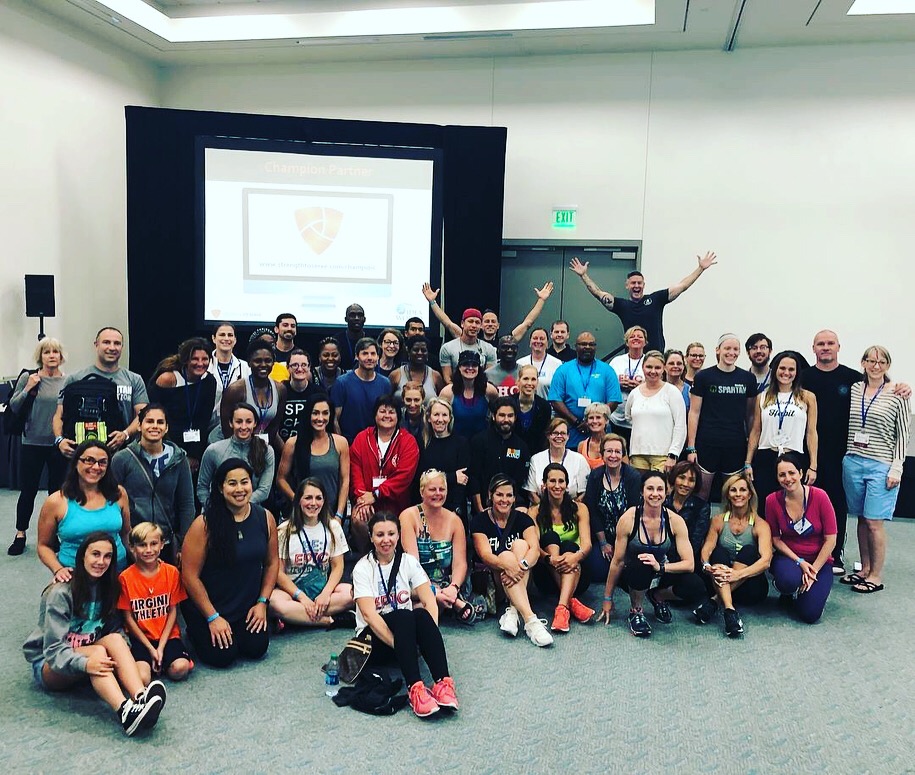 Then, when you get back from learning and growing, let us know what you've done so we (your certification organization) can give you the credit for it!