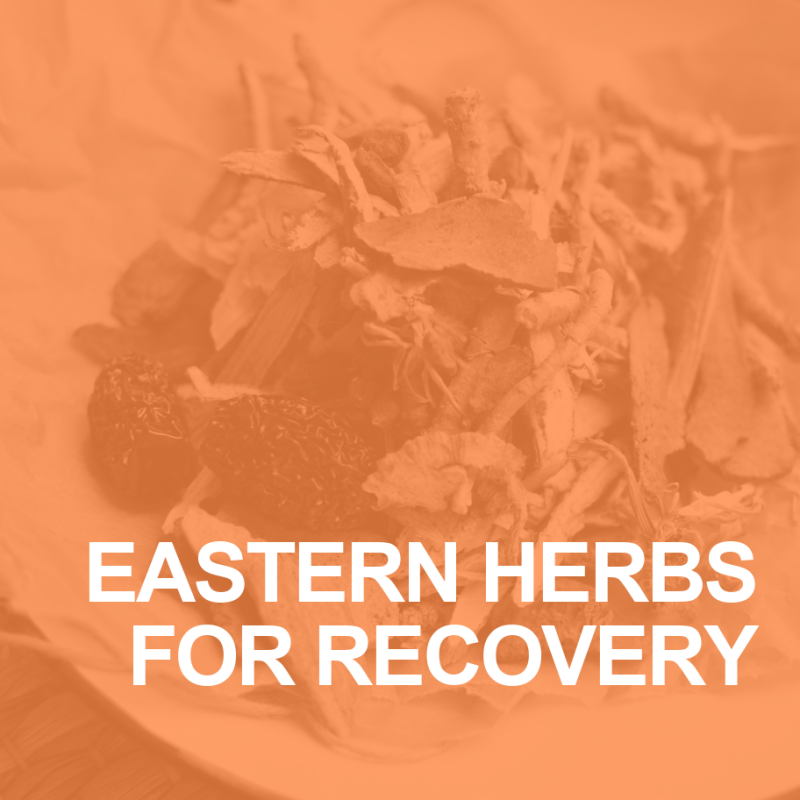 Post-exercise recovery can be sorely underrated (no pun intended). We as fitness professionals need to honor its importance and convey the gravity of recovery to our clients as well as provide them with tips and tools to do so. After having suffering from some injuries myself and working with clients post-injury (after they've been released by their doc or PT or medical team, of course), I've come to value and commit to the recovery process. One of the things I have discovered in my training is that there is a panacea of Eastern herbs that can aid in the recovery process.
Common Modalities for Recovery
There are physiological benefits of recovery and there are different recovery types: active recovery and passive recovery.
A few things that a Fit pro can have their athlete do for recovery include getting a massage, take an epsom salt bath, or take a rest day. Nutrition's role in recovery is important, as is adjusting one's mind-set to effectively recover.
Herbs for Recovery
Most people will probably not look to herbs first as an avenue to recovery. For those who are unfamiliar, this article will focus on the role of Eastern herbs on exercise recovery.
Definition of "Herbs": Any plant with leaves, seeds, or flowers used for flavoring, food, medicine, or perfume.
Herbology: The use or study of herbal medicine.
Brief History of Eastern Herbology
Eastern Herbology's use for medicine dates back to at least 1000 years ago. Some say it started in pre-historic times, but its first written record comes from a 2nd century AD classic titled Shen Nong Ben Cao Jing (Divine Husbandman's Classic of the Materia Medica) from the 618-907 A.D. time period.
Its long-standing history works both in its favor and simultaneously to its detriment. Because it's been around for so long, herbs used for recovery have held strong over time and are still used to this day. However, since they have been around for so long, there has been some resistance and challenges for herbalists and the field to do evidence-based research on its efficacy given that its use pre-dated the scientific method.
Fortunately, the industry is becoming open to the scientific method and research has been conducted on the efficacy of Chinese herbs on exercise recovery. Simply put: the science is catching up with its use. The scientific method is attributed to being founded and started in Europe in the 1600s, long after herbalism was known to start. However, scientific rigor can certainly be applied in the present day.
The use of Eastern herbs and recovery could be applied to such conditions as:
Arthritis
Arthralgia (joint stiffness)
Sciatica
Pain (muscle and joint)
Spasms
Aches
Weakness
Numbness
Atrophy
Other uses for Eastern herbs that can get athletes back into activity:
Bones spurs
Post-stroke complications
Three Eastern Herbs for Recovery:
Du Huo – Radix Angelicae pubescentis: This herb is beneficial to relieve pain (joint and back health).
Lu Rong (tip of deer antler, fuzzy part) – cornu cervi (plant-derived): Rebuilds and nourish joints, helps to enhances strength and endurance, relieve joint and muscle discomfort, shorter recovery time from exercise and injury, optimize function of joints, increase energy.

Dong Chong Xia Cao cordyceps (winter bug, summer herb) It is derived from a fungus harvested from the head of a caterpillar. Relaxes and dilates bronchial muscles, improves oxygen delivery throughout the human body, enhances energy levels, improves adrenal gland strength, provides support for the immune system, promotes healthy circulation, helps to normalize blood sugar and fats, and assists in maintaining blood pressure in a normal range.
Ginseng & Danshen Radix Salviae Miltiorrhizae (Red Sage Root, Salvia Root) According to the National Health Research Institute (2016), the combination of panax ginseng and danshen, taken seven days in a row prior to downhill running significantly healed male runners' muscle damage and arterial stiffness. This significantly increased their range of motion compared to the control group.
One contrary view to the use of Eastern herbs for exercise recovery is that many are not overseen by the Food and Drug Administration (FDA). For example, the three listed above have not been evaluated by the FDA.  The products are not intended to diagnose, treat, cure, or prevent any disease. It's highly recommended to consult with a physician and/or Traditional Chinese Medicine practitioner before using any products or if you have any questions/concerns about your health. Also, the following are important considerations before taking Eastern herbs for exercise recovery:
Have they been:
Tested for quality
Tested for consistency
Many Eastern herbal companies are now publishing White Sheets and their process for quality control on their website or in scholarly journals and databases such as the Evidence-Based Complementary and Alternative Medicine and Journal of Integrative and Complementary Medicine. Also, certain companies such as Evergreen Herbs and Golden Flower Herbs will only sell herbal products to credentialed providers and practitioners and have internal processes for quality control. It is also important to purchase the herbs from a reputable source.
What are the:
Potential Contraindications
Potential Drug Interactions
If you are taking Western medications and are under a provider's care, it is important to let them know about your Eastern herbs.
Like anything new that you introduce to your body, pay close attention to how it reacts to the herbs. Sometimes, the herbs take time to build up in your system in order to see or experience the results.  There are also well-known Western herbs that help exercise recovery that will be covered in a follow-up blog.
---
References: 
Li, C., Huang, J., Cheng, Y.C., Z., & Y.W., (2020). Traditional Chinese Medicine in depression treatment: From molecules to systems. Frontiers in Pharmacology, 11(586), 1-11.  https://doi.org/10.3389/fphar.2020.00586
https://www.frontiersin.org/articles/10.3389/fphar.2020.00586/full
activeherb.com/blog/chinese-herbs-in-support-of-speedy-workout-recovery.html
https://d267putgahf11p.cloudfront.net/files/file_166.pdf
https://www.modernherbshop.com/Du_Huo_Ji_Sheng_Pian_JointsJoy_p/jointsjoy.htm
https://plumdragonherbs.com/blogs/news/cordyceps-dong-chong-xia-cao-for-sports-performance-the-latest-research
https://w.evherbs.com/herbal-products
https://gfcherbs.com/
naturalhealthresearch.org/chinese-herbal-combination-improves-muscle-recovery-exercise-men/