Endurance is a theme for life…a theme for us all. For personal trainers, you know what endurance means when it comes to cardiovascular fitness. When an individual is well conditioned to maximally use his or her fuel delivery and oxygen providing systems, in other words, having the 'capacity to last or to withstand', then you would say that person has endurance. But 'endurance' isn't just for fitness. It's a theme for life – for trainers, for mothers and fathers, for civil servants, for those less fortunate, for us all.
Endurance is the power to endure an unpleasant or difficult situation without giving way. Yes, the difficult situation could be your workout. It could also be your struggling business or your family or friends drama or your will to live after a horrible tragedy. Struggles are an every day common occurrence, but with extreme variances. To endure is to win. 
Running the race of life takes endurance. When you want to quit, when it would be easier to quit, when you feel like there's no more to give – endurance keeps you running. There's beauty in it. A rush, a 'runner's high', if you will. To endure is to win.
There is joy on the other side of the finish line. To bring this conversation close to home, the NFPT family has endured much in its 25+ years, and there were times it would have been easier to relinquish control, sell it off and move away – but where would we be now? We had to endure. For our family, for our trainers for those we love and because of the love that we share for an organization built on the blood, sweat and tears of my Father, Ron Clark, NFPT wasn't then, and isn't now, going anywhere. NFPT has endured through the strength and the lives of the people it supports, and who support it. We endured, together. And, together, we found a lasting joy and peace because we worked on our endurance. Enduring this life is a team sport. We are incredibly thankful to those who have been on our team for so long. To our trainers, experts, friends and colleagues, thank you for being a part of what we do.
To those struggling to endure, where the race of life is harder than it has ever been, or the small struggles of daily life seem too much to deal with. I leave you with how our family finds daily inspiration, peace and joy. From the best book ever written, whether of the faith or not, the Bible…'we rejoice in our sufferings, because we know that suffering produces perseverance'. Romans 5:3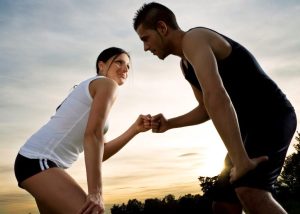 As a trainer and fitness enthusiast, you workout in an effort to refine your body so that it will efficiently function at its best. You do this every day (or at least several times a week) in an effort to create more and more endurance, strength and power. It's not easy to do this, it's work – a 'work'out. No less is life. You are refined by it every day, you are made to endure, to grow stronger and to have the power over fear and struggle. Whether in your personal or your business life, you can endure. To endure is to win.
Now go win!