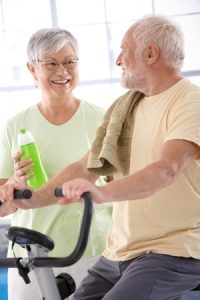 Receiving a diagnosis of acute renal failure, or end-stage kidney disease is a frightening experience. Unlike many cancers, which respond well to radiation treatments and chemotherapy, the only real cure for acute renal failure is a near-perfect donor match and a successful kidney transplant. Sadly, 40% of individuals awaiting a donor organ will pass away before such a match becomes available.
In an effort to prolong life, or at the very least improve its quality, many individuals will eventually begin dialysis (also known as hemodialysis). This is a 3x/week undertaking, with each session lasting 3-4 hours. Having spent time with my mom during her sessions, I was able to witness how draining this can be, both physically and emotionally.
A Simple Solution?
Deconditioning and disability are major concerns when facing end-stage renal disease. In an effort to improve ambulation, a recumbent-cycling-during-dialysis program was developed in 1991, for individuals receiving dialysis treatment in an outpatient facility. The program remains in use today. In a facility set up for this program, a patient can cycle while in a semi-recumbent position, with little or no risk of interfering with his fistula while dialysis is in progress. The program can remain at a low level, or be progressive, with 5 levels of cycling ranging from 3 to 40 minutes. Patients report many positive benefits, including increased fitness and energy levels, ease of mobility and a lessening or cessation of muscle cramps suffered as a result of the dialysis process itself.
Strength = Health Improvements
Muscle wasting is another extremely common and unfortunate side effect experienced by patients with end-stage renal failure. It also appears to be one of strongest risk factors for premature death. "Dialysis patients are very inactive in general and commonly burdened by all of the health risks associated with inactivity, particularly type 2 diabetes and cardiovascular disease," says Dr. Cheema, Ph.D. at the University of Sydney, Australia. His results, published in the May Journal of the American Society of Nephrology, show that performing high-intensity weight-lifting exercise during dialysis sessions confers great improvements in muscle mass, strength, quality of life, and other important outcomes in patients with end-stage renal disease.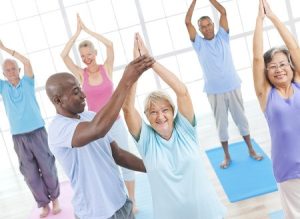 In Dr. Cheema's study, one group of dialysis patients was randomly assigned to perform high-intensity weightlifting exercises—while seated in the dialysis chair—during their regular three-times-weekly dialysis sessions. Using equipment such as dumbbells and ankle weights, the patients performed supervised exercises chosen to target all major muscle groups. The exercises were designed within the ranges of "hard" to "very hard"—rated 15 to 17 on the 20-point Borg Perceived-Exertion Scale. The control group did not participate in any physical activity during dialysis.
By the end of the 12-week study, those patients who had been assigned to the weight lifting protocol showed improved muscle mass, measured on computed tomography (CT) scans. The CT scans also showed decreased fat deposits within the muscles, suggesting the formation of new muscle tissue—an adaptation we know to be positive, and in this case being particularly associated with improved insulin sensitivity and a longer lifespan.
Dr. Cheema concludes, "Performing regular exercise during dialysis provides an ideal opportunity for these patients to improve their health status and quality of life, and we believe that exercise should be integrated as standard practice in hemodialysis units worldwide. Health care personnel in this setting could easily be trained to carry out supervised weight-lifting exercise, as we have done in this research study." As a general rule, nephrologists who specialize in end-stage renal disease suggest lifting no more than 5 to 10 pounds with the arm where the fistula has been inserted. In Activities of Daily Life (ADL), this translates roughly to 1 gallon of milk, which generally weighs 8 pounds. Even lifting lighter weights every other day can help increase patients' blood flow, build muscle, and facilitate their ability to gain both strength and energy.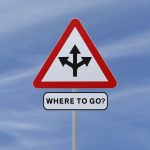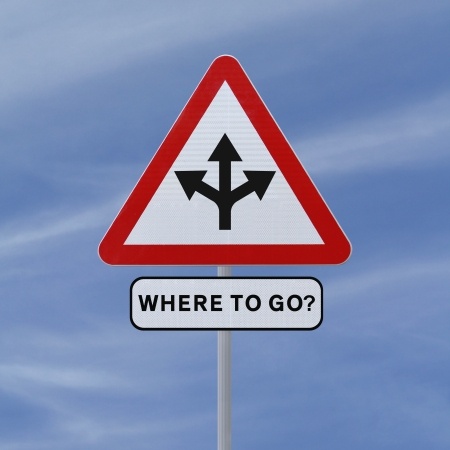 A New Direction For Trainers
This might soon become another business avenue for Certified Personal Trainers to explore. There is nothing more rewarding than making a difference in the life of another; engaging dialysis patients in beneficial exercise during a time frame where they are essentially "held captive" could help redirect their health as well as their attitudes in a more positive direction. If trainers are at all interested in a venue outside the traditional gym or fitness center, dialysis treatment facilities are an untapped market. Delve into the research, and create a unique niche for your business!
Side Effects Become More than Just Physical
As you can well imagine, undergoing dialysis so frequently is simply not fun. No matter how sunny of a disposition these patients project, they may not realize the strong possibility of underlying depression setting in, due in large part to an unhealthy quality of life and bleak long-term survival outlook. A recent study published in the Clinical Journal of the American Society of Nephrology has revealed that aerobic activity can not only improve a dialysis patient's physical status, but also their mental health. Dr. Antonio Alberto Lopes, a lead scientist in this research, had this to say, "Our results call attention to opportunities for potentially improving the health of patients on hemodialysis through counseling for physical activity and the promotion of exercise programs in nephrology clinics."
Two similar studies published in the same prestigious journal also found an association between symptoms of depression (predicated by kidney failure) and overall health status. One study revealed that dialysis patients who experienced the onset of depression were at an increased risk for being hospitalized. The second study found a plethora of non-disease-related health concerns faced by older people with poor kidney function, including cognitive impairment, exhaustion, frequent falls and impaired mobility. These individuals were also at a higher risk for hospitalizations, emergency room visits, and premature death.
Many trainers prefer to work with budding competitive athletes as well as the general "I want to get into the best shape of my life" clients. However, if your creative talents lean toward improving one's emotional wellbeing through exercise, senior adults with chronic illnesses may become your newest population of choice. Rather than being pitied, many of these individuals simply wish to feel better, to move through their days with more comfort and ease, and to engage the services of a professional who possesses the sensitivity necessary to set them on a good path.
Having seen my mother's strength falter over the course of 6 ½ years on dialysis, I was surprised to learn that push-ups are among the exercises mentioned on the "Calisthenics for People on Dialysis" list, authored by one of the largest dialysis providers, DaVita HealthCare Partners Inc. As our experiences have taught us, there are many impactful varieties of push-ups, including wide arm (standard push-up) and modified (pushing up from bent knees for less resistance) push-ups. If this is an exercise with which your client's healthcare provider feels comfortable, explore all the push-up options to find the right fit for your client's needs.
Heeding The New Guidelines
As of November 2015, a new set of recommendations has been put forth by the American College of Sports Medicine and the American Heart Association, specifically targeted for older individuals as well as those with chronic diseases such as renal failure. This new model addresses pre-participation health screening based upon factors that have been identified as having an influence on exercise-related cardiovascular events:
An individual's current level of physical activity
Presence of signs or symptoms and/or known cardiovascular, metabolic or renal disease
Desired exercise intensity
With these in mind, the objectives of exercise design are twofold: first, eliminating unnecessary barriers so that an individual can begin and maintain a regular exercise program within the confines of dialysis; and secondly, encouraging healthy lifestyles through habitual physical activity. Even if a trainer feels very confident in his abilities to be of help, conferring with the client's nephrology team is vital prior to embarking on any new exercise regime, whether aerobic or strength-based in nature. Expand your business …and your horizons: familiarize yourself with the ravages of end-stage renal failure and its inherent complications, then set yourself on a course of action. If you are not currently certified as a personal fitness trainer, consider that your first step. The changes you make in the life of another will be profound, and mutually uplifting!
Links for related content:
https://nfpt.com/blog/moving-body-can-harness-brain
https://nfpt.com/blog/exercise-strong-medicine-personal-training-clients
References
http://onlinelibrary.wiley.com/doi/10.1111/j.1542-4758.2008.00269.x/full
http://journals.lww.com/topicsinclinicalnutrition/abstract/1996/12000/the_easy_bike_program__an_exercise_during_dialysis.10.aspx
http://www.medicaldaily.com/adding-exercise-dialysis-patients-treatment-could-help-improve-their-physical-and-mental-306144
https://www.kidneybuzz.com/exercises-tailored-for-ckd-on-dialysis/2013/5/16/exercises-tailored-for-ckd-on-dialysis