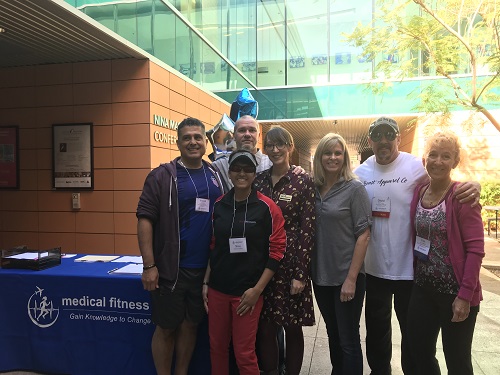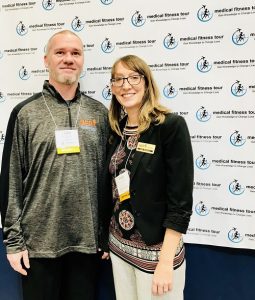 Billie and Angie Pattengale (NFPT's trade show and conference couple) attended the inaugural event of the Medical Fitness Tour on February 2-4 2018 in Phoenix AZ. With about 75 in attendance, we were excited that this first kick off event was conducted in a more intimate setting to allow everyone the chance to be heard and make great lasting connections.
NFPT sponsored the event, and we look forward to our continued partnership with the Medical Fitness Education Foundation (MFEF) to change lives. NFPT and MFEF have partnered to develop advanced specialty certificate courses so we can help our trainers get connected with the medical fitness community through the Medical Fitness Network (sidenote: this is a network connection/listing that you receive with your NFPT/MFEF specialty cert, like with the new Breast Cancer Recovery BOSU® Specialist course – yes, had to plug it, we're excited about this new course!)
Together, we're bringing critical knowledge and opportunity for enhancing skills to certified trainers who want to safely and effectively train clients with medical conditions. And, together, we're changing lives with fitness!
So, back to the MedFit Tour…did we learn new things? YES! Did we meet great people? YES! Did we reconnect with people that we already knew were great? HECK YES! This event was clearly enlightening to the professionals in our industry who work to make a difference in their communities.
We all know that there is a growing population of those with chronic disease and medical conditions – but what the medical community is now awakening to are the huge benefits of exercise and nutrition on their patients and how important it is to complete the circle of care! This is a real and growing topic, and it deserves to be a focus as we continue to witness the incredible value to the health, wellness and life changing benefits that exercise has on those with chronic conditions.
Some of our Favorite Topics
Become a Life Changer: Helping Those with MS (David Lyons, MSFitness Challenge & NFPT)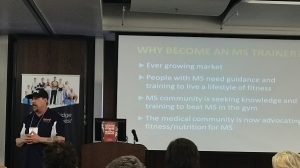 This is a topic near to us because it was presented by our friend and new author, David Lyons, who was diagnosed with MS more than 12 years ago. His personal struggle as this disease progressed became his life challenge to overcome. And overcome he did!
He is a fitness and nutrition expert, and he used what he knew best to make the greatest positive changes in his life.  He has the expertise and the personal know-how to help people with this disease, and he does it through tried and proven techniques that are personalized to the individual and created for the health and happiness of the MS client.
David's session was one of the group's favorites because he demonstrated and expressed practical ways to help clients with MS, and he showed us exercises and techniques that were new to most. You could see light bulbs going off in the room as he discussed things that even seasoned trainers weren't aware made such a difference.
David's advice made people sit up and think about how they can serve this demographic better. He also read from testimonials that were so powerful they'd give anyone goosebumps (or tears, that happened too). Recently, we partnered with David and his charitable foundation, MSFitness Challenge, to create a course that helps all certified personal trainers to safely and effectively work with MS clients.
Your Brain on Exercise – Mission Critical! (June Chewing, Fitness Learning Systems, FLS)
June is a MedFit Advisory Board member who works daily to help those with various medical conditions connect to trainers who can help them live better, fuller lives. Her session was super informative regarding the effects of Alzheimer's on the brain and how exercise can slow down this progression. June reminded us of the staggering statistics for those suffering with dementia, 7.7 million new cases each year!
Alzheimer's and other dementias are a considerable financial burden for families, they are the most expensive of chronic illnesses to treat. June discussed preventative techniques for both physical and mental fitness. We practiced one of these meditative techniques, a method known as Kirtan Kriya, together in a group; instantly you could see how this would benefit anyone and especially trainers who can use these and other methods as prevention.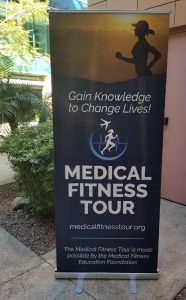 This was one of our favorites because it drove home a view of healthcare as a partnership between several collaborators. Lyndsay note that healthcare should more accurately be viewed as 'care of health' in that there are many facets and professionals that make up the complete picture of caring for health. This concept is much broader than our current perceptions of 'healthcare'.
To truly care for your own health, or someone else's, it takes a team of supportive partners to complete the circle. Some of these supporters can be family and friends, physical therapists, mental and wellness professionals, dietitians, and, of course, personal trainers. Care of health should be recognized as a partnership between various team-playing collaborators, because it does take a village.
It's time to end the thinking that personal care physicians are the sole line of defense (and often looked at for the cure, not the prevention) in someone's total care. When we begin to understand the reality that physician's average 6 or less minutes per appointment with their patients, then we can better put this into the perspective of needs.
Without getting into the formalities, trials and challenges of the medical or pharmaceutical industry (for which requires its own discussion), this discussion was geared toward the establishment of partnering with the medical community in order to engage a holistic approach to on-going care that is driven by our 'why' values. It is our 'why' which binds those who dedicate themselves to the 'care of health'.
Some of our Favorite People
Now, don't get upset if your name doesn't come up here (maybe you were in the powder room when we took this photo 😉 Know this…YOU are our favorite people! These are some of the great people who we feel connection and had great conversation with, and, if you were there, then you are part of that too. And, if you weren't, then we'll see you next time!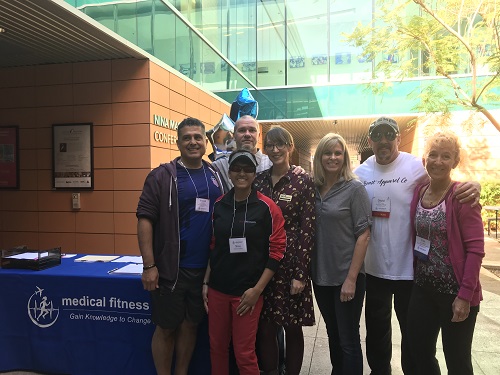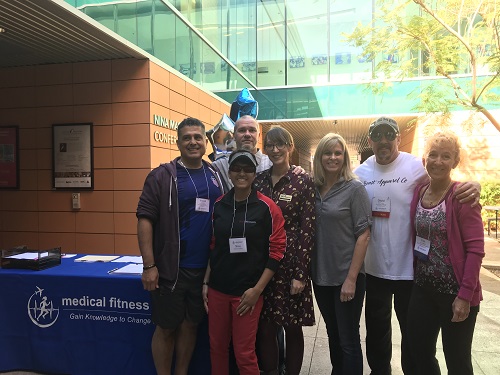 left to right (minus Billie and Angie Pattengale 😉 …
Joseph Reza is a long time NFPT friend, subject matter expert and trainer family member. He is a Registered Dietitian, CPT, group fitness instructor, contributing author to the NFPT Fitness Nutrition curriculum, and he teaches a personal trainer course at his local college, CSU. More than Joseph's credentials is his heart of service and his continual desire to learn more and grow in his profession; we notice his natural calling and longing to learn (we re-connect with Joseph at trade shows and events throughout the year, he takes his learning and personal growth seriously).
We have much respect for Joseph and trainers like him. He is and has been a dear friend to the NFPT team for many years, and we look forward to seeing him at the next event!
Shay the Coach (Shaweta "Shay" Vasudeva) is a CPT focusing on the mind and body approach and behavioral modification for the achievement of lasting results and life wellness that comes from a place of mental and physical balance. She is a motivational speaker, teacher and author, with her MA in psychology and a Goju Black Belt, she understands the power of the mind and the power of a holistic approach to reaching goals.
Her story is amazing and needs to be heard. We look forward to getting to know her better and to partner with her on future NFPT projects…exciting stuff to come!
Kendra and David Lyons are partners in the MSFitness Challenge, the work that they do, but also in the life that they share. Kendra is an R.N. and David is a fitness and exercise expert who was diagnosed with MS and has made it his life's work to help others with this disease. They are co-founders of the MSFitness Challange and author the new NFPT course MS Fitness Essentials.
Lisa Dougherty is the founder of the Medical Fitness Network and the Director of the Medical Fitness Education Foundation.  Lisa is passionate about helping others, especially those with chronic disease and medical conditions because she has seen first hand the power of exercise to improve lives. She works hard and doesn't give up in her quest to connect fitness professionals with the medical community, she lives her passion. Together with her board of professionals and industry collaborators, she will make this a difference that lasts a lifetime for trainers and clients and for the medical fitness community.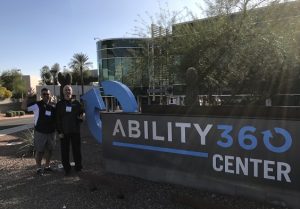 And a shout-out to the people of Ability360 Sports & Fitness Center, they were wonderful hosts and at every turn were available to make our event great! We are thankful for their service to our event, and we loved their facility! It is absolutely beautiful and it is built 100% to support people with mobility needs.
The entire complex is more than just handicap accessible, it's built specifically for the needs and amenities of medical fitness members and their families …there was no better place or people to host this inaugural event – thank you Ability360!
If you weren't there this time, consider the next leg of the Medical Fitness Tour. Knowing how to work with medical fitness clients, and understanding the impact that proper exercise programming makes, is a growing need among an aging baby boomer demographic. Medical fitness clients are ready to take advantage of personal trainer services because the impact on life wellness and progressive prevention is obvious.
When you work with medical fitness clients, you are not working to cure something that is incurable, but you are working to prevent the progression and debilitating effects of the condition. As a trainers, we are the first line of defense in protecting the possible, for turning around the 'bad' in whatever life condition or circumstance and show the prominent silver lining that is obvious to your clients when they use fitness as medicine … we can help get people to a happy, healthier place to live a fuller and more complete life, despite any affliction. Let's do this together!