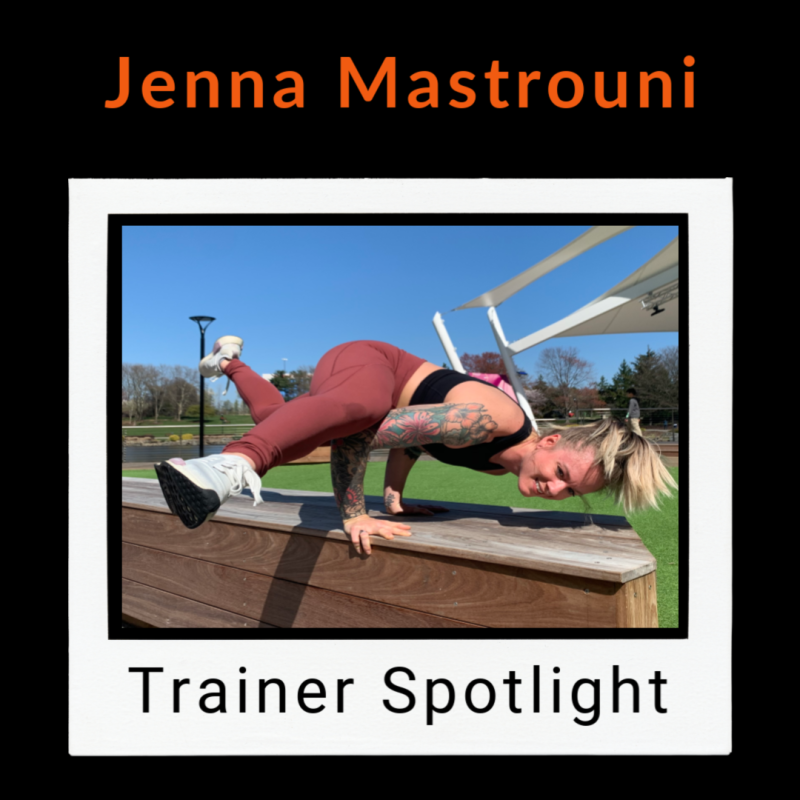 Meet Jenna, an NFPT certified trainer and yoga teacher. She's a 27 year old mom from Maryland, and recently became a business owner, with an untimely grand opening, which happened the week before lockdown orders were announced in her state. But this unfortunate situation hasn't prevented her from being committed to her passion for fitness and helping others. Find out what drove her to fitness and what drives her to succeed despite obstacles.
How long have you been certified with NFPT?
I have been certified through NFPT for two years now. I was first certified as a yoga teacher which lead me to personal training!
Why did you choose NFPT for your certification?
The gym I was teaching yoga at offered the NFPT certification through their company. I looked at other options, but NFPT's material was more thorough.
Why did you decide to become a certified personal trainer?
My passion started with yoga, which lead me to strength training while teaching in a gym. I ended up falling in love with sharing my journey with others and felt compelled to get certified so I could take it to the next level. Exercise helped me beat addiction and overcome many obstacles in my life, including my battles with mental illness. If I can get even just one person out of a dark place by teaching them more about the mind + body connection through exercise, then I feel like I am doing my job.
What is the biggest challenge for you as a personal trainer and health professional?
The biggest challenge as a trainer is that I am often misunderstood, and it can push others away. People believe that I just wake up motivated to workout, like I have something special, but what they don't know is that I have to push myself every single day to stay disciplined and consistent. I actually have less time to workout, because I am constantly focused on helping others, and I work what feels like 24/7 responding to clients. It has never once been easy for me, nor did I just get lucky, but that's why I love it. The challenge is what spurs growth, mentally and physically.
What is your biggest accomplishment in the fitness industry?
My biggest accomplishment has simply been my self-improvement. Being in the fitness industry has forced me to face myself, to see all of my flaws, and make improvements. I can't help others if I do not first take care of myself.
What has been your most rewarding experience as a fitness professional?
My most rewarding experiences are with every single client who shares their success with me. Seeing them light up when they tell me about how good they feel and how strong they feel. Each time a client hits a goal, or a non-scale victory, it's the most rewarding feeling to know that I helped them get there. All they really needed was someone to help them believe in themselves – proof that they had the power to change their mind & their habits.
Any advice for people thinking about a career in fitness?
My advice to anyone thinking about a career in fitness would be would be to make sure you know your "why" before trying to help someone else. It's not just about looking fit and strong; you have to connect with yourself on a deeper level. If there is no passion, it won't last or be fulfilling. Your drive to be a trainer or teacher should come from the heart.
What does the future hold for you and for the health and fitness industry?
I really don't know what the future holds for me. I opened my own gym & yoga studio called "Balance & Strength" a week and a half before getting hit with Covid-19 shelter in place orders and being forced to close. All of my expectations changed. It's been 3 months now. I haven't been able to train and can't afford to keep my new business open.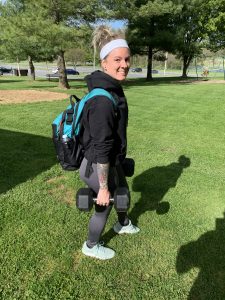 My plan is to train outside and from home as things start to open up again, and I will continue to help as many people online as possible. I'm considering virtual training and YouTube as an option for now as well. Who knows what the future will bring, but I am keeping an open mind and positive mindset!
Is there anything else exciting you would like to share?
Exercise has helped me on my journey to healing mental illness, as well as beat addiction. My passion is to share what I've learned with others so they can heal, & love their best lives as well.
---