After 24 years in our business, and some 4,500 clients later, I still love every part of my job. I am always fully booked with clients and you can be too! I'd like to share five of the repeating things I do on a daily basis to help me keep new clients as a personal trainer.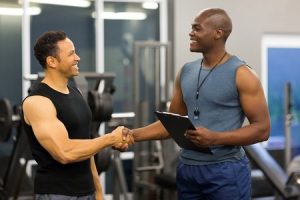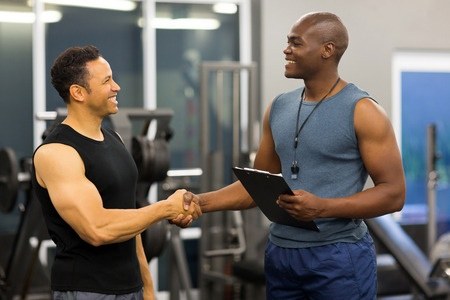 Begin by knowing your client's goals. What do they (not you) want to accomplish or change about their body or current lifestyle? Listen a lot and let them talk! I hear most everything I need to know by keeping my mouth shut. In a long-term client-trainer relationship, your knowledge base will reveal itself glaringly. If you think the same exercises with the same weight and reps as last week will work, you're going to watch your client move on from you to another trainer quickly. Be supportive of all clients while telling them the fitness truth gently.
Know what questions to ask and what to look for initially. Get your waivers signed and baseline measurements done. Talk about any and all restrictions. If you don't know what a laminectomy is or where C5 is, look it up! If your client wants to be a bodybuilder or power lifter I hope you have contest experience. Don't say anything you can't prove later.
Mention your certification and why it's so important that you are certified, especially by an organization who has NCCA (National Commission for Certifying Agencies) Accreditation. I personally have three of the top five. My clients are happy to know "these organizations carry the NCCA stamp of approval for having integrity in their testing procedures and are very knowledgeable in content."
Be the "busy" trainer in your gym. Normally I train about 125 sessions per month in the Alumni Field House at the University Texas Medical Branch. When you're NOT busy, actually talk to someone you don't know! I see many trainers that won't smile or talk to anyone. Part of my current specialty is training other trainers who have no imagination and little confidence. Are you in this category?
Have a website, a business card or t-shirts with your phone number or name. The very best fitness trainers I know, including myself, are proud to share their information with anyone. You need to get your name out there.
Here are some other tips I would suggest if you'd like to grow your business as a fitness professional:
Do NOT talk on your cell or send texts in the gym. You don't want to take your eyes off clients during movements.
Have your CPR/AED and Liability insurance current.  I tell my clients "you're in good hands as my client" because I believe that I'm one of the best fitness trainers in America!  Do you?
____________________________________