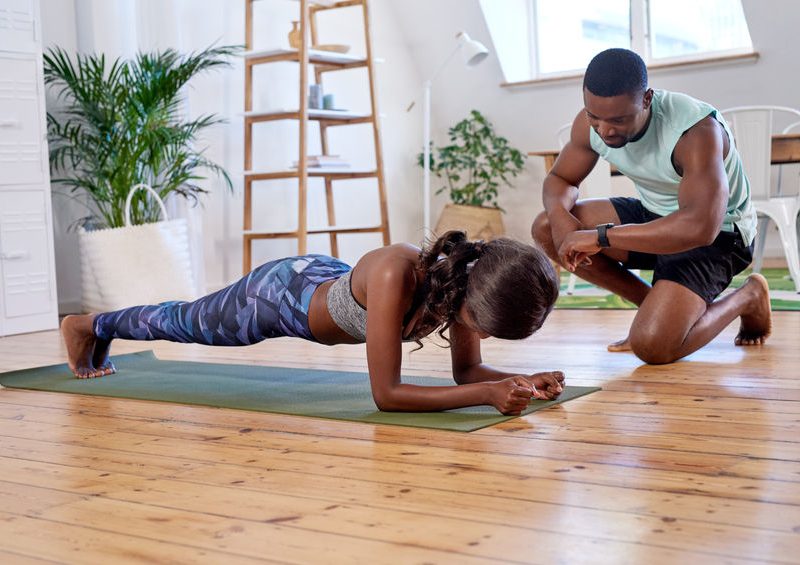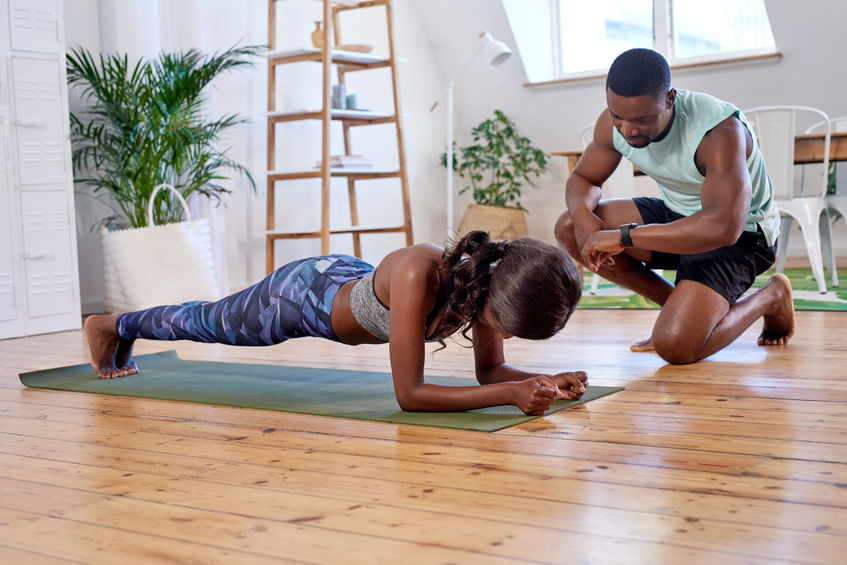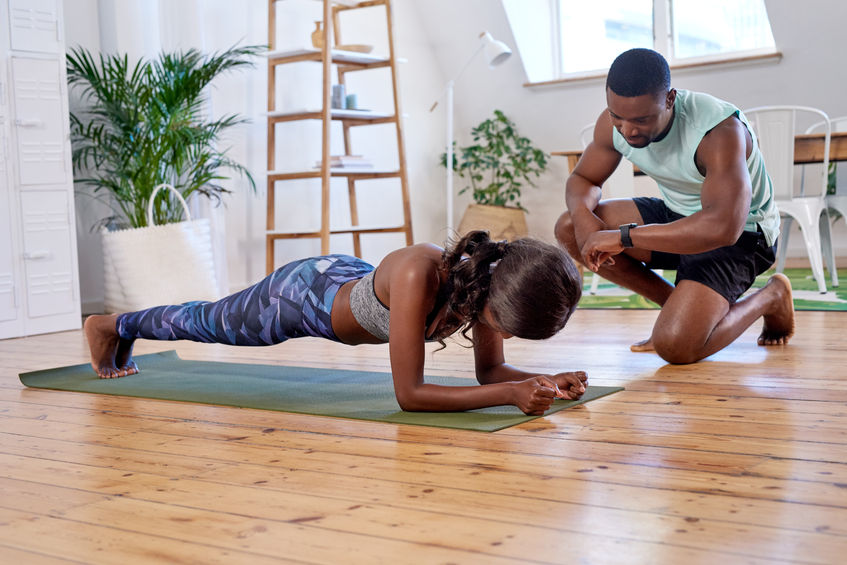 These days, there are some really awesome pieces of portable fitness equipment that you can use with your clients. If you're considering working as a personal trainer in a in-home gym setting, then you need to add portable fitness equipment to your trainer toolbelt. A few of the essentials include:
A high quality workout mat or yoga mat.
Adjustable dumbbells. There are several companies that make these, but Powerblocks  has been around for more than 20 years. They are durable, compact, and have awesome warranties and customer service.  Another popular adjustable dumbbell is the Bowflex Selectech System.
 A Portable Bench or a Club Step. The Original Club step is not less expensive than a travel bench, but they are lightweight, durable and great for other uses such as doing lower body cardio/agility drills. You can even use it for lower body strength work such as step-ups, lunges, calf raises etc. Of course, they are also perfect for doing dumbbell bench presses and any other exercise that is traditionally done on a workout bench.
Stopwatch or interval timer. You can use a stopwatch to time exercise intervals and rest periods.
Some other pieces of equipment that may be useful are bit bands, medicine balls, step and a stability ball.
Hint: High quality treadmills and cable machines are quite expensive. Your money will go much further if you simply purchase some really cool and durable fitness equipment.
These days there are tons of cool portable fitness tools that you can acquire. Just a few things you may want to check out and perhaps add to your toolbox include the following:
Weighted Vest
Resistance Band Bar
Sandbags
Kamagon Ball
Sandbell and Steelbell
Hint: Stay away from just about anything you can purchase on television. The Stuff is usually full of hype, not well made and almost certainly will not last long with high usage!
Good luck in your in-home training efforts – you'll find that this is a market of potential clients who are often under-served in many communities. Start by trying it out with a few clients, maybe supplement what you're already doing with just 2 or 3 clients to start with. Get some experience with it and find the groove that works for you. You could possibly make this your niche and eventually have no need for the overhead or limitations of a physical location. Best wishes!
NOT A CERTIFIED PERSONAL TRAINER YET??


Author Info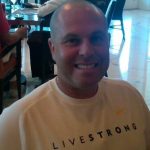 Jeff Drock is President and Founder of the Home Fitness Professionals Association. Has worked within the fitness industry for over 15 years. Jeff received his master's degree in Sport Behavior and Performance from Miami University and has obtained several fitness certifications including: National Strength and Conditioning Association/Certified Strength and Conditioning Specialist, Etcheberry Performance/Tennis Physical Conditioning Specialist, Institute of Human Performance/Functional Training Specialist, Cooper Institute/Certified Fitness Advisor, International Fitness Professionals Association/Certified Fitness Trainer, and Life Fitness/Gold Certified Specialist.