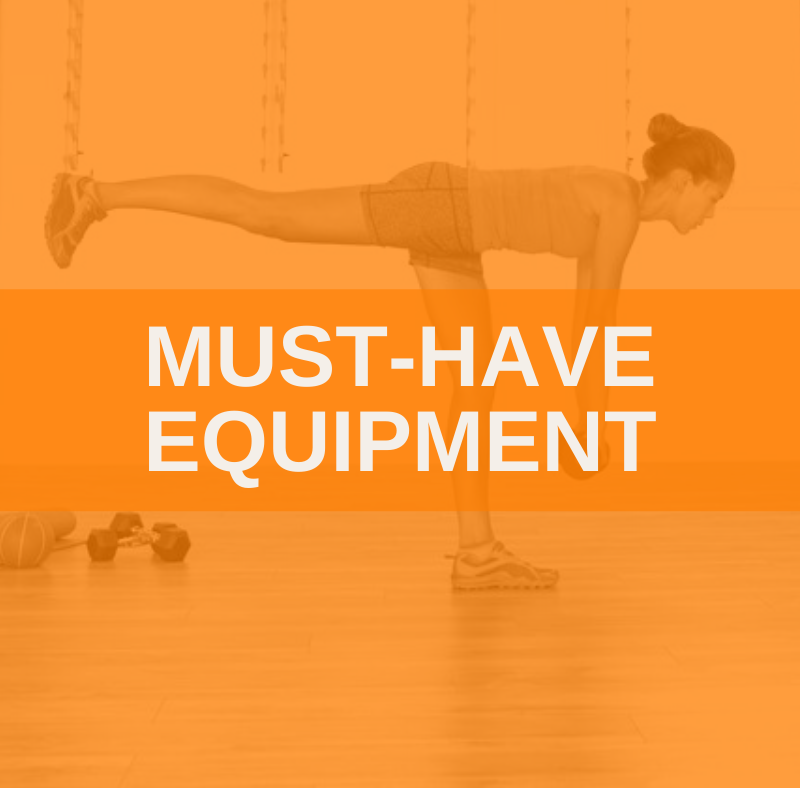 Clients usually want to keep up with exercise in between training sessions. While no equipment is required to get a good workout, having a few transportable ones can add some oomph to the workouts. Which ones are must-haves?

Transportable equipment is useful because you can tote it anywhere. Throw it in a suitcase, gym bag, or pocketbook. It's also less likely to cost as much as larger equipment, like treadmills, bikes, and ellipticals.

After surveying gym rats and exercise junkies, there were 11 standouts. Eleven seems like such a random number. I had planned to feature 10 pieces of equipment but got a total of 11 once the survey was tallied. I couldn't leave one out!

Of course, runners prefer good running shoes and many folks chose body weight. Bodyweight exercises are quite effective and convenient since you always have your body with you.

As far as actual hand-held equipment, these are the ones that made the cut. Check out these 11 must-haves in order of overall preferences from survey participants. *The last four received an equal number of votes.

1. Resistance bands were the number one pick for must-have equipment. Bands are easy to carry and provide us with many different ways to use them.
2. Kettlebells came in second. They come in different weights, so are suitable to all levels. Swing your way to a great workout.
3. Dumbbells have been around a long time and most everyone is familiar with them. This makes them a natural go-to for strength training.
4. Stability balls are another popular option. Their versatility allows them to be used for wall-sits, planks, strength training, and balance, among others.
5. Mats are used in yoga classes, Pilates and are ideal for stretching. Use the mats for floor exercises to cushion knees and elbows. Roll it up and use a carrier for convenience.
Learn more in our Functional Training Specialist as a part of our Continuing Education Course Series.


6.
Jump ropes
never go out of style. Kids and adults use them for fun and exercise. Get a great cardio workout jumping rope. I have found good quality is key with jump ropes. Poor quality won't hold up. Big plus: much like bands, you can store a jump rope just about anywhere.
7.
Medicine balls
made the list. I know, no surprise! Like many other types of equipment, they come in various sizes and weights. Use them for wall and floor
slams
, core work, and upper body strengthening.
8.
Hula hoops,
specifically, weighted ones are another fun option. *
9.
Weighted vests
add power to workouts. *
10.
Yoga blocks
can be used for stretching and adding challenges to other exercises.*
11.
Suspension straps
like TRX work upper body, lower, core, and just about everything. *
I made my own list of must-haves before conducting this informal survey. Several of my favorites were never mentioned, so never made the list:
sliders
, weighted bar, and half-dome (BOSU) ball. Proof that we all have different preferences when it comes to working out with equipment!
New clients might not be ready to make an investment in all of these. And they probably aren't sure which ones they like if they're beginners. That is where we as trainers can help by prioritizing the ones most suited for our clients to get started.