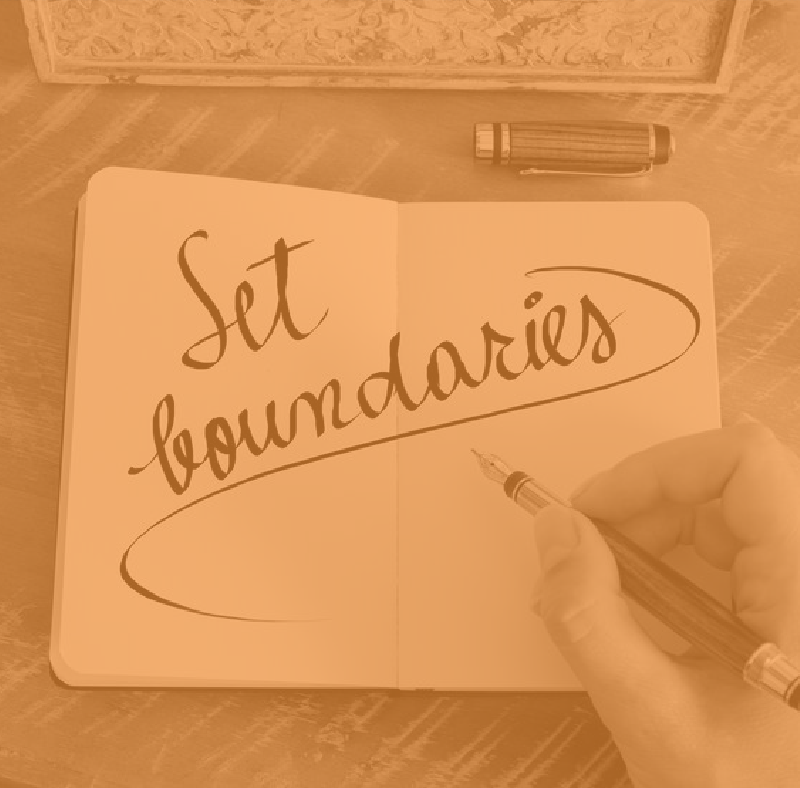 Setting professional boundaries is a significant key to managing a successful personal training business. Personal training is a challenging job. It's not easy nor is there much "downtime" on any given day. It takes tremendous energy, time, and effort to thoughtfully engage with different personalities every day as well as manage a business and your clients' expectations and progress. In short, it's A LOT. As a result, fitness professionals can find themselves overwhelmed and burnt out early on in their careers.
The good news: there's a reasonable solution to help all fitness professionals – new and seasoned – avoid early career burnout and fatigue. The key is setting clear and specific boundaries for your clients and yourself.
Five Important Fit Pro Boundaries
1) Limit Availability
This was a misstep I took early on in my career. I wanted to please and serve everyone who needed my help. Whether that meant training a client four days a week at sunrise and scheduling my last client after 5PM every day of the week – I was going to make it happen. The consequences were extreme mental and physical fatigue and a waning interest in my practice.
Within three months, I learned to set limits on my availability. Instead of working 12-hour days, I set specific hours for my practice and, amazingly, my clients were flexible and understanding. I then learned to schedule time in between clients – at least 20 minutes in between sessions to allow for transition, notes review, and documentation. This is still a practice I keep today and it's what saved my sanity.
2) Reserve Time for Education and/or Business Development
 The field of personal training changes at a rapid pace; new discoveries, techniques, and approaches are constantly unveiled. It's critical for your business and for your client's success for you to remain abreast of current trends, changing protocols, and updated information. Our skills are only as sharp as the knowledge we obtain and apply.
Carve out time each week to engage in an educational pursuit. This can be as simple as reading an article in the latest exercise science journal, attending a webinar, or studying for your next specialty certification. Choose a day of the week you typically experience a lighter client load and set aside two or three hours to learn.
3) Prioritize Self-Care
We encourage our clients to practice self-care and manage stress effectively to better serve them in the pursuit of their health and fitness goals. We have a responsibility to do the same for ourselves professionally and personally. Make time for your own daily self-care routine (and this includes exercise).

4) Establish Clear Policies and Boundaries
You likely have a contract that outlines expectations and deliverables. Be sure to include a policy that addresses non-payment (and general payment expectations and processes), late attendance to a session, and a cancellation policy. These types of policies not only protect your time but reinforce to your clients how you do business and what their end of the bargain entails. Be clear. Be concise. Be consistent.
5) Protect Personal Time
In today's technology-dominated world, we are constantly connected to some device or screen. It's easy for clients to text, email, Zoom, or contact you at a moment's notice (and at all hours of the day or night). It is equally convenient for us to do the same – reach out to our clients at any point. I encourage you to hit the pause button, turn on airplane mode on your phone, or shut off the computer.
Your personal time is time you can use (and need) to be with your friends and family. It's also opportunity to engage in self-care (see boundary #3). It's not necessary to pride yourself or market yourself as "always available" – that is an unrealistic pace to maintain. Protecting your personal time allows you to unwind, rejuvenate, and recharge so that you can be your best self for your clients and your family.
To accomplish this, be open with your clients about your hours of communication. For example, "I will respond to texts between the hours of 8 a.m. and 5 p.m." Or "Expect a response to your email no later than the next business day." Whatever hours you set, be consistent, and follow your own rules.
While a career in fitness is personally rewarding, it is challenging and many new trainers experience early fatigue and disinterest when they try to "do it all" and "be all things to all clients". Learning to set (and respect) reasonable boundaries not only protects your business, but it also protects your mental and physical health – both of which are critical to the success of your practice and clientele.