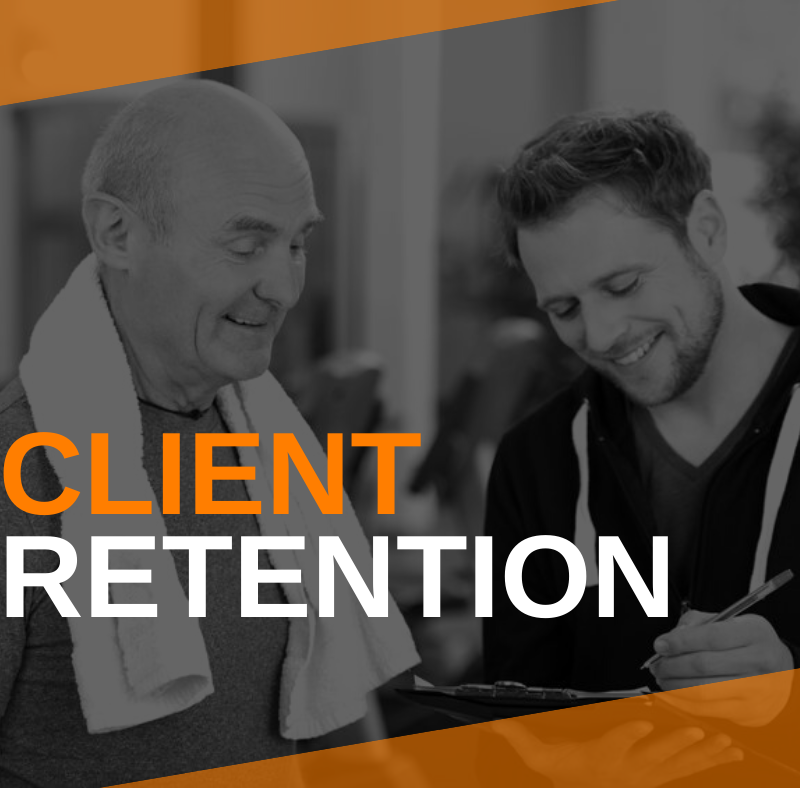 Much of the business of personal training hinges upon client recruitment. Harnessing their entrepreneurial spirit, fitness professionals spend considerable time developing products and services for their potential clients in the hopes that a potential client will turn into a contracted client. We shouldn't, however, overlook the value of client retention.
Client retention is becoming increasingly more important given the challenges the industry has faced in the past year with the COVID-19 pandemic.
Five Keys to Personal Training Client Retention
Keep these five keys to client retention in mind as you continue to cultivate your business.
Nurture Rapport. Rapport, the foundation of all successful relationships, is similar to a savings account; it needs regular and consistent deposits for it to grow and become sustainable. Personal training is about the people you serve and the ways in which you serve them. Invest in them as individuals by getting to know each client beyond their fitness and nutrition goals.
Remember to acknowledge birthdays, important events, life challenges, celebrations, and milestones. If you have trouble keeping details in mind, take anecdotal notes during each session so that you can remember to comment on something your client said or did recently. When clients like you – not just for your knowledge and the results they get when they train with you – but you as a person, it makes it extremely difficult for them to leave. Keep them close by being authentic and interested.
Ask for Feedback. The best way for us to grow as professionals is to seek regular feedback and how we are doing. While this is rarely a "fun" process, it is critical so that you can continue to add value to your services. This process can be both formal and informal. The point is to engage clients in a thoughtful conversation about how their experience is going with you and what things they enjoy the most and what they want to see more of.
Some clients will be open and willing to offer feedback, even when it's unsolicited. Others, however, may be more reserved and have conflicting feelings about sharing their thoughts. Value both types of clients and make a conscious and consistent effort to ask for feedback and insight. Trust me, you will grow in both character and business success.
Highlight Clients' Successes. Just as receiving feedback is important, so is giving feedback and highlighting or celebrating client successes. Keep in mind that celebrating all success is important – small and immediate or large and long-term. A client who is successful in getting 3000 steps a day when they were previously logging 2000 is a major win. Make a big deal about it!
Similarly, a client who has been training for their first marathon completes it and does so within their goal race time. Make a big deal about that. How you choose to highlight those successes will vary between clients. Some will want a social media post about it while others will want a less obvious recognition. This is where rapport comes in and why knowing your clients is so critical.
Acknowledge Clients' Frustrations. It's normal (and expected) for clients to experience frustration along their journey of change. Expect this to happen and be ready with a kind and empathetic response to all frustrations experienced. For example, a client in their weekly check-in might say "I struggled this weekend and I'm frustrated with myself. I had several social engagements and the food choices weren't optimal. I tried to eat light and pay attention to fullness cues. But I should have just had something to eat before each gathering or opted not to attend."
Meet them where they are at and offer something like: "It sounds like you did a good job of navigating these gatherings. Not only did you choose lighter options but you also tuned into your body and noticed when you were full. That kind of mindfulness is difficult in that environment! Also, these types of events aren't something to avoid in the future. Instead, they present opportunities for testing out new skills and tools you've learned." See client frustrations as an opportunity to empathize with how they feel, but also as a moment to redirect and highlight what they did well and what to try for next time.
Continue to Create New and Fun Experiences. Any routine can become stale and boring and we eventually stop seeing results or feeling as connected to the experience as we did in the beginning. This is the same for clients and their workout routines. Remain conscious of modifying workout plans regularly and infuse new techniques and exercises into your programming. For example, a themed workout for Halloween might appeal to some. You could name each exercise as something holiday-related "dead bugs", "scorpion kicks", etc. Or, alternatively, you could offer an obstacle course or EMOM workout for those clients in a time-crunch. Br creative. Be fun! And every once in a while, think like a kid and be spontaneous.
Recruiting clients is an obvious and necessary first step to building your personal training business. That said, we often underestimate the cost (in time, money, and energy) of constantly recruiting new clients. It's less expensive to work hard to retain those you have. Continue to recruit, but also focus on client retention as a way to increase the value of your services.