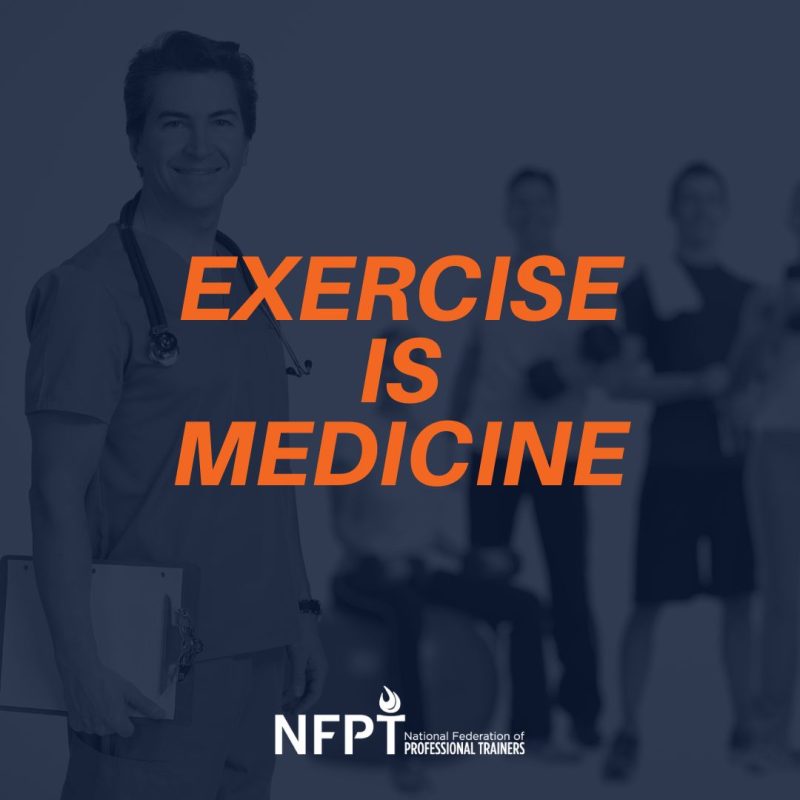 A November 2007 press release from the American Medical Association (AMA) announced the launch of a new initiative called Exercise is Medicine, a program designed to encourage America's patients to incorporate physical activity and exercise into their daily routine.
The initiative encourages doctors to prescribe exercise to their patients. In the press release, the results of a survey by the ACSM revealed that nearly two-thirds of patients would be more motivated to exercise if advised by their doctor and given additional resources.
Imagine the 40-plus million Americans classified as overweight or obese being instructed that they must engage in regular exercise in an effort to improve their health who previously were not purposefully advised to do so.
Networking is Key
How can personal trainers leverage this initiative in order to increase their client base via physician networking? A good place to start is with an introductory letter to local physicians and medical practices, attached to a business card with full contact information. Here is an example:
Dear Dr. _____
You are probably familiar with the Exercise is Medicine initiative launched by the AMA in an effort to encourage primary care physicians to prescribe exercise as a means to reduce risk of disease and mortality. As you may have found, getting folks to change behaviors can be challenging when you do not see them often.
As a health and fitness professional providing health, nutrition, and fitness services in the ______ community, I offer a complete chronic disease management package for overweight and obese individuals. This program includes preventive measures for individuals who struggle with excess weight, metabolic syndrome, and resistance to proper exercise. My comprehensive approach utilizes a combination of nutritional counseling, lifestyle coaching, and exercise program design. By adopting a synergestic approach to address the multiple challenges facing patients presenting with overweight or obesity, I provide an optimal environment for reducing chronic disease risk factors while improving wellness.
I use the following procedures in my approach:
Resting metabolic rate calculation
Flexibility, mobility, strength, and cardiovascular endurance testing
Body composition assessments
Nutritional consulting
Personal training and exercise program design
Lifestyle wellness coaching
Research has shown that the combined approach of proper fitness and nutrition management can reduce multiple risk factors associated with obesity, such as hypertension, high cholesterol, type II diabetes, heart disease, stroke, and arthritis. By working with my facility on a referral basis, you can provide an effective disease management program for your patients.
You can contact me at any time to enroll any patient. To satisfy HIPAA regulations, I have enclosed an authorization of release of medical information, as well as a physician's approval form. You may copy and utilize these documents during our interaction. I look forward to working with you.
Sincerely,
__________

In the same envelope as this letter, I recommend including an Authorization of Release of Medical Information Form (available in your NFPT account under forms) and a Physician's Approval to Exercise Form.
Follow up: Mention Exercise as Medicine
I recommend following this letter with a personal phone call to the office of each physician. The best time to call is prior to 8am, when the doctor is in the office but is not yet seeing patients, or during lunch hour, when many physicians remain in the office for paperwork or taking patient notes. Do not wait until 5pm when the doctor will be trying to go home for the evening.
Make each call short and sweet, "Hi, this is _________. I understand you're probably busy with patients, but I just wanted to touch base about my letter you should have received last week about the exciting new fitness and nutrition program I'm offering for chronic disease management and would love to collaborate with your practice as part of the Exercise is Medicine Initiative. It's a referral service in which I take on patients you refer to me for lifestyle and health coaching, and teach them how to exercise and eat optimally."
Pause for a reply. They either received the letter or didn't, but either way, continue:
"I would very much appreciate if you could jot down my phone number for your office manager to schedule patient consultations at my training studio. Anytime you have a patient that needs to exercise and is receptive to working with a coach, I can work cooperatively with you to oversee their program, and of course, we will satisfy all HIPAA regulations in our procedures. Thanks for your time, doctor. I look forward to helping."
Opportunities Abound
Many personal trainers are missing the opportunity for this vast referral source from the medical community. The Exercise is Medicine movement is backed by funding from the AMA and the ACSM. What does this mean for you? Our nation's top fitness and medical professionals are taking this seriously, and as an exercise expert, you are a key cog in the wheelhouse.
By using the resources above, you'll open the door to hundreds, and depending on the size of your community, potentially thousands of patients who have been ordered to exercise by a physician. These are people who need you to save or vastly improve the quality of their life, and many will be willing to pay for it.
Will your personal training services ever be covered by insurance? To date, no billing codes exist. But in the near future, health insurance could actually cover the cost of fitness prescription in the same manner that it currently covers often needless procedures such as gastric bypass surgery. Certainly gym memberships are offered at a discount, so perhaps only a matter of time before personal training is.  If an insurance company can pay over a hundred thousand dollars for a surgery, then 3-6 months of personal training could certainly be justified. Will you be ready?
---
Ben Greenfield
MS, CPT, CSCS, CISSN
President, Pacific Elite Fitness
Director of Sports Performance, Champions Sports Medicine
www.pacificfit.net
www.champsportsmed.com