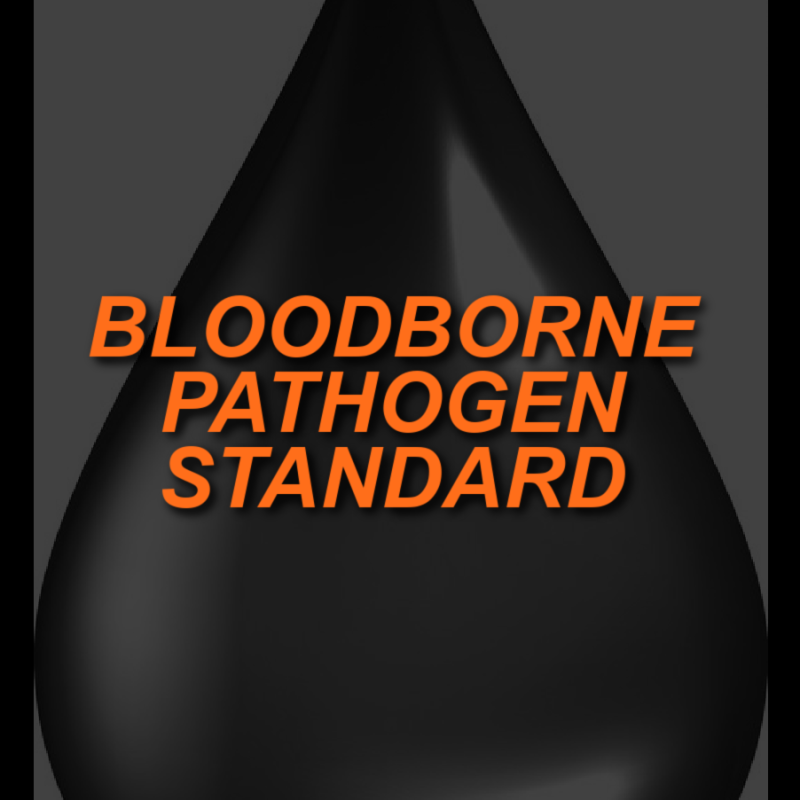 Many places of employment require employee training on the federal Bloodborne Pathogen Standard set by OSHA. The content of this article applies to fitness center employees that are trained in first aid and designated as responsible for rendering first aid. Fitness center employees not designated to render first aid are not covered by OSHA's Bloodborne Pathogen Standard. My experience, however, is that Certified Professional Trainers (CPT) are trained in CPR/AED and are designated to render first aid as part of their duties by their facility and receive annual refresher training for said activities, yet may not be asked to complete the training for handling bloodborne pathogens.
Further, a fitness center that leases their facility to CPTs should require the lessees be trained in CPR/AED, to render first aid, and to know the substantive requirements of the OSHA's Bloodborne Pathogen Standard: to include, but not limited to:
what entails an exposure incident
availability of personal protective equipment
hepatitis B vaccination requirements (acceptance or refusal)
serological testing on the source individual in an exposure incident
exposed employee blood testing, counseling requirement post-exposure event
Hepatitis B vaccination following post-exposure event
US Public Health Service recommended decontaminate solutions for disinfecting equipment.
On December 6th, 1991 the Occupational Safety and Health Administration (OSHA) promulgated the Occupational Exposure to Bloodborne Pathogens Standard. The standard is designed to protect approximately 5.6 million workers in healthcare and related occupations from risk to exposure to bloodborne pathogens, such as HIV and the Hepatitis B Virus.
Who is Covered?
NOTE: The Certified Professional Trainer (CPT) is covered by the Employer's Bloodborne Pathogen Standard Exposure Control Plan; and individually is responsible for CPR/AED certification. Additionally, the CPT is required to know the definitions defined in the Bloodborne Pathogen Standard read below.
The standard applies to all employees who have occupational exposure to blood or other potentially infectious materials (OPIM).
Occupational exposure is defined as "reasonably anticipated skin, eye, mucous membrane, or parenteral contact with blood or OPIM that may result from the performance of the employee's duties."
Blood is defined as human blood, human blood components, and products made from human blood.
OPIM is defined as the following human body fluids; saliva in dental procedures, semen, vaginal secretions, cerebrospinal, synovial, pleural, pericardial, peritoneal, and amniotic fluids; bodily fluids visibly contaminated with blood; along with body fluids in situations where it is difficult or impossible to differentiate between body fluids; unfixed human tissues or organs (other than intact skin); HIV-containing cell or tissue cultures, organ cultures, and HIV- or HBV- containing culture media or other solutions; and blood, organs, or other tissues from experimental animals infected with HIV or HBV.
The Employer
The employer would be required to provide the general training outlined in 29 CFR 1910.1030; ensure that the employees are provided with the required vaccinations; and provide proper follow-up evaluations following an exposure incident. Accessible to the employee is the employer's Exposure Control Plan that defines potential exposure conditions. If the employer leases the facility to CPTs, then as a lessor, employer must ensure that all steps required under the standard have been taken to ensure safe and healthful workplace for the leased employees. Toward that end, lessees-contracts with their clients should clearly describe the responsibilities of both parties in order to ensure that all substantive requirements of the Bloodborne Pathogen Standard are met.
First-Aid Responders
If employees are trained and designated as responsible for rendering first aid or medical assistance as part of their job duties, they are covered by the protections of the standard. However, OSHA will consider it a de minims violation – a technical violation carrying no penalties – if employees, who administer first aid as a collateral duty to their routine work assignments, are not offered the pre-exposure hepatitis B vaccination.
The de minims classification for failure to offer hepatitis B vaccination in advance to exposure does NOT apply to personnel who provide first aid at a first aid station, clinic, or dispensary, or to the health care, emergency response or public safety personnel expected to render first aid in the course of their work.
Exceptions are limited to persons who render first aid only as collateral duty, responding solely to injuries resulting from workplace incidents, generally at the location where the incident occurred. To merit the de minimis classification, the following conditions must be met:

Reporting procedures must be in place under the exposure control plan to ensure that all first aid incidents involving exposure are reported to the employer before the end of the work shift during which the incident occurs.
Reports of first aid incidents must include the names of all first aid providers and a description of the circumstances of the accident, including date and time, as well, as a determination of whether an exposure incident, as defined in the standard, has occurred.
Exposure reports must be included on a list of such first aid incidents that are readily available to all employees and provided to OSHA upon request.
First aid providers must receive training under the Bloodborne Pathogen Standard that covers the specifics of the reporting procedures.
All first aid providers who refer assistance in any situation involving the presence of blood or other potentially infectious materials, regardless of whether or not a specific exposure incident occurs, must have the vaccine made available to them as soon as possible, but in no event later than 24 hours after the exposure incident. If an exposure incident as defined in the standard has taken place, other post-exposure follow-up procedures must be initiated immediately, per the requirements of the standard.
Summary
OSHA's Bloodborne Pathogen Standard applies to fitness center employees that are trained in first aid and designated as responsible for rendering first aid, and this includes certified personal trainers. The responsibility for proper OSHA adherence lies mainly with the fitness center manager/owner, maintaining written safety plans and standards, which must be reviewed and updated annually.
OSHA's Bloodborne Pathogen standard applies to workers that have occupational exposure to human blood or other potentially infectious materials (OPIM) as defined in paragraphs (a) and (b) of 29 CFR 1910.1030. It requires the use of universal precautions to prevent contact with these materials. It is the likelihood that a trained first aid provider could have 'occupational exposure' that determines the applicability of the Bloodborne Pathogen Standard.
The standard defines 'occupational exposure' as reasonably anticipated eye, mucous membrane, or parenteral contact with blood or OPIM that may result from the performance of an employee's duties, 1910.1030(b). Persons performing CPR are reasonably anticipated to have exposure to blood and OPIM. Therefore, an employee trained in the use of AED and/or CPR and is identified by the employer to render first aid as part of his or her duties, there is an anticipated 'occupational exposure' and the Bloodborne pathogen Standard applies.
The follow-up article will address the control plan that OSHA has put into place should exposures occur.