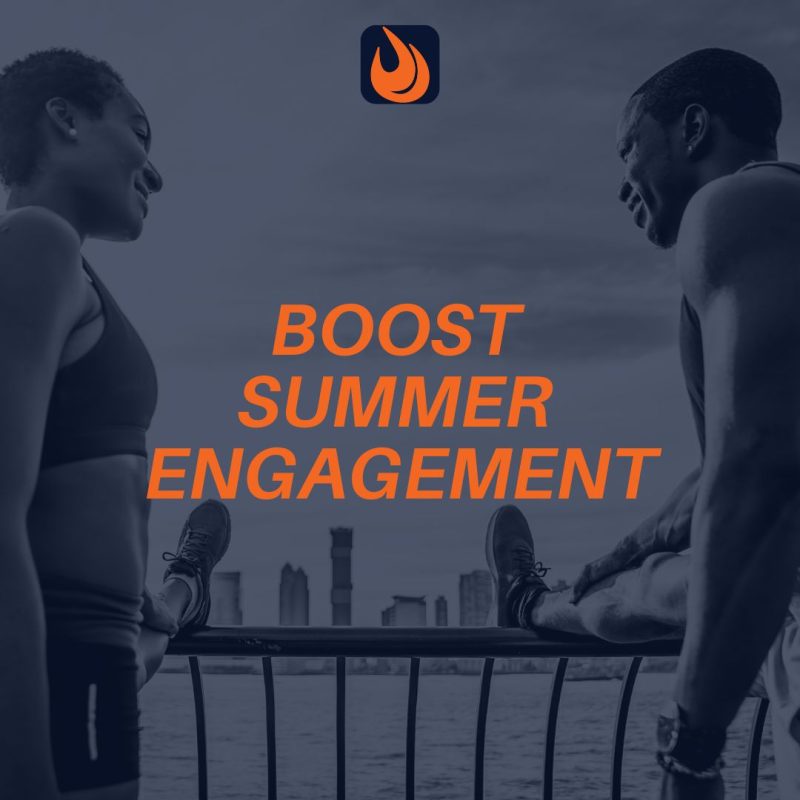 Heading into Summer, personal trainers might be looking for new ways to boost engagement with new clientele and increase income. While many of us are already in it with current clients, summertime can sometimes be a slow time of year with many people out on vacation and potentially letting their usual fitness routines take a backseat as happy hours and traveling kick back up. Here are some ways to invigorate your fitness business.
Boost Engagement Locally
One of the best ways to reach a new audience is by collaborating with a local business to offer something exclusive to the customers or members. For example, if your target market is moms between 30-45, you might see some success going into a local popular clothing boutique and doing a giveaway collaboration. You can offer an in-person raffle as well as extra entries or points for those who give a tag or shoutout to both of your pages on social media.
Your call-to-actions to your audience can be as simple as a like, comment, share, or something a little more in-depth such as: "Go live on your story on IG or Facebook and share a quick tip you've found helpful to stay healthy as a busy mom or a struggle you've faced trying to stay healthy as a busy mom."
It's likely helpful to structure the giveaway to start on a Monday and end on a Friday, winner announced over that following weekend. You can do a prize-pickup in person so you can meet face-to-face or even convince the boutique to do a little healthy appetizer table while people shop and set up a booth there as people scroll through. This would be a very easy way to collect names for anyone interested in doing a summer fitness and nutrition challenge. The boutique could opt to give away an item of clothing (a great reward for anyone fitting into a smaller size post-challenge) and you could give away a free 1:1 consultation.
Coffee Shop Banter
Make some flyers and ask to post them around local coffee shops and places where your ideal client would hang out. Find a space to host an outdoor workout a few Saturdays every month during the summer. You could charge a small flat-rate fee and offer only limited spots to keep equipment costs down, or go with all bodyweight style MetCon workout at a local park.
Check with your local parks and recreation centers to see what's allowed. If you know someone who owns a space or there's an empty lot available, offer to cut then a small percentage for use of the space. Highlighting the perks of sunshine, vitamin D, and circadian rhythms would be great content to add on from this. Perhaps a close friend would be willing to come by and snap photos and videos while you coach the outdoor classes to advertise future ones that can also help boost engagement.
Meal Prep Services
Most places have nutrition shops or meal prep services. Offer to set up a booth or a special event one evening. You could serve a special cocktail or mocktail and have samples available of the shop's or service's food. You can format this as a "seminar" and invite current and past clients to learn about a clean and healthy eating service and how it fits into your style of training. Attendees could receive a special gift bag with supplement samples or a few coupons to use on future meals.
Host an Online Challenge
Whether it's in a Facebook group, email list, or your social media page you could easily come up with some fun themes for a Summer fitness challenge to boost engagement. It's up to you whether you want to keep this free to serve an audience with a bigger offer at the end (required enrollment call perhaps at the finish of the challenge) or charge a fee.
Keep it simple. Seven days is perfect to keep people engaged and get some short terms successes to build confidence. If you're looking to charge you could do a month-long challenge and charge more if you have the capacity to keep track of everyone for a timeframe that long. Come up with some daily call-to-action items that members must complete in order to be considered eligible to continue. People will have their list of daily tasks, submit them to you however you choose, and you can keep track in a spreadsheet or some other tracking system.
Keep the call-to-actions around the foundations of health: sleep and recovery, exercise, nutrition, and mindset. Chat GPT is a great tool to source ideas for challenge themes or topics.
However you choose to boost your engagement and your income this summer, be sure to keep everything tax friendly. Keep track of all expenses.
Remember, everything is content. Take pictures and have anyone involved in your event/challenge/giveaway tag and share things so you have future content to post and feature as well. As always, work smarter, not harder.
Improve your qualifications
Consider using some downtime to pursue advanced certifications. Enjoy the warm weather at the park or beach as you read up to expand your knowledge.  If a new certification seems too daunting, consider taking on something smaller like a short program to refresh your skills or attend a fitness convention. When your clients return from vacation, you can wow them with your new talent and be able to justify higher rates when the time comes for an increase.
A Group Effort
Sometimes your clients aren't canceling because they are going out of town, but because family is coming to visit. Consider asking your clients to invite their guests to their sessions. Your clients love training with you so they will love sharing you with their close friends and family. You can offer 1:1 training, partner training, or arrange to do a small group workout. This keeps your clients on track with their goals and prevents them from canceling.
Offer Workshops
Offering to put on a small workshop in a local store is a great way to establish yourself in the community as a fitness professional, boost engagement, and increase your income.  You will make a lot of great contacts with potential clients that are interested in health and wellness. Pick a place that is in line with your branding and even better if you are a frequent customer. Be sure to have a sign-in sheet to collect names, emails, and phone numbers of participants to generate new business leads. Take the time to talk before and after your presentation with attendees to jot down notes and build rapport. Use these lists to follow-up in the future to see if they or anyone they know of are interested in your services.
Organized Events
If you have a slow week coming up, it is a great time to arrange a special fitnes event. People love the idea of a novelty event that is only a 1-time offer. Depending on what you plan will dictate how much you can charge. Some ideas of summer events include an 80's themed outdoor yoga class, a hiking bootcamp, and an end-of-summer beach house retreat. Take what you currently offer and add a twist. The more fun you have with it, the more your clients will request to come year after year. 

If you're a personal trainer who is motivated to keep business strong, you will find even more creative ways to boost engagement and ultimately increase revenue during a historically slow time of year. Visualize how busy you'd like to be, and create an action plan to make it happen.