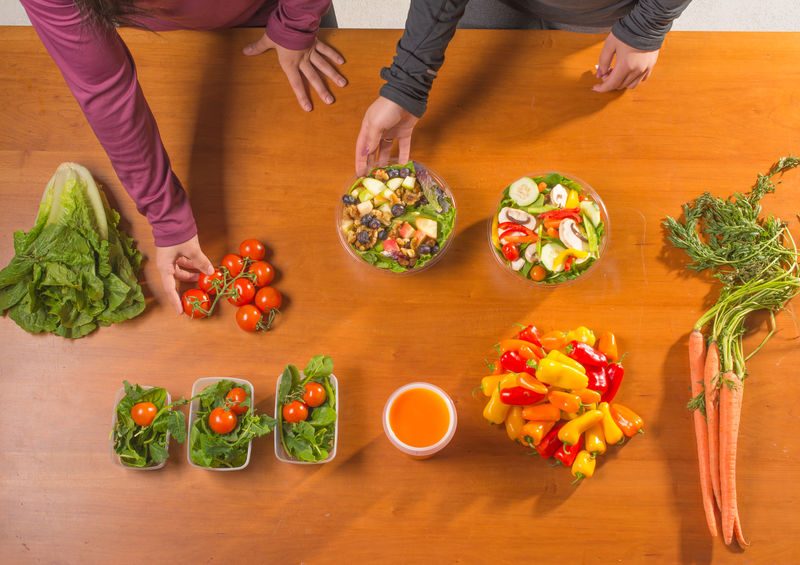 The act of planning meals is a stumbling block for many fitness clients mostly because of the perceived time and effort planning meals and clean eating can require. The reality is nutrition and fitness are not mutually exclusive. To achieve fitness goals, nutritional practices must be aligned with those goals in a way that supports their achievement. We can help our personal training clients reframe their perceptions of meal planning by providing meal prep hacks that maximize nutrition and minimize time spent in the kitchen.
Here are 10 of our Favorite Meal Hacks:
1) Containerize
The right containers are a must for successful meal prep. Encourage clients to invest in a variety of sizes and styles of containers. Select options that allow for freezing leftovers, storing produce for the week, and pre-packing lunches and snacks. Yes, clients will have to spend some money if they don't own these handy tools already, but they are an investment that will pay for themselves in short order.
2) Plan Menus Ahead
Select one day each week that will be devoted to "menu planning" and help clients be creative with their meal ideas. Tacos on one night can turn into taco salads the next. Menu planning with grocery lists also reduces that sneaky impulse to buy random items at the grocery store, which not only helps keep clients on track nutritionally, but aids in reducing unnecessary (and often expensive) purchases that are devoid of nutritional benefits.
3) Cook Once, Eat Twice
This meal prep hack is all about leveraging leftovers, repurposing ingredients, and cooking in bulk. With their busy schedules, it can be tricky for clients to prepare a full meal every night of the week. Selecting one day a week to prepare several items allows clients to plan for leftovers and dinner/lunch redesigns throughout the week.
For example, grilling or baking several chicken breasts on one day provides a lean protein for that night's dinner as well as a key ingredient for chicken salads for a meal the following day. This reduces cooking time and makes meal prepping faster on subsequent weeknights.
4) Prepare Produce
One of the biggest downsides to meal-making clients identify is all the chopping and general prep work related to produce.  After coming home from the grocery store, wash, prepare, and store produce to make cooking meals quicker. Already chopped veggies are easy to toss on a salad, roast in the oven, or throw on the grill. If produce is already prepped and ready to go, clients are more likely to use them in meals and consume them as snacks.
5) Keep it Simple and In-Season
Better yet, reduce the pressure to prepare and cook produce on a daily basis. Attending local farmer's markets or investing in a local CSA produce delivery will provide the freshest, most nutritious and delicious produce that can often be enjoyed as-is after a quick wash. And if those aren't options, a bag of pre-washed baby spinach can be munched on like chips, baby carrots and celery sticks with healthy dip, and fresh fruit all make fantastic, no-fuss snacks.
6) One Pot Meals
There's little more fuss-free than a one-pot meal. Toss prepped ingredients together with a little olive oil, salt, pepper and a variety of spices and roast in the oven. Or encourage clients to invest in a crock pot or instant pot and experiment with making homemade soups and slow-cooker meals. A little chicken or vegetable broth with fresh vegetables, diced sweet potatoes, and lean protein (such as chicken or loin meats) make a tasty and nutritionally balanced meal.
7) Freezer Friendly
Freezing leftovers and made-ahead meals is genius. Or if the budget allows, buying supermarket prepared frozen meals, either in a bulk section (as some offer) or in the freezer aisle, can be healthy if labels are read carefully! (Homemade is always best!) When time is lacking or energy is waning, clients can pull out a frozen veggie lasagna or soup a day or two in advance and have meals ready to go after work or when the kids come home from activities.
8) Mason Jar Madness
Mason jars work well for prepping overnight oatmeal breakfasts and salads in jar. They are easy to wash and store. Use this trick for a grab-and-go meal.
9) Go Meatless
Proteins take time to cook – it's just a fact of life. If time is not on your clients' side, encourage two nights a week of plant-based proteins in place of meat dishes. Items like quinoa and beans can be prepared ahead of time and stored safely in the fridge for easy meal assembly. Eggs are a high-protein, but quick-cooking option that can be made in countless tasty ways either on the go or in advance.
10) Serve Safe
Regardless of how your clients prepare for weekly meals, it's crucial to remain aware of food safety rules and guidelines. No matter how short time is, skimping on conscientiousness can backfire. Share this link with your clients as you teach them about healthy nutritional practices.
Meal planning and prepping doesn't have to be arduous and time-consuming. A little make-ahead effort and smart shopping (and cooking) will allow your clients to enjoy more time out of the kitchen.