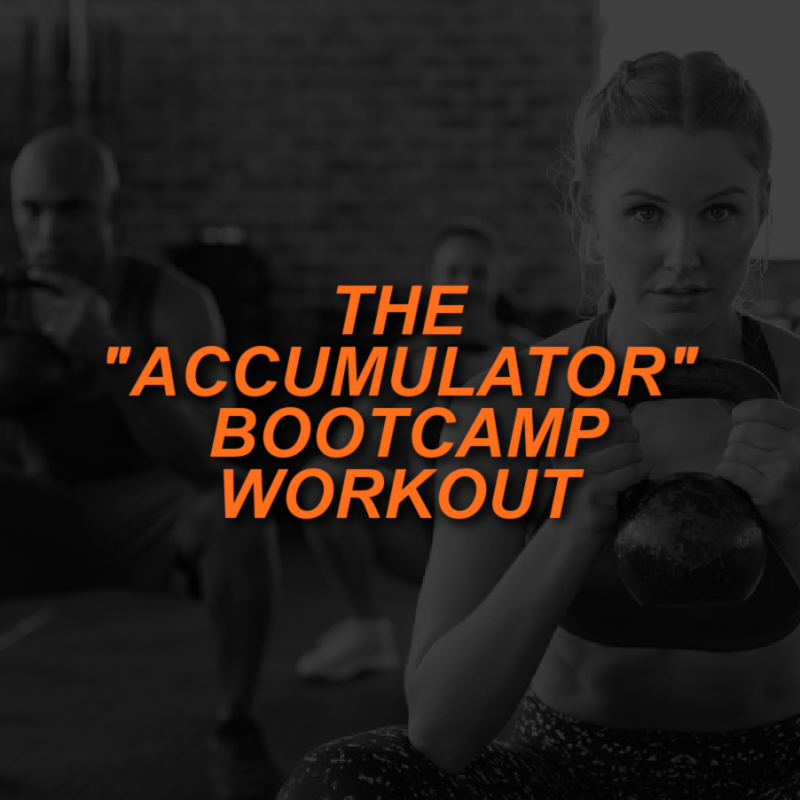 The Accumulator is a great workout for Bootcamp! If you haven't heard of the Accumulator before, it's a cousin of the AMRAP workout. Let's talk about how it works.
Features of Accumulator
All participants start and finish at the same time
Can be used in large groups
Can be used with minimal equipment
Can be used as a fitness test
An example of an AMRAP would be
20 Squats
20 Lying Hip Thrusts
20 Push-Ups
20 Bent0ver Rows
20 Side Plank Rotations
Repeat for as many rounds as possible in 20 minutes.
You could do this exact same series of exercises plugged into the Accumulator format.
The following is an example of how an Accumulator bootcamp workout works:
Pick five exercises, in this case we are going to use the same five as above: Squats, Hip Thrusts, Push-ups, Bentover Rows, and Side Plank Rotations.
Participants will complete three reps of each exercise, and then six reps of each exercise, and then nine reps of each exercise, and then 12, 15, 18, 21, etc.
Participants continue "accumulating" for 20 minutes, with their goal to try and complete as many reps as possible.
I personally prefer this style of workout to the AMRAP because it has more variety. In the AMRAP, I'm doing the same amount of reps every single time. Whereas, with the Accumulator, each round is comprised of a different number or reps, which keeps the mind engaged as well as the body.
Programming the Accumulator
When programming for Bootcamp, I like to make my workouts as functional as possible, so I use the principles below.
Multiple Planes: Bootcamp workouts are notorious for only working in the sagittal plane, so for every bootcamp workout I design, I make sure there is at least one exercise (if not more) in the frontal and/or transverse plane.
Multiple Chains: Bootcamp workouts are also notorious for only working the anterior chain (push-ups, squats, planks, etc), so I also make sure to balance anterior with posterior chain movements (example, squats vs. swings and push-ups vs. bent over rows)
Multiple Positions: Bootcamp workouts are notorious for participants just standing in one spot and performing the exercises, so for every Bootcamp workout I program, I make sure to include a few different positions standing, bent over, prone, supine, etc.
If you're currently running a Bootcamp and want to improve your instructor skills, I recommend checking out this blog here "Group Fitness Execution
If you'd like further education when it comes to running a successful Bootcamp, you may want to check out our Bootcamp CEC course!
PS: At Fitness Education Online, we have one of the largest Facebook Groups in the world for Fitness Professionals – the "Fitness Education Online Community". We have over 15,000 Fitpro's in there, everyone is super supportive and we all share tips and ideas. Simply click here to join.