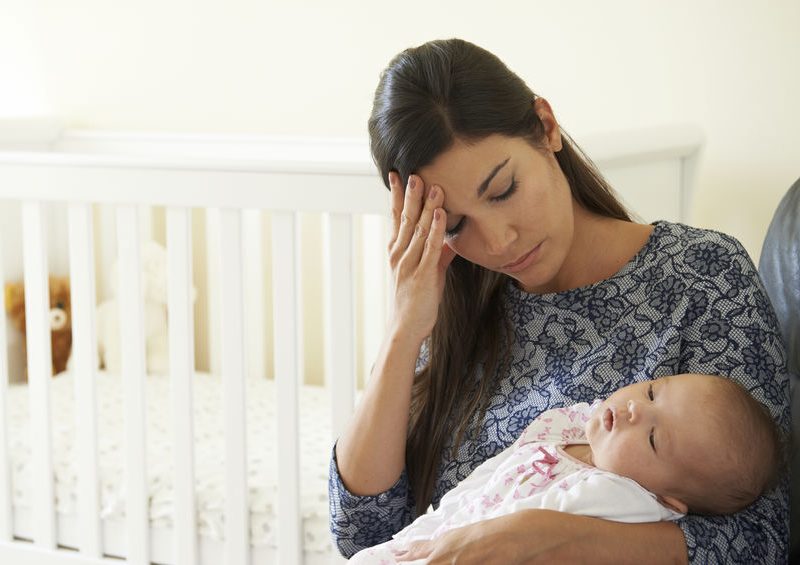 As a fitness professional who suffered from postpartum depression I can safely say that I wouldn't change a thing about my journey, but I do have some tips for personal trainers and health coaches working with new moms. There's no experience like pregnancy and motherhood. Both are challenging in different and beautiful ways and both require patience, understanding, and empathy. As a mom I know that it's no easy task (I often pray for my coffee to be stronger than my toddler).
I spent the entire 9 months of my pregnancy fearing and perseverating over what labor and delivery would be like and if I'd survive. Silly thought? Perhaps. But, let's be truthful, 10 centimeters doesn't inspire confidence (I have coffee mugs with a larger diameter). But seriously, what I overlooked in my preoccupation with labor and delivery was to adequately prepare myself for the toughest parts – recovery and motherhood. There's no epidural for either of those. And that's when the real work begins.
Of course, there's the physical recovery and the learning to breastfeed (for something that's "natural" it has to be learned) and the functioning on minimal sleep and the unsolicited advice as to what you should do to embrace this life changing time. My favorite – sleep when the baby sleeps. Okay, should I clean when the baby cleans? And cook when the baby cooks? And do laundry when the baby does laundry? And what if the baby doesn't sleep – if she's colicky? What then?
Next is the emotional – I call it metamorphosis – it's an upside down, sideways, under and through and loopy-loop roller coaster that seems to move at a dizzying pace. It's post-partum depression and it's serious business. It often comes on without you knowing until you're falling down that rabbit hole. Thankfully, I sought the help I needed and have tremendously supportive family and friends.
But what does all this mean to you as fellow trainers? It means precisely this – working with postpartum clients requires finesse and a high level of emotional intelligence. Yes, there's the hard science part – what exercises are safe, how soon after delivery (longer for a C-section) can my client start exercising, etc. That aside, there's also the sensitive and support science – the psychological aspect that can be easily overlooked if we've never experienced that journey ourselves.  Keep these 7 habits in mind when you work with a postpartum client.
Postnatal Personal Trainer Support Tips
Practice Patience. You, as the trainer, need to be patient AND encourage patience. There's nothing more confusing than understanding your postpartum body. The work of labor, delivery, breast feeding, and the general caring for a newborn is extremely taxing physical work. The body needs time to recover and heal. It took 9 months to create and birth new life; it will take an equal amount of time (if not longer) to regain pre-pregnancy strength and stamina.
Watch the Fatigue. The focus of training sessions in the postpartum period should not be to fatigue the body. Trust me, mom is already fatigued. Instead of hitting the heavy weights or going for HIIT sessions, take a gentler approach with full body exercises, flexibility, light cardio, and some relaxation techniques.
Empathize. Empathy is hard if you've not been there or walked a similar road. Check in with your client and ask how she's feeling. There are days she just won't have it in her to do the full session or stick to the plan you have. If that's the case, try suggesting a simple walk and talk. Allow her time to still get some activity in and process what she might be feeling. Listen, ask questions, empathize, and support – she's probably looking for a listening ear and not a problem-solver.
Be Creative. Think of ways your client can involve her baby in at-home exercises. This is a chance for her to burn some calories and spend quality time playing with her child.
Shift the Focus. The initial goal of returning to activity should not be to lose weight. If the client has gained weight (which is healthy and common), gradually enter the weight loss phase after spending time retraining the core and addressing areas of imbalance.
Foster Connections. If your client seems open to it, connect her with other postpartum moms or moms of young kiddos. This might give her extra support and be an additional source of encouragement. This could be especially valuable if you, as her trainer, do not have children.
Do Your Homework. Anyone who works with a postpartum client should become familiar with the guidelines from the American College of Obstetricians and Gynecologists and be sure to stay within acceptable and safe parameters for postpartum exercise design. Know the signs and symptoms of postpartum depression and refer out when necessary. Remember – this isn't your scope of practice.
Training a postpartum client is rewarding – you can be the one that helps them build their confidence and help heal their bodies. But doing so takes effort, understanding and a considerable amount of sensitivity. Don't shy away from the challenge!
Have experiences with postpartum clients? Share your thoughts on our Facebook Page!
If you're an NFPT trainer, join the Facebook Community Group to become involved with your peers today.