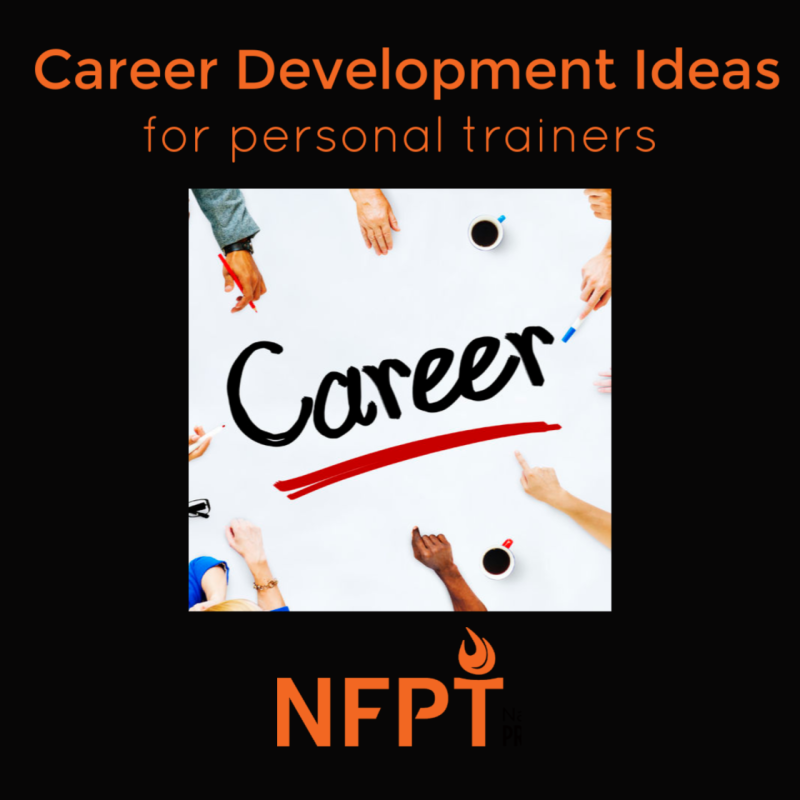 Being a professional in the fitness industry means you are part of an exciting and dynamic field of study. As professionals, we are fortunate to witness new techniques, learn new theories, and develop new practices at a rapid pace. As the field continues to progress in its discoveries, we, too, have limitless opportunities to sharpen skill sets, perfect techniques, and contribute thoughtfully and creatively to the profession. Here are seven career development ideas you can pursue as a certified personal trainer.
Add a Specialty Certification. Carving out a niche is an important aspect of a thriving career. After you gain practical experience as a personal trainer, invest time in researching what specialty certifications you are interested in pursuing. There are specialty certifications in strength and conditioning, fitness nutrition, functional training, orthopedic exercise, fitness training for cancer patients, and behavior change. Examine your areas of interest and consider adding one or two additional certifications.
Explore the Classroom. Check out your local university, community, or technical college in your area and research what teaching opportunities are available. Many schools offer degree or certificate programs in kinesiology, personal training, and exercise science. It's important to note that to teach in degree programs, a master's degree in a related area is most often required.
Write or Blog. You can expand your reach by exploring writing opportunities for fitness companies and certifying agencies. Alternatively, you can start your own blog as a component of your professional website. Doing so offers a freestyle approach to writing (as opposed to specific author guidelines associated with blogging for others).
Present. If you enjoy public speaking and sharing your passion in front of a crowd, consider applying to present at conferences, workshops, and continuing education events. This not only gives you and your brand good exposure; it helps sharpen your presenter skills.
Pursue Higher Education. A degree is not required to sit for a personal training exam, but this doesn't mean you couldn't or shouldn't pursue a bachelor's or master's (or even higher). The achievement of a degree adds greater creditability to your professional qualifications and experience.
Mentor New Trainers. There are few experiences more rewarding than having the opportunity to help a budding professional find his or her footing in the industry. One "hole" in the industry is a lack of official mentorship programs for new professionals. If this is something that intrigues you, market yourself as a fitness professional mentor.
Intern. One of the most amazing things about the industry is the number of professionals with different backgrounds and experiences. If you're looking to develop an area of your career or learn new techniques and approaches first-hand, seek out an internship with another professional in the industry. LinkedIn is a great social networking site for such opportunities.
Career development for a personal trainer doesn't have to halt at obtaining a certification. There are numerous avenues a fitness professional can take to nurture and advance his/her career to the next level. Use your creativity and explore one or more opportunities that can help you expand your professional reach and deepen your individual level of expertise in exercise science.